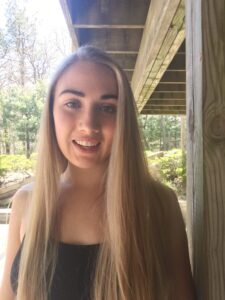 Seven Generations Ahead is thrilled to welcome Siobhan Pesce to part of the team as part of the Tyson Foods Summer Community Internship Program. Siobhan will be working with our Farm to School program manager, Diane Chapeta, on work related to the Illinois Farm to School Network. Through the program, full-time college students receive a stipend to work with community organizations making a positive local impact. The internship lasts eight weeks, and allows students to gain real-world experience addressing a variety of social issues, from hunger and health related problems, to food systems and sustainability.
We asked Siobhan to share a little more about herself with us:
SGA: Tell us a bit about yourself.  
Siobhan: I'm a senior at Hunter College in New York, majoring in Nutrition and Food Science. From a young age, I've had a strong interest in food and its impact on the environment and human health. I spent the past year volunteering at the NYC Food Policy Center, where I was responsible for connecting underserved community members to food resources in their area. I'm also a member of the Nutrition Club at my college, where I serve on the executive board as Research Coordinator. The club works to promote equitable access to healthy food and to educate students on the fundamentals of a healthy diet.
SGA: What are you most excited about for your internship this summer?
Siobhan: I'm most excited to help promote farm to school programs across Illinois. I think farm to school provides a great opportunity to support children's health while also boosting farmers and the local economy.
SGA: What inspires or drives you to pursue opportunities to have a positive community impact? Why is it important to you? 
Siobhan: I think it's an innate human tendency to want to help others, and at least in my own life, I've found that I gain some sense of meaning from doing so. Whenever given a task to complete, I find it much more worthwhile if it has a positive impact in the end. In the same way, working with Seven Generations Ahead provides that sense of greater purpose. I know that whatever task I'm given, it will move on to become something more significant for the community at large.