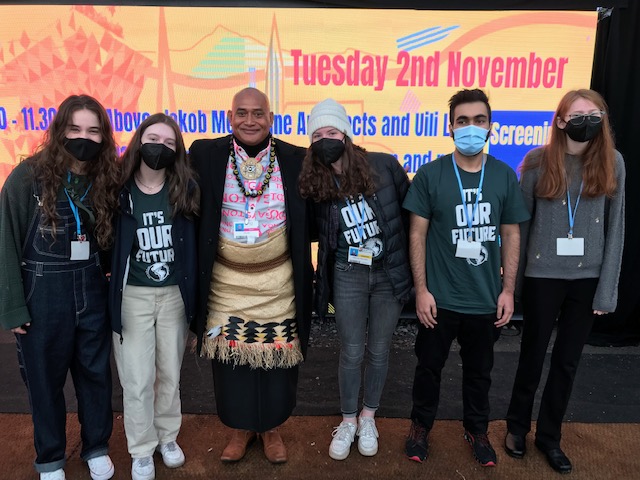 The 5 students who attended COP26 in Glasgow, Scotland have graduated from high school and from It's Our Future!  We are so proud of their accomplishments and grateful for their voices in this important work. 
Sophie Ball will be studying International Relations at King's College in London!  Hearing a speech from Al Gore at COP was an absolute highlight for her. Upon returning from Glasgow she spoke to the Oak Park Village Board and presented at OPRF HS about her experience.  In addition to her work with IOF, Sophie led the OPRF Environmental Club!
Jelena Collins is off to McGill University in Montreal!  Jelena had a phenomenal COP26 experience as well and was interviewed on CANTV and WBEZ upon her return.  Jelena is a lead at Chicago Youth Climate Coalition and organized a fantastic Earth Day climate strike.
Charlotte Meyer is off to Kenyon College in Ohio!  She had a one on one conversation with Governor Pritzker in Glasgow where she learned about climate impacts here in Illinois. Charlotte gave several presentations to local community organizations.
Sophie, Jelena and Charlotte worked with SGA Executive Director, Gary Cuneen, on developing and advocating for strong sustainability policy at OPRF.
Ali Kahn is Harvard bound!  Ali graduated from Mather High School.  He spoke about his COP experience to the Chicago Board of Education where he was honored for his participation.
Lily Aaron is heading to Pitzer College in California!  Lily was thrilled at COP when she met Leah Thomas aka the Intersectional Environmentalist among other youth activists.  Lily spoke to the Evanston Township High School board and administration pushing for a strong climate curriculum and a sustainability coordinator, both of which are in the works!
As we work to select our delegates for COP 27, which will be in Sharm el Sheikh, Egypt, we realize they will have big shoes to fill! We feel  fortunate to have had this crew as part of It's Our Future and can't wait to see what they do in their next chapter!
– Rachel Rosner, IOF Program Consultant