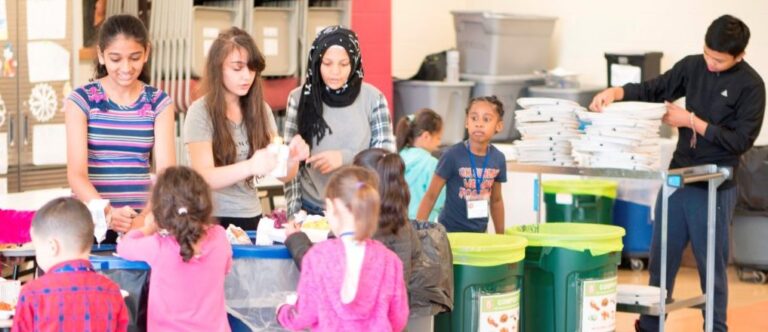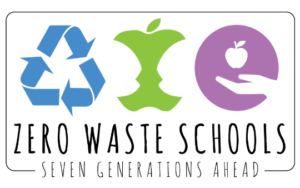 SGA's Zero Waste Schools (ZWS) Program empowers Chicago area schools to drastically reduce waste, fighting both the climate crisis and food insecurity, by shifting operations and minds towards generating zero waste through source reduction, recycling, composting, and food recovery.
Why is Zero Waste Schools Important?
– An average student in the U.S.

throws away an estimated 67 pounds of waste at lunch on an annual basis.

– Schools waste a total of

530,000 tons of food

every year

.
Reducing food waste is one of the most effective individual actions that can be taken to reduce the greenhouse gas emissions that contribute to climate change. ZWS educates school communities about the importance of minimizing food and other types of waste, as well as how to divert as much as possible from the landfill. Learning to value resources at a young age will help create sustainable habits that last a lifetime.
ZWS is committed to ensuring that all communities have equal access to resources and education to create healthy and sustainable schools. By addressing food and other types of waste, we are simultaneously addressing the intersecting issues of food insecurity and environmental justice.
What's the Impact of Zero Waste Schools?
– Schools can divert as much as 80-90% of waste from the landfill.
– On average, average, schools in the program generate less than one bag of landfill/trash at lunch time. 
– Thousands of students are taking action against climate change in their lunchrooms every day.
Want to bring a zero waste program to your school? The best place to start is checking out our toolkits and signing up for our newsletter at the links below.
SGA has developed a process that helps schools reduce waste by engaging key stakeholders to collaboratively create programs that can be sustained over time.
Engage a Zero Waste Team at each school: SGA brings together key people in each school (administration, custodial staff, food service staff, teachers, and students) to plan waste reduction strategies, education, and implementation.
Waste Audits: SGA, often in partnership with students, conducts waste audits of the cafeteria and kitchen on launch day. 
Logistics: SGA provides guidance for the operational changes needed, including determining the number and placement of sorting stations, advice on bin procurement, and coordination of hauling services.
Education: SGA provides educational videos and resources prior to launch day, training for custodians, cafeteria supervisors, and kitchen staff, as well as training for Zero Waste Ambassadors on launch day.
*Want more location-specific information? Check out the links below for more details on programs in communities that we serve.