When SGA founder Gary Cuneen was working as an international organizational development and leadership consultant, he began receiving regular email updates about environmental catastrophes that were happening across the globe. That was in 1994. He thought about his then 4 year-old son Nicolas, and wondered what he would say to him in later years if his son asked the question, "Dad, did you see any of this mess coming… and if so, what did you choose to do about it?" It was that thought that struck Gary at the time to figure out a way to develop an organization that would address global environmental issues on a local level. It took 7 years to do the research on who was doing what, to conduct informational interviews and attend conferences to learn about leading practitioners. After many conversations, the development of the organization's name (inspired by a Native American principle), and the convening of SGA's first Board of Directors, Seven Generations Ahead (SGA) in November of 2001 was born. In 2021 SGA celebrated its 20th anniversary (officially 1 generation of existence), and has benefitted from the work of many individuals inspired to leave our children a natural environment and world that is better than what they inherited.
To build environmentally sustainable and healthy communities, and tackle the climate crisis with solutions that are bold, equitable and just.
"In every deliberation, we must consider the impact on the seventh generation."
- Native American principle
The Seventh Generation Principle is based on an ancient Haudenosaunee (Iroquois)* philosophy that the decisions we make today should result in a sustainable world seven generations into the future. The first recorded concepts of the Seventh Generation Principle date back to the writing of The Great Law of Haudenosaunee Confederacy, although the actual date is undetermined, the range of conjectures place its writing anywhere from 1142 to 1500 AD. The Great Law of Haudenosaunee Confederacy formed the political, ceremonial, and social fabric of the Five Nation Confederacy (later Six). The Great Law of Haudenosaunee Confederacy is also credited as being a contributing influence on the American Constitution, due to Benjamin Franklin's great respect for the Haudenosaunee system of government.

Also embodied in our name is the principle of sustainability, which incorporates the balance between social equity, economic development and environmental stewardship. In 1987, the Brundtland report first used the term "sustainable development" as an alternative to the economic system implemented in most countries around the world and which, unlike that system, seeks to meet current needs without compromising the future of future generations.

The name Seven Generations Ahead, developed by SGA founder Gary Cuneen in 2000, uplifts and honors the spirit of the Seventh Generation Principle of the Haudenosaunee and the goal of building a sustainable world, while driving our work address the climate crisis and achieve equitable sustainability. It serves to educate people about a way of being in the world that respects planet and people, and acts as a guidepost and reminder for making sure that we pass along a world that is in better shape than we inherited and that can be sustained for generations to come.
SGA works with local government, community and private sector leaders to help communities make the changes they need to build a healthy and sustainable future. Through community-wide sustainability planning and implementation, project design and implementation, educational conferences and forums, community network development, consulting, and programs, SGA is a catalyst for local community solutions to global environmental issues. SGA's work covers a broad range of sustainability topic areas, including: energy efficiency and renewable energy; transportation; healthy community development; waste reduction; water conservation; green business; procurement; local, sustainable food; healthy eating; open space and ecosystem enhancement; and sustainability education.
Among the hundreds of proposals we have received, your organization stands out as one that will offer social and environmental change. We are confident that your work will continue to contribute to your communities. We look forward to hearing the successes of your organization...
Read More About Our Projects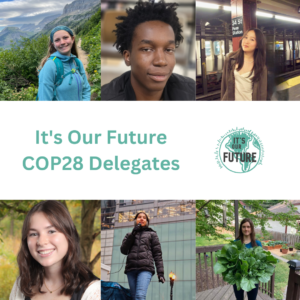 Six Chicago area high school students are headed to Dubai this fall for this year's UN Climate Summit, COP28. They are all members of It's
Read More »