By Jennifer Nelson
In December 2021 Seven Generations Ahead shared an article What is the connection between food and the climate crisis? We outlined climate impacts of food waste and highlighted actions we can all take at home, at work, and in our communities. So where do we stand today in our work to reduce wasted food?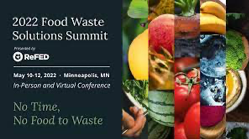 I was able to attend the 2022 ReFed Food Waste Solutions Summit in Minneapolis earlier this month, hearing from and networking with leading experts in the field from across the country and abroad. I want to share some of what I heard there, both to underscore the urgency of our climate crisis and to identify where we need to focus moving forward.
2% down, 48% to Go – Back in 2016, ReFed published a roadmap for reducing wasted food in the United States 50% by 2030. So where are we today? According to ReFED's Executive Director Dana Gunders at the recent ReFed Food Waste Solutions Summit, we have reduced wasted food by 2%, leaving 48% to go.
– Join the

Wasted Food Action Alliance

and/or

Illinois Food Scrap Coalition

and attend our monthly meetings to learn from and collaborate with people doing the work to reduce food waste and increase composting in our communities. Make sure your home, your work and your community is working to reduce wasted food, to rescue food to feed people and composting food scraps.

– Check out the

Food Waste Reduction Toolkit for Illinois Schools

created by SGA's Zero Waste Schools Program and the Wasted Food Action Alliance to learn how you can implement food waste reduction strategies in your school.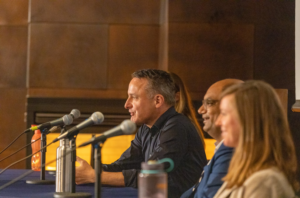 We have what we need, but we have to scale our efforts up – Jonathan Foley, CEO of Project Drawdown, shared that he thinks food waste is a problem we have the technologies to solve – we just need to scale them up. He also noted that by "reducing food waste we simultaneously drive improvement across multiple U.N Sustainable Development Goals (SDGs), reducing emissions, land use, water use, deforestation, biodiversity loss, and plastics while freeing resources to address hunger and poverty."
SCALE UP

–

Donate to Seven Generations Ahead

to support our programs as we scale up our efforts to grow, support, and work with partners who are building infrastructure and policy around prevention of wasted food, food rescue to feed people, and recycling food scraps to return nutrients to the soil.
Speed, collaboration, and a just and equitable food system – Dr. Richard Swannell of WRAP from the UK underscored the critical importance of going more rapidly towards the target of halving food loss and waste. He said collaboration is at the heart of what we need to do if we're going to move faster and further. He also emphasized that whatever we do to tackle food loss and waste, we need to do it in a way that contributes to a more just and equitable food system.
COLLABORATE

– Make it a priority to build a just and equitable food system. We invite you to learn more about or get involved with the work being done by our partners to reduce food waste, feed their communities, and build healthy soil:
Overcome limiting beliefs and set measurable goals – Leanpath CEO Andrew Shakman wrapped up the event by sharing his opinion that individuals bring limiting beliefs to their work on food waste, either consciously or unconsciously, by overemphasizing internal operational risks of today while underemphasizing the longer-term external risks. This is especially the case when it comes to climate change and food insecurity. He called on food organizations to make food waste reduction an explicit part of both carbon reduction and food insecurity plans through specific targets and key performance indicators, while also encouraging them to report on progress in a transparent manner to force accountability.
SET GOALS & BE ACCOUNTABLE

– Learn about our work in strategic sustainability planning for municipalities, counties, institutions, and more. Every plan starts with baseline metrics, specific and achievable goals and outcomes, and measurable deliverables and accountability.

Spend your money at businesses that are reducing their wasted food or composting food scraps – We Compost

restaurants and caterers

,

grocery stores and Farmers markets

,

businesses

, etc.

 
So what does all of this mean for our work here at Seven Generations Ahead? We all need to do more faster…and hold each other accountable for making these changes happen. And, as we do so, we need to be working to support people and communities who don't always have a voice in our food system. We invite you to explore, join, and support the work that we do every day and to reduce wasted food in your home, your work, and your community.