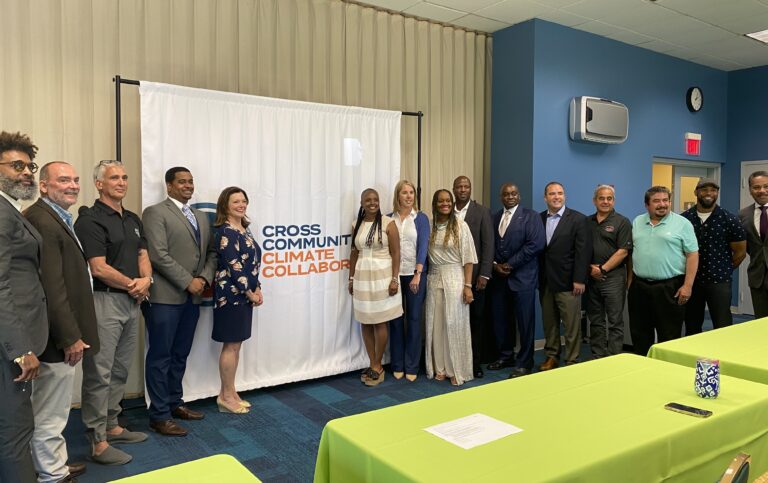 For Immediate Release:
July 14, 2022
Contact info:
Liz Lukehart, SGA Communications Director
Oak Park – Seven Generations Ahead (SGA) is pleased to announce it has received a significant grant to support the work of the Cross-Community Climate Collaboration (C4) project. SGA's partners on the grant include the Cook County Department of Environment and Sustainability, the Urban Efficiency Group (UEG), and the Oak Park River Forest Community Foundation. The grant, which is funded by Partners for Places, a project of The Funders Network, will be matched in full by the OPRF Community Foundation.
The C4 project focuses on bringing together BIPOC and non-minority communities to drive significant greenhouse gas emissions reductions through large-scale climate projects. The collaboration will allow communities to share ideas and resources, and achieve sustainability goals equitably, ensuring BIPOC and low-income communities are centered in these climate projects. C4 will prioritize the adoption of solar energy through onsite installations and community solar programs, as well as building out local electric vehicle infrastructure, among other projects.
The concept for C4 was jointly driven by community organizations and the leadership of three local government officials, Mayor Katrina Thompson of Broadview, Oak Park Village President Vicki Scaman, and River Forest Village President Cathy Adduci. Darnell Johnson, CEO and President of UEG, a Chicago-based, minority-owned community sustainability design firm committed to advancing energy equity, was also among those central to the creation of C4. UEG has a long track record of working in frontline communities on sustainability and energy issues. SGA brings to the partnership over 20 years of expertise working locally and regionally to build healthier and more sustainable communities. And the OPRF Community Foundation contributes its expertise and commitment to equity. The Cook County Government will provide connections to its initiatives and resources to support this project. C4 reflects the interest of Mayor Thompson, President Scaman, and President Adduci, as well as the OPRF Community Foundation, in working collaboratively across borders, bringing together racially and economically diverse communities to address the issue of the climate crisis and equitable sustainability.
SGA and the other collaborators are deeply grateful to Partners for Places for the funding to help drive bold climate action through C4. Partners for Places, a joint effort by The Funders Network (TFN) and the Urban Sustainability Directors Network (USDN), aims to enhance local capacity to build equitable and sustainable communities in the United States and Canada.
Partners for Places is a successful matching grant program that advances equitable and sustainable communities through collaborative partnerships. The fund does this by requiring local government leaders, place-based funders, and frontline community partnerships, and by pairing national and local philanthropic funding sources. These one-to-one matching awards support equitable, sustainable climate action and green stormwater infrastructure projects. National funders invest in local projects to promote a healthy environment, a strong economy, and the well-being of all residents. Through these projects, Partners for Places fosters long-term relationships that make our communities more sustainable, prosperous and just. Partners for Places' general grant program is supported by The JPB Foundation, The Kendeda Fund, The Kresge Foundation, New York Community Trust, The Allen H. and Selma W. Berkman Charitable Trust, and the Pisces Foundation.
The grant program provides partnership investments between $25,000 and $75,000 for one-year projects, or $50,000 and $150,000 for two-year projects, with a 1:1 match required by one or more local place-based funders. To date, Partners for Places has awarded nearly $8.5 million across North America in this successful matching grant program, leading to more than $18 million in investments.