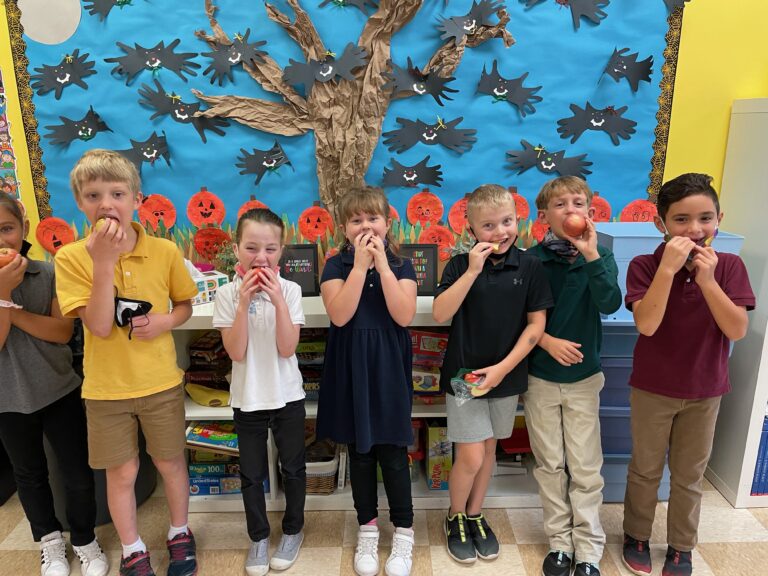 The days are getting shorter, the nights are getting colder. Kids are heading back to school, and fall is in the air! We know pumpkins get a lot of love this time of year, but we've got our eyes on all those crisp, juicy apples at the farmer's market. We've also got our eyes on this year's Great Apple Crunch!
The annual celebration of local apples is right around the corner, and this year we're hoping to go big for the Illinois Apple Crunch. Last year, we had 404,181 participants at 862 sites across Illinois. An impressive number, to be sure, but we think we can make it to 600,000!
We hope you'll join us by signing up to participate on Thursday, October 13th!
For some inspiration, we spoke to longtime Apple Crunch participant, Jay Wojcik at Healthy Lombard. Find out how they like to celebrate, and why the Great Apple Crunch is a perfect fit for their mission!
How long have you been participating in the Great Apple Crunch and what motivated you to get involved?
We have celebrated Apple Crunch Day since 2015. We became involved because we were looking for an activity for the fall that would support our mission of addressing the epidemic of Pediatric Obesity through Awareness, Activities, and Achievement.
How does the Great Apple Crunch align with your mission at Healthy Lombard?
Since one of the ways we support our mission is by providing "free-of-charge" activities for youth, Apple Crunch Day was a perfect match.  By the way, the other ways we support our mission are by promoting a healthier lifestyle for everyone through the items on our website, and by providing a platform for community networking and collaboration through our daily calendar, monthly newsletters, social media, and quarterly partners' meetings.
Where do you usually get your apples?
We partner with the Jewel/Osco in Lombard (on Main and Roosevelt) for our apples. Each year they provide us with "free apple" coupons that we distribute to all the Lombard Elementary District 44 Elementary Schools, St. John's Lutheran Elementary school, and the Tri-Town YMCA.  This year, we will be including our newest partner, the District 45 Elementary Schools. In the past, the residents at Lexington Square of Lombard, and Dr. Michael Crone's dental office have also participated.
Do you have any favorite Apple Crunch memories or traditions?
We ask participants to send us a "selfie" of themselves.  We post them on our website, and on our Facebook Page.  We often "surprise" some participants with small tokens of participation like string backpacks or gift cards.
Anything else you want to share about your Apple Crunch experience?
In addition to focusing on school-aged participants, we also promote Apple Crunch Day with our 30+ partners, by featuring it on blogs on our site, highlighting the event on our social media pages, and asking the local papers to publish a media release. We think this is a fun, easy activity that promotes not only healthy eating but the Farm to Table experience.  We love sharing the "teachable" resources from the Illinois Farm to School Network. In the past 2 years, in addition to "crunch photos," families have sent us photos of going Apple Picking with their kids, so we think we are having an impact. Healthy Lombard looks forward to crunching with them in 2022 and in many years to come. By the way, although our name is Healthy Lombard, we do get participation from kids throughout the western suburbs because our only criteria are for a participant to want to become and/or stay healthy.