by Jennifer Nelson
In my last newsletter article, A climate in crisis and how our food choices make a difference, I closed with "We all need to do more faster…and hold each other accountable for making these changes happen." While change is needed, and needed now, knowing where to start can be hard, and actually starting even harder. I would like to share a couple of success stories that started small and led to great change. I hope these stories  will inspire you to take that next step towards sustainability at home, at work and in your community.
MICRO BREW, MICRO WASTE: We had our 15th annual fundraiser for Seven Generations Ahead a couple weeks ago. The Oak Park Microbrew Review – the largest zero waste craft beer fest in the Midwest. What does it mean for an event with 2,600 attendees to be zero waste? Unfortunately, it does not mean that there is absolutely no trash. It does mean that every year, we learn, take new steps to reduce waste, and keep striving for that elusive ZERO waste.
So what are some of those baby steps? As my co-worker Susan Casey stated, "We prioritize waste prevention with reusables like our souvenir tasting glasses and reusable water dispensers. Then we aim to make everything else used for the fest recyclable or compostable, including food serviceware."  We started with reusable tasting glasses…we provide all the compostable plates/bowls/etc…one year we added large water monsters (big tanks) to the event for drinking water…food vendors have to sign a zero waste contract stating they will not bring landfill to the event and a few years ago we figured out a way to recycle all the plastic bags from the large bags of ice. Each year we try to find new ways for the Micro Brew to be more sustainable…one step at a time.
You might wonder how a story about a huge event can inspire a baby step for you. Whether a small event or a large event, the steps you take follow the same path. A sustainable event can be a backyard barbecue, where you use reusable instead of disposable plates/cups/forks. Or it can be a meeting at work with catered food for which you plan carefully the quantities ordered to minimize waste. Or it can be the University campus that started with a zero waste seminar…took the next step to make student orientation zero waste…and now has a zero waste cafeteria and campus. Baby steps.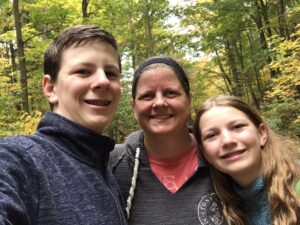 ONE NEW YEAR'S RESOLUTION AT A TIME: At Seven Generations Ahead, we don't leave our work at the office. We are all passionate about sustainability and bring this into the steps we take in our homes and families., Nine years ago my kids (third and fourth graders at the time) and I made the resolution to not use single use water bottles for the entire year. Was it hard to keep this resolution? At first it was not too bad and the commitment was fresh in our minds (think how gyms are crazy busy in January with New Year's resolutions to get healthy). We remembered to bring our reusable bottles with us and I even had an extra in the car. But by summer situations came up and bottles were forgotten…or we were thirsty but already drank our bottle. We toughed it out. This was just one small change to make, so we stuck with it and this one step led to a lifestyle change for our whole family (even extended family have been inspired.) The average American uses 156 bottles of water each year. By this measure, our impact to date is somewhere in the neighborhood of 5,500 water bottles not counting extended family and friends inspired to take on this resolution too. This one baby step led to the next and we shifted to reusable shopping bags for our next year's resolution. 
I invite you to explore, join, and support the work that we do every day and to take steps together to be more sustainable in your home, your work, and your community. Here are some baby steps to consider – not all at once – choose a place to start. 
REDUCE WASTE – Use a reusable water bottle, straw, shopping bag, etc.; Use rechargeable batteries
REDUCE WASTED FOOD – SGA resource This is the Moment to Reduce Wasted Food; Learn how to shop smart, prep and store food to reduce waste and save money. US EPA Food Too Good To Waste Toolkit
REUSE – Give away items you no longer need or use: Join a local "Freecycle" group; Toss it? No way! Learn how to fix those broken household items; Purchase used household items and clothing when possible
RECYCLE – Find out if something can be recycled at Earth911:  http://earth911.com/recycling
COMPOST FOOD SCRAPS – Compost in your backyard, through a municipal program that picks up food scraps or using a drop off location. Over 60 municipalities in Illinois have programs that allow residents to include food scraps with their yard waste (many at no additional cost to residents).  Do you live in one of these communities?
SUPPORT GREEN BUSINESSES – Spend your money at businesses that are reducing their wasted food or composting food scraps – We Compost restaurants and caterers, grocery stores and Farmers markets, businesses, etc.
SHOP and EAT LOCAL – Find local food at a farmers market, in the grocery store, and through supporting local farmers (CSA box)