Our Zero Waste Schools Program works with school staff and students to shift operations and minds towards generating zero waste through source reduction, recycling, composting, and food recovery.
Seven Generations Ahead:  
Zero waste is a path, and SGA's role lies in meeting schools where they are in the process and supporting the changes needed until zero waste is the new normal for our schools and our next generation of environmental leaders. On average, area schools we have supported in implementing commercial composting and recycling programs divert as much as 80-85% from the landfill.
For more information contact us at zerowaste@sevengenerationsahead.org. 
Impact of Going Zero Waste
Through this program, SGA educates and empowers students to use their knowledge in their schools and in their communities. The impact of the program can be best communicated by these Solorio High School students who have been involved in the zero waste program at their school: 
Victor (10th grade): "At my elementary school, we didn't do this. The fact that we're sharing this experience is amazing. We didn't do anything at home before this either– no recycling, nothing. You'd be surprised; a lot of kids do care. Some might do it at first as a service learning project, but once they see the impact, they want to be on the Zero Waste Team."
Karla (11th grade): "Zero Waste has helped the community by teaching our younger generation how to compost. This results in students being able to carry these skills into adulthood and being able to save the environment in the long-run."
Germaine (11th grade): "Zero Waste impacts the communities and improves the communities. As far as emissions go, with global warming being a major problem in our society, we think that it's imperative that everyone participates in zero waste and composting. The more information you have and the more repetition you have makes for success."
Abigail (10th grade): "Zero Waste at our school is a good way to provide an example for other schools and other people in our neighborhood to learn how to properly compost foods and to recycle. This sets a good example for other people to follow."
David (10th grade): "Here Zero Waste is achieved by reducing, reusing, recycling, and composting. It is making a big change in our world, not only at this school but at other schools as well. By changing how schools improve and become zero waste, you can make a big difference towards the world."
Click here to read about the tour that Solorio Zero Waste Ambassadors led for City of Chicago sustainability leaders.
Click here to learn more about the Chicago Public Schools Commercial Composting and Recycling Program, in which Solorio High School participates.
Our Zero Waste Curriculum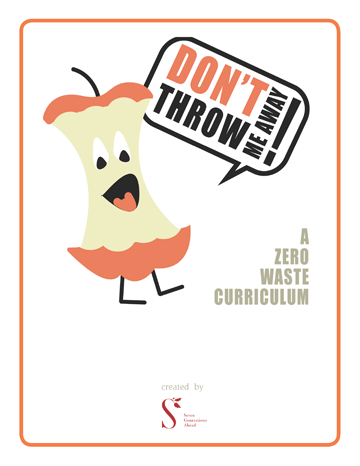 Don't Throw Me Away: A Zero Waste Curriculum