What do you do when you want to reduce lunchroom waste at your school, but your waste hauler can't provide composting service? You make a roadmap! Seven Generations Ahead's (SGA) Zero Waste Schools (ZWS) program is excited to pursue a new project that guides schools through the process of waste reduction at the source – curbing waste before it even makes its way into the cafeteria. SGA was thrilled to work with Heineman Middle School to collect crucial data for the roadmap.
The ZWS team worked closely with Richard Reed, Director of Food Services for Huntley Community School District 158, who is keen on implementing waste reduction measures, including commercial composting. Since the district and SGA were not able to identify a hauler that could pick up food scraps from the schools, creating a Zero Waste Roadmap presented the opportunity to make strides toward waste reduction in other ways, which will also ultimately benefit other schools in the county. 
To collect data for the Zero Waste Roadmap, the ZWS team conducted a lunchroom waste audit at Heineman, breaking down the types of waste into specific categories, including different types of food waste, straws, sporks, spork wrappers, and paper boats. Collecting this detailed information allowed school stakeholders to brainstorm specific and actionable ways to reduce waste at the source. Becky Brodsky, ZWS Program Manager, said many people, both in the Heineman community and in McHenry County, were eager to get involved in this process.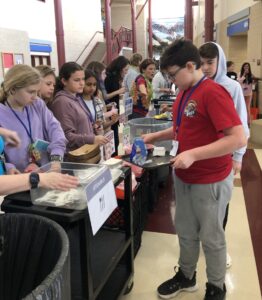 "It was a really amazing community effort and is now serving as an opportunity to improve waste reduction efforts throughout McHenry County," she said. 
Students and teachers from Heineman's Ecology Club were especially supportive of the effort and helped put together a list of actions for the school to take based on the information from the waste audit. Student suggestions included improving visibility and signage of the recycling bins, having a water filling station in the cafeteria to reduce use of plastic bottles, and using bulk condiment dispensers instead of offering individual packets.
These suggestions aligned with the ZWS team's ideas, which also included offering straws upon request-only, eliminating Styrofoam and plastic packaging, and stacking paper boats so they take up less landfill space. Heineman's Zero Waste Roadmap details short, medium, and long term actions based on their specific needs, in addition to providing links to key resources, allowing the school to move forward on waste reduction strategies, despite the fact that composting is not currently an option. 
Based on this process and all the feedback from stakeholders, the administration identified four priority actions to implement at the beginning of the upcoming school year:
Offering spork/utensil and napkin dispensers 

Improving recycling practices through signage and strategic bin placement

Placing the lunchroom share table on a more appealing cart (which students will decorate over the summer) and positioning it in a visible location with clear signage

Donation or re-servicing of share table items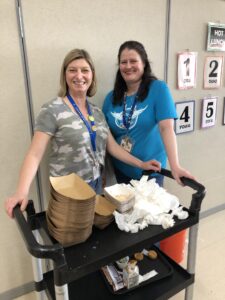 Huntley Community School District 158 is already a leader in sustainability in McHenry County as a U.S. Department of Education Green Ribbon School. Piloting the Zero Waste Roadmap is another big step on their sustainability journey, and what Heineman has learned from this process can help inform waste reduction efforts at other schools in the district. Members of the Environmental Defenders of McHenry County's Waste Reduction Team and the Solid Waste Manager for McHenry County Department of Health were present at Heineman's waste audit. With so much community engagement, Heineman's success in the Zero Waste Roadmap launch is sure to have a ripple effect throughout the county. 
The project is generously funded by the Full Circle Foundation, which supports SGA's collaboration with schools in McHenry County.