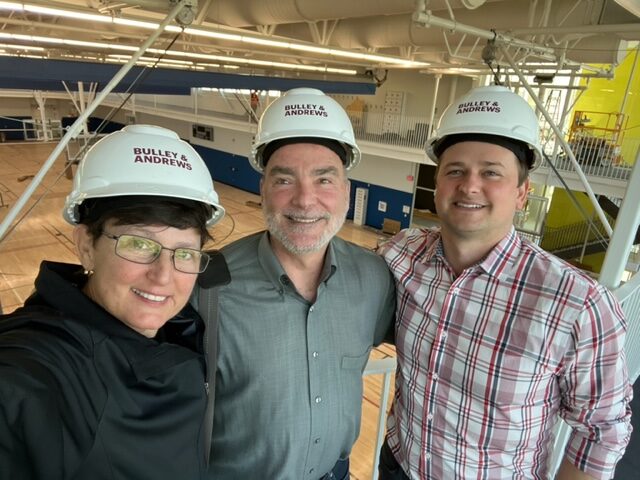 On Sunday, May 21st, the Park District of Oak Park held a ribbon cutting ceremony to celebrate the opening of the new Community Recreation Center (CRC). The center, which was designed especially to serve local youth, will host a free after school program and features many health and wellness amenities, including an indoor track, gymnasium, and basketball hoops. And for the sustainability-minded in the community, the CRC exemplifies climate-friendly building design. Seven Generations Ahead is thrilled to celebrate the Park District of Oak Park's latest achievement in creating a greener community.
The building is net-zero, meaning the building produces enough renewable energy to meet its own energy needs. The CRC achieves this through a number of design features, such as airtight insulation, triple-pane windows, and a high-efficiency HVAC system, all of which ensure the building is as energy efficient as possible. It also has a total of 662 onsite solar panels, allowing the building to capture a large amount of clean, renewable energy. Even the treadmills are sustainable, converting more than 70% of user-generated energy into another clean energy source for the building. 
"The Park District of Oak Park has strived to incorporate our core value of sustainability into all of our current and future operations," says Chris Lindgren, Superintendent of Parks and Planning for the Park District. "The new Oak Park Community Recreation Center is our second all-electric Net Zero facility and one that we are very excited to share with our community.  We leveraged grant funding to cover 80% of the cost to go to Net Zero and will save over $80,000 annually on our utility costs." 
In 2022, the Village of Oak Park adopted Climate Ready Oak Park, an award-winning climate adaptation and mitigation plan. High on the list of priorities in this plan is building decarbonization. The CRC truly sets the standard for net zero buildings in Oak Park. 
"Not only is this facility producing all of its energy needs on site, but it also has unique backup batteries that allow us to island the building in a long-term power outage making us a resilient facility that is able to be a hub for people in need of a safe space," says Lindgren. "This building has interpretive signage to show what was done to achieve this great milestone, as well as educate our community on net zero. As a public body, we have the unique opportunity to reach our community as a whole and can play a vital role in showing the way to a greener community."
Overall, the Village has ambitious goals to reduce community-wide greenhouse gas emission by 60% by 2030, and to ensure the energy needs of all Village facilities are met by 100% renewable energy by 2030. The CRC is now a leading example of how to meet these goals. 
"The Park District is thrilled to add another net zero facility to our portfolio," says Jan Arnold, Executive Director of the Park District of Oak Park. "This all-electric building is a testament to the Park District commitment to sustainability and mother earth."
Not only does the CRC lead the way in Oak Park, but it also demonstrates best practices for other communities in West Suburban Cook County who are part of the Cross-Community Climate Collaborative (C4). Co-led by Seven Generations Ahead, the Urban Efficiency Group and the mayors of Broadview, River Forest and Oak Park, C4 is designed to bring together BIPOC and non-minority communities across income lines to share ideas, secure resources, and drive large-scale projects within and across communities that achieve greenhouse gas (ghg) emissions reductions, equity, and sustainability goals. 
As park district leaders across the C4 communities convene to share how park districts can help build greener communities, no doubt the CRC will be top of mind. 
"The Park District of Oak Park is always willing to share our learnings to help other agencies enhance their sustainability efforts," says Arnold. "I truly believe that through relationships and collaboration all things are possible."