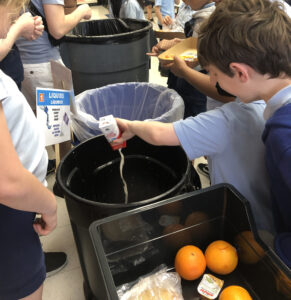 Seven Generations Ahead's Zero Waste Schools (ZWS) program is celebrating another successful launch at a local school. The ZWS team oversaw what was actually a relaunch of the zero waste program at Carl Von Linné Elementary School, a Chicago Public School (CPS) with 648 students. Von Linné has been a part of the program since 2015, when it was one of five pilot schools for the CPS Commercial Composting Program. However, due to Covid-19, the school had to pause the program for a few years. They were excited to finally get back into action with the dedicated work of parents, custodial and food service staff, and administrators. Becky Brodsky, ZWS Program Manager, said their preparation really showed on launch day. The first day of sorting went smoothly because they reviewed the process in the weeks leading up to the relaunch. 
"Everyone was very on board and wanted to make it work," said Brodsky. Brodsky was also impressed that they were dedicated to incorporating zero waste practices throughout the school, not just in the lunchroom. Three of Von Linné's pre-K rooms and their culinary classroom also had bins set up to compost in the classroom. 
"It's great that they really wanted to make it a schoolwide thing and include it for pre-K," said Brodsky. "The younger students will be well trained for next year."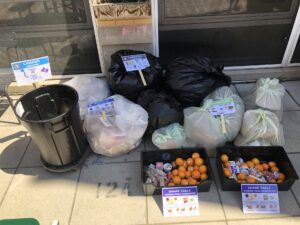 Launch day resulted in 131 pounds of food scraps composted and 34 pounds of share table items diverted from the landfill. The school generated only two bags of landfill trash on launch day, a significant reduction from the 10 bags they usually produce on an average day. 
One of the core parent collaborators, Lisa Sanzenbacher, summed it up well in a social media post on launch day: "I am so proud of all the kids at CPS Carl Von Linné Elementary School! We restarted the composting program today and everyone from pre-K all the way up to 8th grade did a fantastic job sorting their lunch waste! Thanks to Becky Brodsky and the folks from Seven Generations Ahead for being there today to help get us going! Shout outs to Sarah Long and Stephanie Katsaros for getting the ball rolling and pushing through! And of course, a very special glass of gratitude for Principal Gabriel Parra for everything!"
Principal Parra was Von Linné's assistant principal when they first started their program in 2015, so he was already familiar with the Zero Waste Schools program and eager to support the relaunch. We'll close with sharing his wonderful reflection of launch day: 
"For the last few months we have been preparing for what undoubtedly would be an exciting day! The team was ready, the students were excited, the signage was posted, the stations were in place and the teachers had done their part to prepare all students. Months of preparations and meetings all lead to the day Linné would relaunch its composting program. On Wednesday, April 12, 2023 the date finally arrived and it could not have gone any smoother! Students from pre-kindergarten to 8th grade were learning a valuable lesson and were doing their part in reducing waste, making us less dependent on landfills, and decreasing greenhouse gas emissions. What a lesson!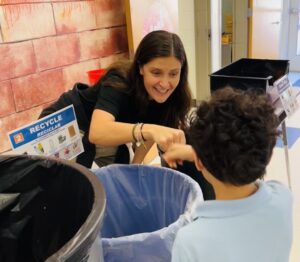 As principal of Carl Von Linné School, I am often attracted to educational opportunities that address, engage, and nurture our youngest learners. We live by this philosophy and it is clearly articulated in our vision of Educating the Whole Child. The opportunity of relaunching a compost program was a no-brainer. To see the kiddos help one another and guide their classmates as they sorted organic waste, liquids, recyclables, and landfill brought such a sense of accomplishment and reward to not only the kids but to the entire school community. Our student ambassadors responsible for helping were amazing!
Our teachers, staff, and Green Team, which is entirely led by parents, made this a reality. We are also thankful for the folks from the Chicago Public Schools Office of Nutrition and Support Services, Lakeshore Recycling, and Seven Generations Ahead for guiding and supporting us during the planning and implementation. It truly takes a village and I could not be prouder to lead such a wonderful school community. In closing, I leave you with the words of one of our 6th graders "I love the idea of composting because we are doing our part in preserving our environment where we can live in a healthy and clean planet Earth". I could not have said it any better!"
 –  Gabriel Parra, Principal, Carl Von Linné Elementary