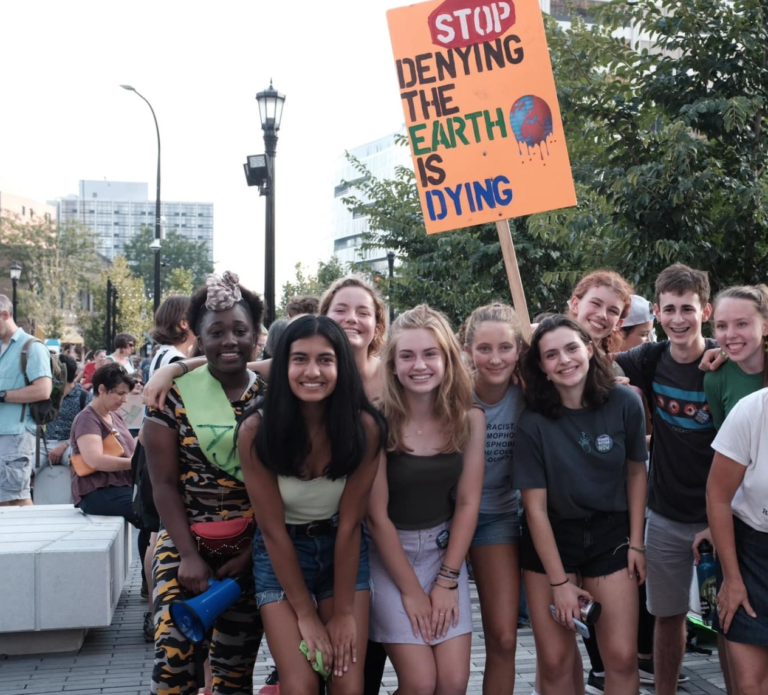 By Milo Slevin, ETHS student
As youth climate advocates, our connections with other young people are an important way for us to create greater impact.  It's Our Future (IOF), a youth-driven program that empowers Chicago area high school students to advocate for just climate solutions in their schools and communities, helps us make those connections and be more effective activists. IOF is a program of Seven Generations Ahead (SGA), a Chicago-area environmental nonprofit dedicated to building healthy and sustainable communities. I'm also a part of E-Town Sunrise, a youth-led climate action organization that advocates for sustainability in Evanston. We are supported by the efforts being made at other high schools in the area, and IOF is a key resource to help us collaborate across schools.
When members of E-Town Sunrise enter the doors of Evanston Township High School (ETHS) every day, we come with an agenda of sustainability goals in the community. That agenda, which is constantly shifting, currently includes advocating for a climate curriculum at ETHS (our petition can be found here). The agenda includes championing sustainability at Evanston's prospective Fifth Ward public school (our letter to the editor in the Evanston RoundTable can be found here). It also includes pushing for a sustainability plan at ETHS, a process that is only just beginning. 
This process is truly where we can find the support of other schools. Oak Park River Forest High School has already established a sustainability policy and plan (see it here), which consists of six measurable sustainability goals for administrators to be held accountable to. Manolo Avalos, an OPRF student, member of IOF, and climate activist, explains how OPRF will keep track of its goals.
"There are many goals in the sustainability plan, which we will track using a sustainability scorecard, which measures how much energy we use, how much electricity we use, how much food waste we have and things like that," he writes. "OPRF environmental club was handed the baton by the sustainability committee to create the scorecard, so we're in the process of doing that and impacted areas will report to us how much they're using. We hope to share that soon with members and the public."
At ETHS, we were able to arrange a meeting with SGA Executive Director, Gary Cuneen and ETHS Director of Operations and Sustainability John Crawford regarding a prospective sustainability plan. That evening IOF youth had an inspiring meeting with OPRF Superintendent Greg Johnson. The precedent set by OPRF is paving the way for ETHS and others. 
Young people from several schools all around the Chicago area are collaborating, sharing resources, problem solving and celebrating wins together through IOF. This has proven to be incredibly helpful, and we, youth climate activists, hope to continue to find that community and support as we fight for a safe, livable and just future. IOF is a great place for us to find it.