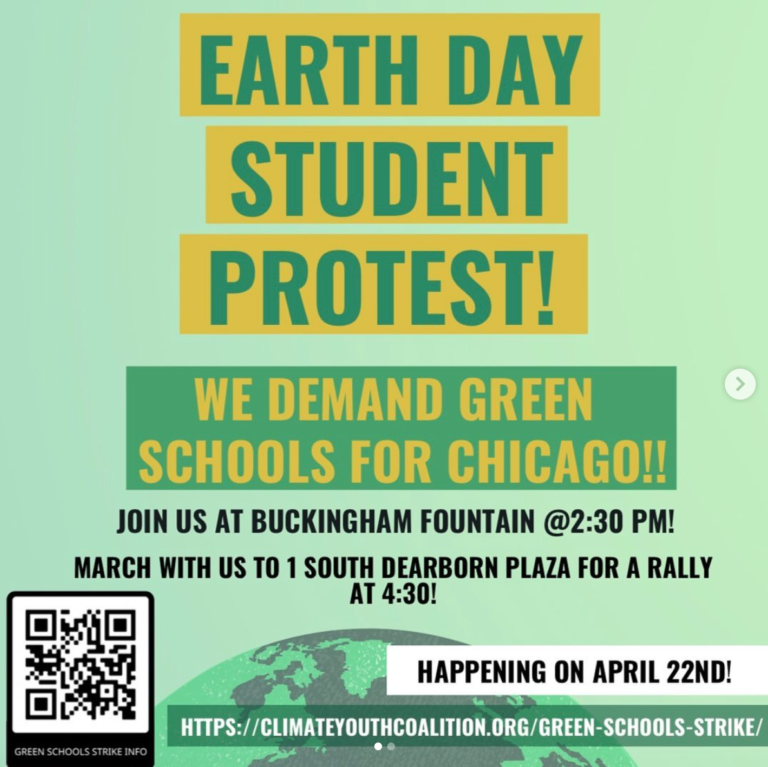 As the climate continues to heat up, young people around the world continue to mobilize. Just months after returning from last year's UN Climate Summit (COP26), Jelena Collins is taking what she learned there to the streets. Collins is an It's Our Future (IOF) student at Oak Park River Forest High School. This Earth Day, Friday April 22nd, Collins and other students involved in Climate Youth Coalition, a group she helped start, are organizing a strike and march in downtown Chicago to demand more widespread support for green policies in Chicago Public Schools (CPS). The event will start at Buckingham Fountain at 2:30p, and will march to the CPS administrative building at 1 S. Dearborn Plaza. The strikers will be asking for: 
– More solar power and clean energy retrofitting in school buildings

– More climate education integration into school curriculum, and

– Better pathways for CPS students and their families to get green jobs in renewable energy and other sectors
"I'm really into educating people and spreading more concrete and scientific details about the climate," says Collins. "That's why I was so determined to have these set policies we're fighting for, because I feel like those specific details are what help people understand climate change and what we're fighting for better."
Seven Generations Ahead (SGA) currently supports CPS on a number of sustainability initiatives, including CPS Goes Solar!, but Collins and other students believe CPS could do even more and serve as a model for other school districts. They have several speakers lined up for the event, including IL-07 congressional candidate, Kina Collins, CPS physics teacher Jasmine Jones, who also attended COP26 with the IOF students, and several other local activists and organizers, along with student speakers.
Collins says her time at COP26 helped inspire her to organize such an ambitious event. "At COP26, I was meeting other 17 and 18 years olds who are coordinating these massive, thousand-person strikes. I realized this is something I could do, too. Talking to those kids and seeing that they're just like other teenagers, but they were able to run events like this, made it feel more within my reach."
She also felt a stark difference between all the energy in Glasgow from environmentally-minded people, and being back in the Chicago area where that energy was less palpable. Through her work with IOF and the Climate Youth Coalition, Collins hopes to bring more of that energy and awareness to her hometown. And attending COP26 made her feel more capable of being a local leader in the climate fight.
"It made me more confident in my status as an environmentalist," says Collins. "It made me more comfortable taking charge and doing this."
You can get all the details for the Green Schools Strike on April 22nd and RSVP here.