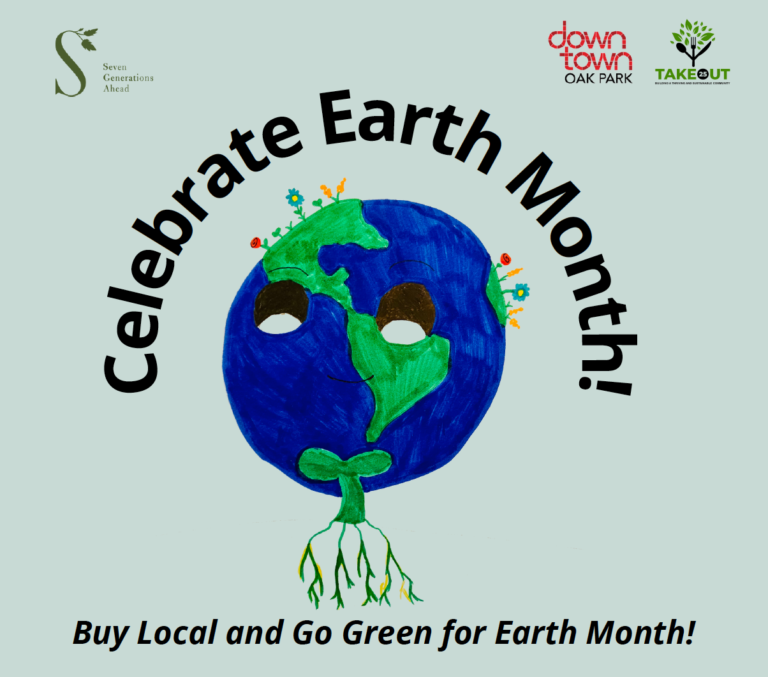 As this year's Earth Day approaches, people are more eager than ever to find meaningful ways to help, with the effects of climate change becoming more and more immediate. At Seven Generations Ahead (SGA), we believe firmly in the power of local action. For 20 years, we've worked throughout Chicagoland and northern Illinois to build more sustainable communities. We help develop policies and programs at the local level that increase renewable energy and reduce greenhouse gas emissions, food and plastic waste, and other forms of pollution, while creating healthier communities. 
We are particularly committed to youth-focused sustainability initiatives. Our Farm to School program connects kids with sustainably-grown, local food through school gardens, curriculum, and healthy, local meals. Our Zero Waste Schools initiative engages kids in reducing lunchroom food waste. We're working with school districts around Chicagoland to develop onsite solar installations. And our It's Our Future program empowers youth to engage in climate advocacy, from local school board meetings to the international stage at the UN climate conferences. Everything we do is focused on fighting climate change, strengthening communities, and building a more sustainable future for the generations to come. 
This Earth Month, we want to give you a way to support our work while supporting our community. We're partnering with local businesses all over the Oak Park area to fundraise for SGA. Businesses will be offering featured "Earth Month" products at a variety of times throughout the month of April, with proceeds from those products going directly to SGA. 
Many of your favorite local businesses have amazing sustainable products and best practices. We hope to highlight these and acknowledge the work they're doing to build a greener community, while raising awareness and funds that will allow us to continue building healthier, more sustainable communities. Look for our happy Earth poster in the window of participating businesses! Many thanks to our collaborators, Takeout 25 and Downtown Oak Park!
You can participate by buying Earth Month products at local businesses, and sharing your purchases using the hashtags #SGAEarthDay2022 and #BuyLocalGoGreen. 
Please check this post often, as we'll be updating it with new participating businesses regularly! And be sure to follow us on Facebook and Instagram for all the details on what products and promotions are available this month. 
Earth Month 2022 SGA Fundraiser Participants: 
Dates: 
April 4th – April 30th
April 4th – April 30th 
April 25th – 30th
April 4th – April 30th
April 4th – April 30th
April 4th – April 30th
April 4th – April 30th 
April 4th – April 30th
Throughout April, special promotions April 17th – 23rd 
Throughout April, exact dates TBD pending availability of seasonal products
Earth Day, April 22nd
April 4th – April 30th
April 19th – 23rd
April 25th – April 30th 
April 4th – April 30th
April 11th – April 24th
April 4th – April 30th 
April 25th – April 30th
April 25th – April 30th 
April 4th – 10th, April 25th – 30th
April 4th – April 30th
April 4th – April 30th
April 4th – April 30th 
April 18th – April 24th
April 11th – April 30th
April 18th – April 24th
April 4th – April 30th