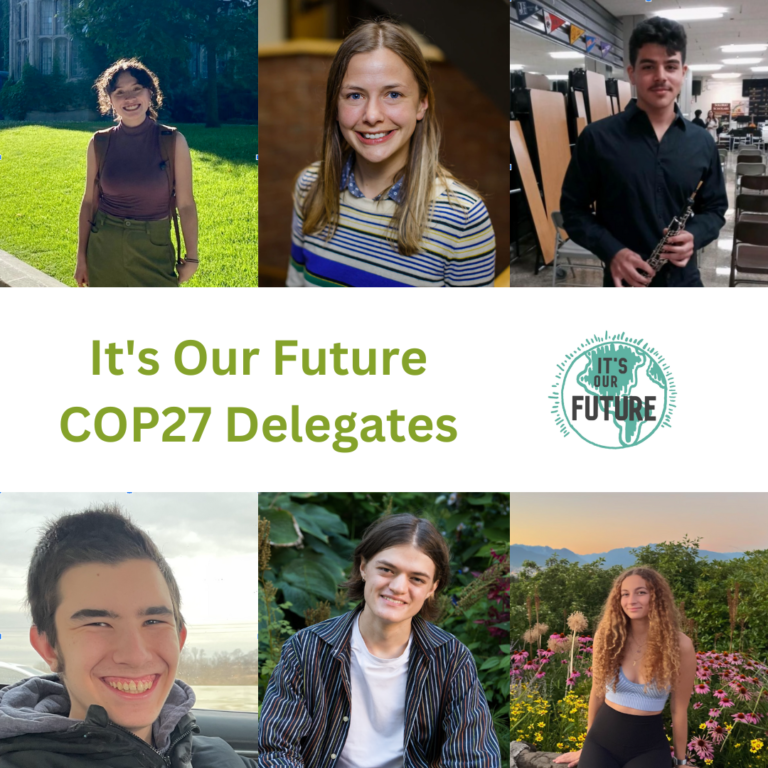 Oak Park, IL – Chicagoland environmental nonprofit Seven Generations Ahead (SGA) is taking their climate advocacy international again this year. Five Chicago area students and one teacher who are part of SGA's youth climate advocacy program, It's Our Future (IOF), are headed to Sharm El-Sheikh Egypt for this year's UN Climate Summit, COP27. Gary Cuneen, SGA's executive director, and Rachel Rosner, IOF program director, will also be joining the group.
The student delegates come from Oak Park River Forest High School, Solorio Academy in Chicago, and Evanston Township High School. An environmental science, chemistry and biology teacher from Solorio Academy will also be joining the group. The delegates will be attending the first week of COP27, from November 6th through the 12th. Seven Generations Ahead has "observer" status again this year, and will be reporting back daily from the conference's Blue Zone where negotiations take place, and many nonprofits and other non-governmental climate advocates gather to connect and put pressure on government officials.
Recent catastrophic flooding events across Pakistan and parts of Africa displaced tens of millions of people, putting a spotlight on climate reparations, a major topic on the agenda at COP27. These negotiations will focus on the responsibility of wealthy nations in the Global North, who are primarily responsible for the greenhouse gas emissions that have caused climate change, to pay for "loss and damage" suffered by nations in the Global South who are the least responsible for climate change, but the most vulnerable. This year's COP has also drawn some criticism for being held in Egypt, where a repressive political regime puts Egyptians at great risk if they march or demonstrate at COP27, a typical feature of these annual meetings.
This year, IOF is partnering with Climate Generation, a national climate advocacy nonprofit, to share dispatches from COP27 through their "Window into COP" digest. Climate Generation is also facilitating a livestream with students at the summit to connect directly to other students and climate advocates in the U.S. That livestream will take place at 12pm Central time on Thursday, November 10th, and you can register here.
To follow Seven Generations Ahead's COP27 coverage, sign up for the SGA newsletter, and follow SGA on Facebook and Instagram. To get live updates directly from the It's Our Future youth delegates at the summit, follow them on Instagram.