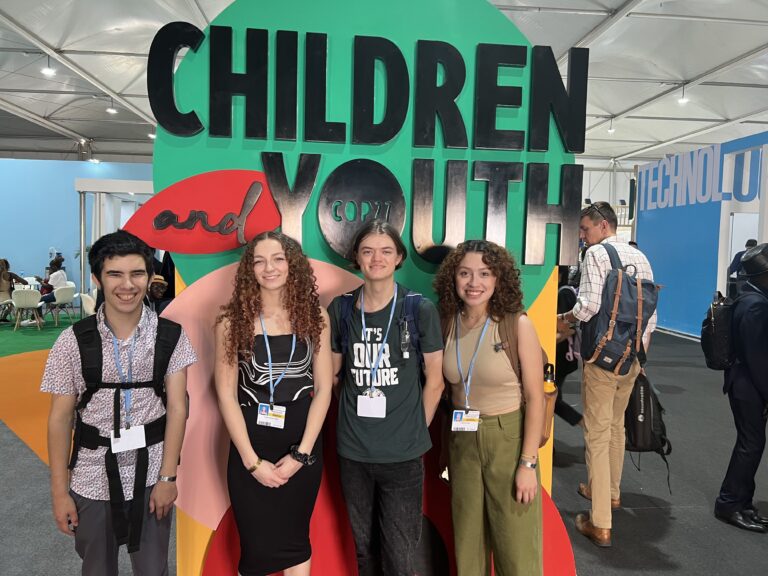 By Gary Cuneen
It's an odd experience being here in Sharm El-Sheikh, Egypt – a gorgeous coastal beach resort at the bottom of the Sinai Peninsula by the Red Sea – and attending the 27th Conference of Parties (COP) UN Climate Summit. Over 100 heads of state and just shy of 200 countries are descending upon Sharm El-Sheikh, along with 10,000 observer organization representatives and a total of 30,000 people. This event comes with the backdrop of having only 24 countries post-COP26 in Glasgow stepping up with more stringent National Determined Contributions (ghg emissions reductions commitments). Current projections are that current commitments would achieve an increase in global temperatures of 2.6-2.8 degrees Celsius and not the Intergovernmental Panel on Climate Change's recommendation of needing to stay below 1.5 degrees Celsius level. Given this trajectory, the world will have used up 86% of its "carbon budget" by 2030 to stay within the 1.5 degree increase threshold leaving little chance of achieving the ultimate goal. 
As global emissions continue to increase, COP27 comes with the backdrop of the war in Ukraine which some industry analysts including the International Energy Agency assert is a "historic turning" in the transition away from fossil fuels as more countries assess strategies for accelerating their renewable energy portfolios to insure energy resiliency and self-sufficiency. In today's opening plenary, however, Ukraine's delegate made a strong statement about the Russian invasion and its ongoing war crimes and how they have railroaded Ukraine's and other countries' capacity to move forward. 
Another topic of discussion is the UN's decision to hold COP27 in Egypt. The UN chose Egypt as a country representing poor and African nations who are experiencing the greatest impact of climate change, and Egyptian President Abdel Fattah el-Sisi has called for a "comprehensive vision to support African nations in their effort to adjust to climate change". While Egypt has embraced this opportunity and has touted its use of eco-friendly food, biodegradable straws, a ban on plastic bags, etc., it is also facing tremendous scrutiny for its track record on human rights abuses (accounts of thousands of people including environmentalists driven into exile for being political opponents) and its environmental track record which includes plans to double its natural gas production as part of its belief that natural gas is the perfect environmental solution. Greta Thunberg is not attending COP27 in part because of Egypt's abusive human rights record and her assessment that COP27 is nothing more than "greenwashing". 
Within this backdrop, COP27 organizers are targeting 4 main objectives for the 2-week conference. They include: climate mitigation (strategies and commitments for reducing ghg emissions); climate adaptation (how to build resilience in the face of climate change impacts and how to support poorer countries dealing with the greatest impacts); financing these strategies; and building greater collaboration. 
YOUTH NOTES: It's Our Future youth arrived in the wee hours Sunday morning and entered the venue today. Youth delegates Manolo Avalos, Fatima Perez and Emmet Duggan interviewed country delegates from Kenya, Mexico and Burnei, toured the venue and sat in on one of the opening sessions in the main country delegates area that addressed the work on climate adaptation and other COP27 process plans.
Check out this video of our youth delegate, Manolo Avalos, interviewing a delegate from Kenya!