Living as sustainably as possible matters a lot to Amy Bartucci. The practice is so much a part of her life that she found a job built around it. In early September, Amy joined Seven Generations Ahead as its new sustainability program associate.
Taking action
The journey began about a decade ago, when Amy seized on an opportunity to take action for the environment. She and another parent joined forces to start a recycling program at their children's elementary school. At the time, the Park Ridge school "had no recycling," she recalls.
The pair first sought help from the Solid Waste Agency of Northern Cook County. "We received a lot of advice through that agency to get the school to begin to be aware of their waste impact," Amy says. They did a waste audit and eventually were successful in securing a recycling contract with the school's waste hauler.
Then they went further. "We started a waste-free Wednesday," Amy says. On that day students were encouraged to bring their lunches from home in reusable containers. The goal, Amy said, was "to encourage kids to be waste free every day."
In 2012, Amy founded Go Green Park Ridge, a group dedicated to raising environmental awareness in Park Ridge and inspiring people to take action to make a difference. Conversations with the town's council, she says, help her realize a need for more awareness and initiatives focused on environmental stewardship. The group backs initiatives on plastic straw reduction, natural lawn care and actively promoted One Earth Film Festival screenings in Park Ridge.
Amy's also involved with North Shore Women in Green, Go Green Illinois and Go Green Illinois Schools.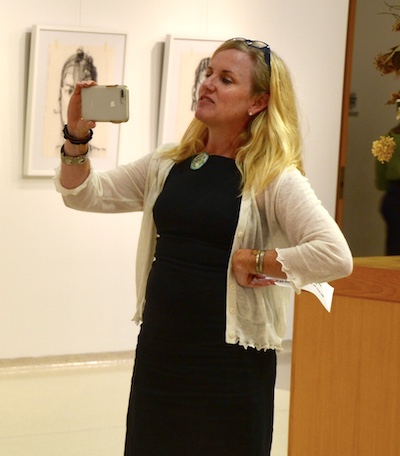 Green and organic
Her green living goes even further. Five years ago, she jumped on a chance for a gardening consultation with Jeanne Nolan, founder of The Organic Gardener Ltd. That led to becoming an intern and then an employee for the Northbrook-based edible garden design business.
At home, Amy and her family have their own edible garden, where they compost and grow tomatoes, peppers, herbs, beans and other vegetables. But that's not all they do to live more sustainably. "I don't buy a lot of things for myself," she said. "I pack a container for my meals. We host waste-free parties. We don't use any paper products."
And, if you're friends with Amy on Facebook, you can join her on a sustainable yard walk in late October, when she will "demonstrate how we reduce what we send to the landfill from our property."
Back to school
Two years ago, Amy returned to school to work on a concentration in environmental studies at Oakton Community College. She completed the program in May.
Now Amy is bringing all that passion and knowledge to her role at SGA. She is dividing her time among several programs, the Wasted Food Action Alliance, zero waste schools and It's Our Future.
"It's a tremendously busy, engaged and hardworking organization," Amy said about SGA. "I've always wanted to make a difference and work at a leading grassroots organization."
No doubt, Amy is getting to do just that.