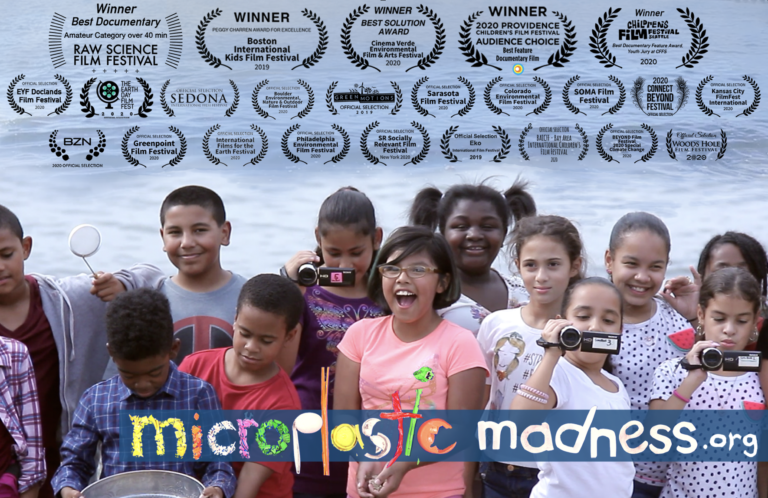 In honor of Plastic Free July last month, SGA hosted a screening of the award-winning film "Microplastic Madness" followed by a panel discussion with the film's co-directors, Debby Lee Cohen and Atsuko Quirk from Cafeteria Culture, and Andrea Densham, Conservation Policy Director at the Shedd Aquarium. Our goal was to share the film's inspiring youth-focused message and to connect participants with ways to learn more and take action locally. Mission accomplished!
Over 80 households from across the Chicago metropolitan region and the country tuned in for the screening. "Beautiful film. Uplifting and full of what we can do," remarked one viewer. Another commented, "As a former teacher, it was so inspiring. I have dreamt about bringing healthier and environmentally friendly habits into public schools."
Released in 2019, "Microplastic Madness" features students in a Brooklyn, N.Y., elementary school as they dive deep into the root causes of plastic pollution. The film follows their journey as they research the science behind plastic pollution, holding a Plastic Free Lunch Day for their school, and learn how to advocate for plastic free waters at city hall.
During our discussion, the film's directors said that they hope the film inspires more students to collect their own local data, lead community outreach, and take action, which will then create a domino effect around the globe. "We are working hard to innovate the way environmental /climate education can be taught so that it is truly relevant and engaging to youth, explained Cohen. "Civic participation, along with media, is also a big part of our engagement strategy." 
Cohen and Quirk also encouraged everyone to consider hosting their own screening of "Microplastic Madness" and share Cafeteria Culture's remote learning resources with teachers, students, and families. Several viewers expressed eagerness to plan a Plastic Free Lunch Day, similar to the one shown in the film, for their school.
Much of the panel conversation centered on how people can raise their voices to advocate for a plastic-free world. Despite the increased push to use single-use plastics during the pandemic, "there is still so much that we can all do," remarked Densham. " We all have our own tools to make a difference in our schools, home, and communities." Densham shared ways to reduce plastic pollution, especially in the Great Lakes and other waterways. 
The panelists emphasized the importance of advocating for the plastic pollution legislation at the local, state and federal levels. They encouraged everyone to contact their legislators in support of the Break Free From Plastic Pollution Act, currently proposed in Congress, and a Bottle Bill for the State of Illinois that would create a deposit-refund system on all plastic and glass beverage containers. In the City of Chicago, the Plastic Free Waters ordinance was proposed this past January.
Did you miss SGA's screening of "Microplastic Madness"? Then you're in luck. The Environmental Defenders of McHenry County will be hosting a screening of "Microplastic Madness" followed by a Q&A on Aug. 24. Details are available on the Defenders' events page.