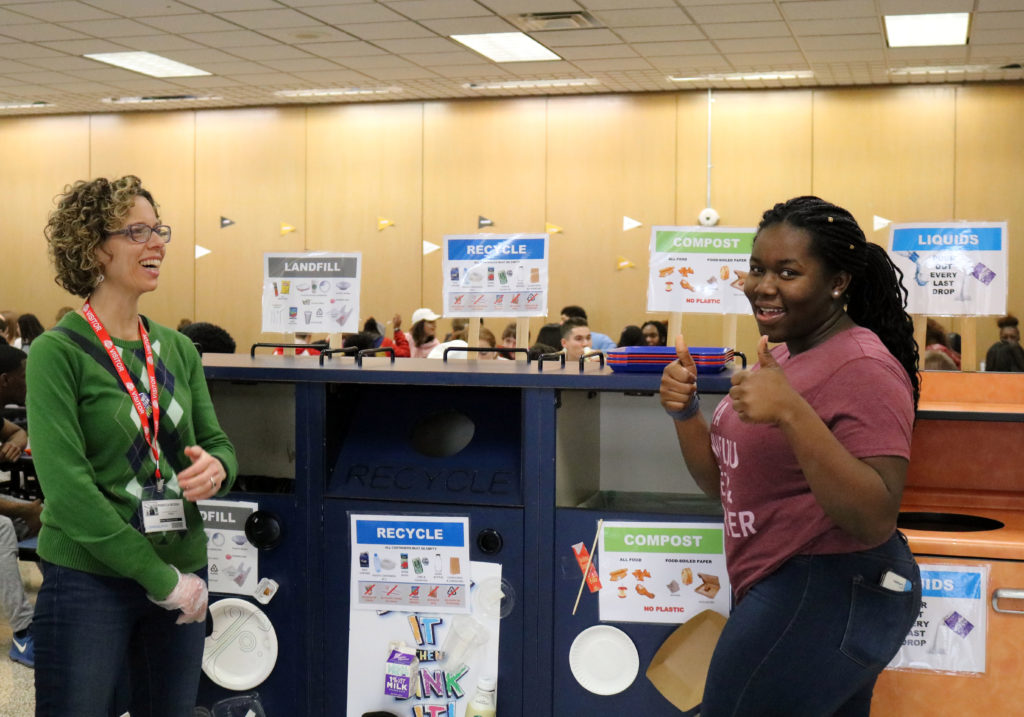 In the school movement to reduce landfill waste, Oak Park River Forest High School (OPRFHS) took a major step on Feb. 24. On that day, the school launched its zero waste program, marking a new way of doing things in its two cafeterias.
This means that students now use sorting station bins for recycling and composting all food scraps and food-soiled paper. Previously, the vast majority of lunch waste was going to landfills. On Day 1 alone, the school kept roughly 306 pounds of materials (74 percent of the cafeteria waste stream) from landfills (see pie chart of waste audit results below).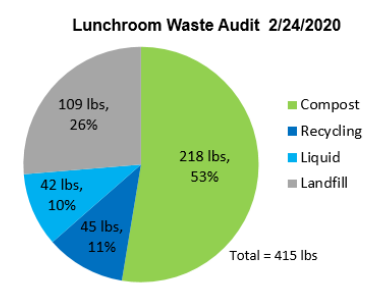 Students took the lead
The project started last fall when student environmental leaders urged OPRFHS administrators to get on board with other public schools in Oak Park and River Forest and make composting available in the cafeterias. Administrators were receptive to the idea and began convening regular zero waste meetings with student leaders, staff, and SGA's Zero Waste Schools Program staff to get the project up and running. 
The students leading the effort became involved through different avenues: some were involved in a civics class service learning project, others were part of the school's Environmental Club, and several have been active in It's Our Future, a project of SGA that equips young leaders to advocate for climate change solutions.
The success of any school zero waste effort program often depends on all who are involved understanding both how and why a program operates. OPRFHS zero waste leaders are assisting with helping fellow students learn the new routine. They also monitor the sorting stations to make sure items go where they belong. 
One student leader who volunteered at the sorting stations described the first day as "slightly chaotic but better than expected." Another said, "Most people are super willing to use the new system."
On the first day of the program, Superintendent Joylynn Pruitt-Adams even joined the action by helping guide students in the new sorting process.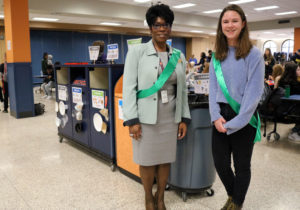 What drove OPRFHS students' interest in composting is the urgency they feel about taking action on climate change. 
Composting and climate change
When food scraps decompose in a landfill, the greenhouse gas methane is produced. Methane has a global warming potential that is 86 times more powerful than carbon dioxide in a 20-year timeframe. Composting is climate action because it keeps food waste and other organic materials out of landfills. Compost can also be used to build healthy soils that sequester carbon from the atmosphere. 
If everyone continues to sort properly at OPRFHS, the school's zero waste lunchroom program has the potential to avoid 18.4 metric tons of greenhouse gas emissions per year. That's equivalent to keeping four cars off the road, or to preventing the melting of 55 m2 arctic sea ice.
Other waste reduction progress
While the launch of a zero waste program at OPRFHS last month is a major milestone, the school of 3,400 students has made other progress toward waste reduction that's worth noting. 
Since 2012, District 200 food service staff, who prepare meals for the high school in addition to all 10 elementary and middle schools in Oak Park District 97, have been composting food waste generated in the kitchen, an effort that SGA helped initiate.
Since 2016, OPRFHS food service staff have also participated in The Surplus Project, repackaging surplus prepared foods from its cafeterias into individual meals for donation to Youth Outreach Services. 
More recently, OPRFHS abandoned its use of polystyrene trays, which they used to provide one day each month on shortened school days. Last fall, the school moved to "Trayless Wednesdays," putting an end to the use of polystyrene trays. OPRFHS also uses bulk condiment dispensers, preventing the need for individual packets.
OPRFHS student environmental leaders want to see all students take home to their families the composting and recycling habits they are learning at school. 
Oak Park and River Forest residents can compost at home by signing up for their community's residential curbside composting service. River Forest residents can sign up for their municipal service HERE. Oak Park residents can sign up for their municipal service HERE. 
At SGA, we believe that zero waste is a path, and our role is to help guide schools along that path. While it's true that OPRFHS has much more to do to become truly zero waste, students and staff have made huge strides and are well on their way. We congratulate all OPRFHS students and staff who are working to make the zero waste program a success.