At Mooseheart Child & City School, the young residents and the adults who care for them take the Illinois Harvest of the Month program to heart. From cabbage to Brussels sprouts, all kinds of vegetables end up on the menu at the Kane County residential childcare campus.
And that's not by accident. Mary Zupke, the registered dietitian who manages Mooseheart HOTM program with registered nurse Kathy O'Brien are driving forces behind promoting healthy eating for all of the Mooseheart residents. They're constantly talking about nutrition and "making sure we're offering plenty of fruits and vegetables," Zupke says. And they've made sure to make Mooseheart's wellness policy is a part of its involvement with HOTM.
A garden grows
Once Mooseheart embraced Farm to School, it connected the Illinois Harvest of the Month to their school garden, says Diane Chapeta, Illinois Farm to School Network programs manager who oversees HOTM. "By incorporating tasting recipes and activities associated with featured HOTM foods to garden harvests and activities, Mooseheart has successfully created a fully integrated program."
The garden is central to that success. With so much available land—Mooseheart is located on 1,000 acres—Zupke started working on how to put in a garden. So seven years ago with about $200, she teamed with another staff member on campus and established the garden. It was "a very small garden," she says.
Then Fox Valley Food for Health "brought in their volunteers to help teach our youth and our youth started coming to help with a garden," Zupke says. "We started out with maybe a 20 by 20 square feet. And it's about 50 yards by 100 yards."
Today there's a fenced in garden and Fox Valley Food for Health, an organization that prepares meals for cancer patients and their families in our local area, uses the garden "for their meals and they give some of their produce to Mooseheart. So, we garden together, which has been a nice partnership." A local organic farmer Rustic Road Farm and Mooseheart's food service provider also donates plants and some produce.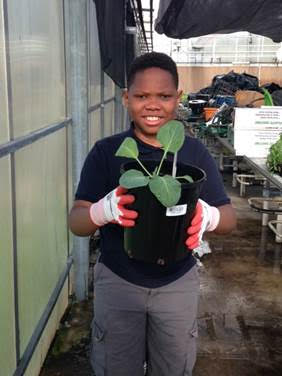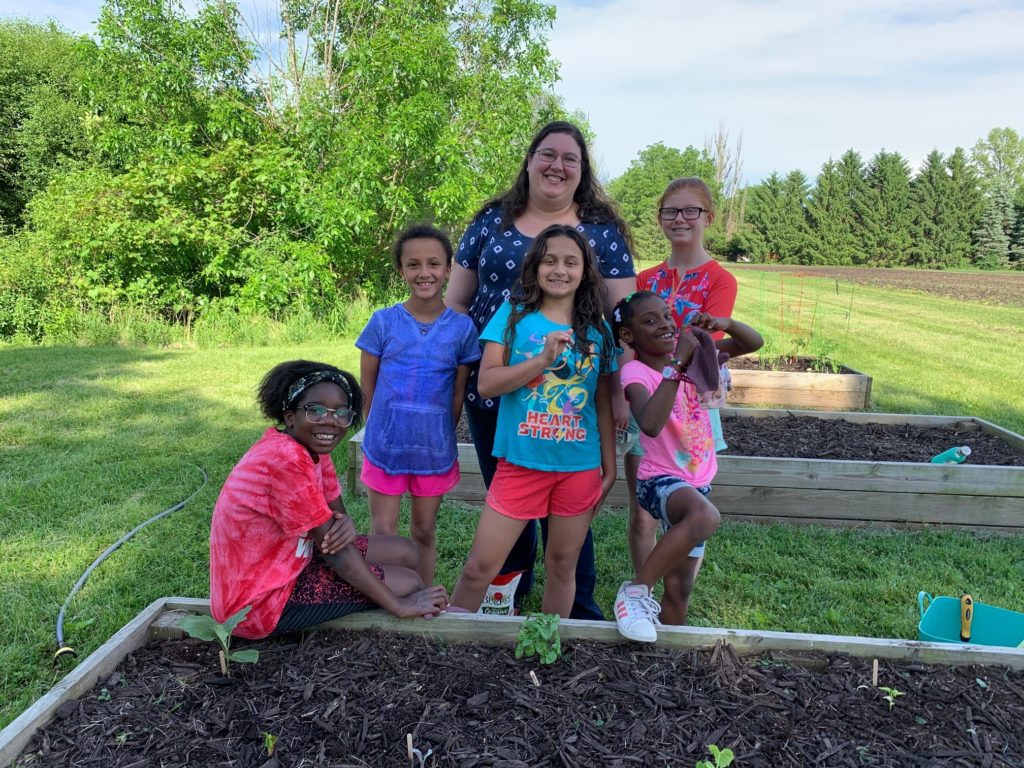 Showcase for vegetables
Another part of Mooseheart's HOTM program called "Taste Adventure" happens monthly, Zupke explains.
Through "Taste Adventure," Zupke and O'Brien showcase the Harvest of the Month vegetable.
"We set up a little tasting table in our cafeteria for the different age groups and they are able to taste the dish that includes the Harvest of the Month," says O'Brien. "Last year we had our middle schoolers cook the dish with Mary," who prepares the nutritional information. "And then we also acknowledged the students that helped make [the meal]—our cooks for the day."
In most cases, they work with a food service company, which brings in the food. The food service company has been extremely helpful in helping them design menus, O'Brien says. "For instance, if we're highlighting broccoli, and the students have made a broccoli dip, then in the entree, we also will have a dish that matches that.
"We would love to have our farm produce directly into our entree every day, but at this point in time, we just have not been able to do that."
The garden's goal, O'Brien adds, "is less about pounds than it is about having a variety of vegetables and herbs that so the kids can see how they grow."
In addition to broccoli, they've highlighted potatoes and basil. "We made fresh pesto from the garden," says Zupke. "We did Brussels sprouts. The kids loved the Brussels sprouts because they had never seen Brussels sprout grown. They loved seeing the stalks, cutting the Brussels sprouts off the stalks. A lot of kids loved that Brussel sprout recipe," served with a tart cherry sauce. Yum.
Surpassing expectations
"Every month, I am amazed and encouraged by Mooseheart's IL Harvest of the Month activities," Chapeta says. "Their constant attention to the details and the development of learning opportunities is surpassed only by their dedication to building exposures to growing and enjoying healthy food."
The COVID19 pandemic will bring some changes to this summer's gardening program, O'Brien says. Instead of one large garden, the individual residential homes on the campus "will be tending to their gardens. And it will be on a little smaller scale than we have done in the past, but that's OK. The children that are here will have a really fun experience this summer of getting out there and tending to their garden."
Mooseheart, set on a " beautiful campus," O'Brien says, many years ago was a farm with a greenhouse and hospital. "We have quite a history. We still have our farm that's scaled down and we have our garden. The children who reside at Mooseheart are split up into group homes by age and gender. They live in the residences with "house parents who are also called family teachers."
Illinois Harvest of the Month celebrates a different in-season, locally grown food item every month. It's a free and flexible way to buy, grow, and serve more local food while teaching students about healthy eating, nutrition, and agriculture.
Registered feeding sites and garden sites receive a seasonal calendar of suggestions for what to feature, then choose what works best for their meal or garden program.
In addition to the seasonal calendar, Illinois Harvest of the Month registrants receive access to classroom and cafeteria activities, curriculum, over 200 recipes, promotional materials, and a monthly email filled with cafeteria celebration tips and ideas for seasonal foods, featured recipes and nutrition facts. There is also one-on-one assistance available for all sites to ensure their success with Harvest of the Month.
Seven Generations Ahead, which administers the state's Farm to School program, also coordinates HOTM.
Mooseheart has been involved in Farm to School programming via their garden program for two full seasons and have been awarded the SEED level of participation in Illinois Harvest of the Month. They also participated in the Great Lakes Apple Crunch for the past two years.
Chapeta calls Mooseheart "a wonderful example of how Harvest of the Month can be utilized to increase farm to school programming and nutrition education among Illinois students."