Kristin Gill hoped to get an internship near her hometown the summer after her freshman year at the University of Minnesota because she wanted to be near her family. Instead, she found an internship right in her hometown with an organization she first learned about during her senior year at Oak Park River Forest High School.
A self-starter
A staffer from Seven Generations Ahead gave a presentation to the OPRF Environmental Club and that left an impression on Kristin. When she returned home for summer break, she called SGA to inquire about an internship. Her "cold call," as she described it, paid off. She started in mid-June and will intern till late August.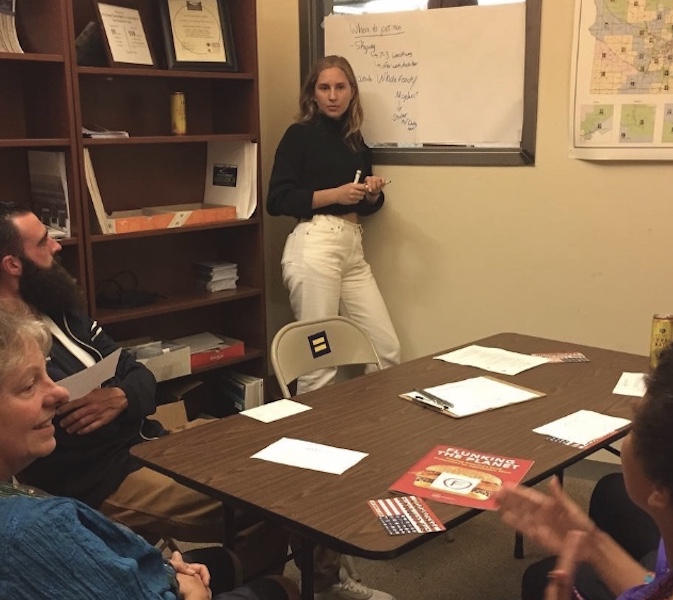 Her duties are wide ranging. She's working on projects that cover renewable energy, youth-centered engagement, community education and event management. "I'm a catch all," she said about the variety of tasks that fill her days at SGA. Kristin tackles them all with a focus and maturity that impresses everyone with whom she works.
One of her assignments involves collecting applications and scheduling interviews for the "It's Our Future" program, which engages youth in advocacy and media outreach around issues related to climate change.
Interacting with students who are only a few years younger than herself feels a little weird, Kristin, 19, admits. But it's also been insightful, she said. "That's probably most new to me, talking to middle schoolers. They're incredibly wise for their age."
Social media savvy
Kristin also works on communications for the Oak Park Micro Brew Review, a zero waste craft beer festival in downtown Oak Park that's also a fundraiser for SGA. She helps with social media outreach, creating posts and stories for Facebook and Instagram.
"Until this internship, I didn't realize the innate social media marketing skills people my age just carry around," Kristin said. "It's an untapped resource, our age group. We bring fluency to social media culture that can either make or break the outreach of organizations. It's cool to see the hours of wasting time online during the school year actually manifest into something productive."
When not staying on top of her SGA responsibilities, the political science major likes to indulge another passion: wheel throwing. She carves out time to rent studio space, where she creates pottery pieces, mugs, bowls, vases and planter pots.