The Northern Illinois Farm to School Bootcamp just happened to take place when Mary Hosier, the new Illinois Farm to School Network coordinator, was in her first week on the job. So that timing was perfect. It gave her a chance to see how much the network has grown around the Chicago area.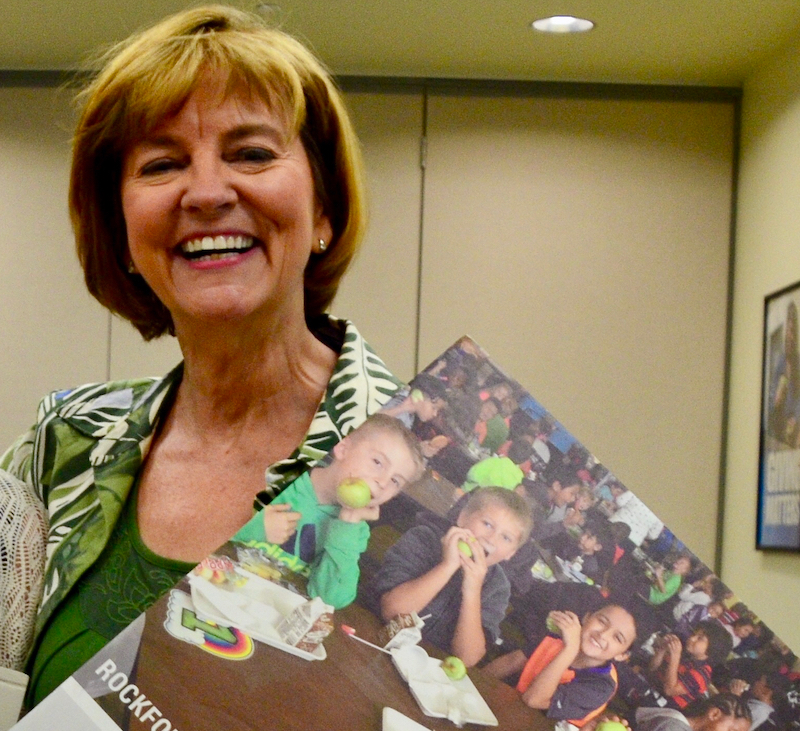 Mary will work from her home base in Champaign. Her charge is to grow the network in Central and Downstate Illinois.
"I'll be relying on the connections I already have [Downstate] and events like the bootcamp to build the network," she said.
In new role, Mary will work throughout the state, focusing on the network's ultimate goal: "to get more fresh food into the bellies of Illinois students," she said.
Early in her school food career, Mary worked with Julia Govis, a staunch advocate for local and sustainable school food. Julia also worked at the University of Illinois Extension as the Statewide Farm to School Program Coordinator and represented Illinois in the National Farm to School Network.
Mary recalls an eye-opening moment during her work with Govis. She was watching British chef Jamie Oliver show a group of first graders a tomato and a potato. "And they'd never seen tomatoes and potatoes in their natural state," Mary said.
What concerns her
Meanwhile, she also worries about childhood nutrition and education, when she see moms in the grocery store, their carts filled with sodas and boxed, processed products. Mary's own nutritional journey helped her recognize the relationship between food and illness. "I learned a lot more about how food can be your medicine. That's why I'm passionate about this [work]."
She brings to her new role a background as a project manager for the University of Illinois Urbana-Champaign College of Agriculture, Consumer & Environmental Services. She also worked with the USDA funded program "Growing a New Generation of Illinois Fruit and Vegetable Farmers." The three-year program sought to increase the number of new farmers producing fruits and vegetables throughout Illinois. Farmers hold a special place in her heart, Mary said.
A fan of farmers
"Everything I learned about agriculture was from that grant," she said. "I did all of the administration, promotion and website work as well as teach a few of the modules. I sat through three years of classes—from soil tests to plant propagation to integrated pest management to marketing—from start to finish. I learned enough to have immense respect and appreciation for the people who [farm]. I know probably more than the average person, but not nearly as much as the farmers."
—Cassandra West