LaSalle Language Academy students gathered around desks waiting for their chance to dig through containers of compost filled with food scraps, worms, and other soil critters. These students had just learned how composting can help their school reduce waste and help prevent climate change. Then they saw how the decomposition process works with their own eyes.
LaSalle is one of several Chicago Public Schools (CPS) this past school year to engage students in environmental learning and action on a daily basis– right in their own lunchrooms. Since March 2019 when their zero waste program launched, LaSalle has reduced lunchroom landfill waste by over 50% by weight through food recovery, onsite composting, liquid diversion and recycling. 
SGA's Zero Waste Schools Program helped LaSalle get there by providing onsite logistical guidance, best practices, a waste audit, and educational presentations about the how and why of going for zero waste for all students and staff.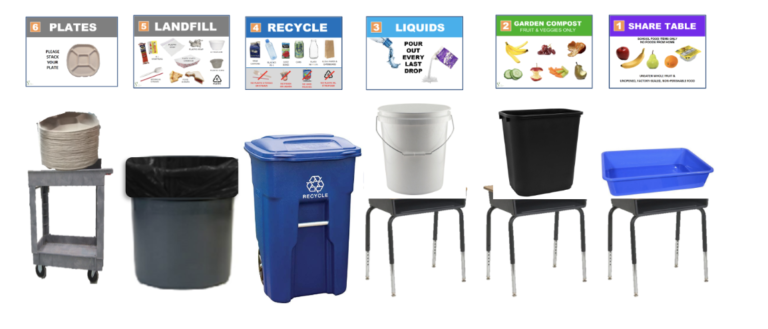 Broad support in school community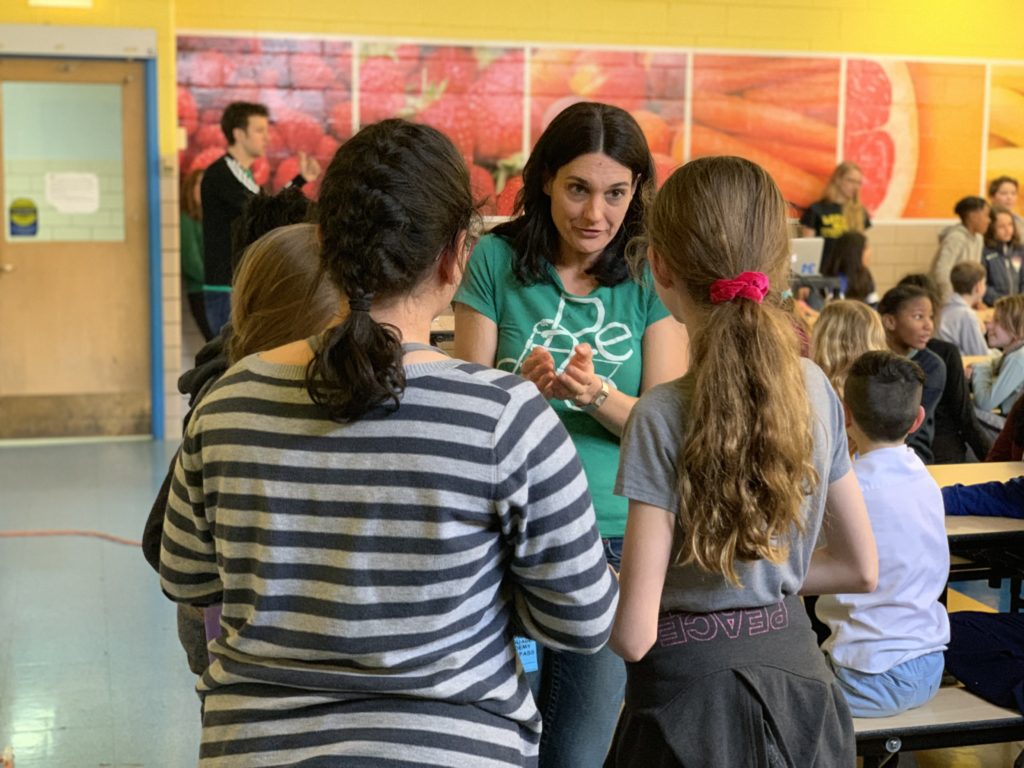 LaSalle's success stems in large part from involving its many stakeholders from the get-go. After learning about the waste reduction efforts in other CPS schools, LaSalle parents Cristina Mazza Piccolo and Bindi Desai Lessing made a zero waste program a priority for their school's Health & Wellness Committee and led its coordination with the enthusiastic support of Principal Chris Graves. Collaboration with facilities and food service staff has  been key, and Lasalle's Green Team, led by science teacher Yoon-Sub Choi, was eager to do a school-based project. 
Share table for food recovery
LaSalle students no longer trash perfectly good food from lunch and breakfast. They now have a share table where they can place unwanted items from school meals for other students to enjoy. Over 40% of food of the U.S. is wasted (as well as all the energy, water, and labor that went into preparing it), while 1 in 7 Americans are food insecure. Share tables help students and staff alike respect the value of food while addressing both the issue of food waste and food insecurity.
The fruit and vegetable scraps not suitable for the share table get composted in LaSalle's new outdoor compost bin. Each day after school, students from LaSalle's Green Team add the food scraps to the bin, mix in some yard trimmings, and learn how to turn "waste" into healthy soil. LaSalle's Garden Team will use the nutrient-rich compost in the school's flower beds.
LaSalle got the new compost bin as well as composting know-how by participating in the CPS Composting Cohort, a program led by Pete Leki, Ecology Program Director at Waters School. Through this program, teachers and parents attend a workshop, then receive an outdoor compost bin and hand tools at no cost to their school. These well-built bins are constructed by students at Southside Occupational Academy.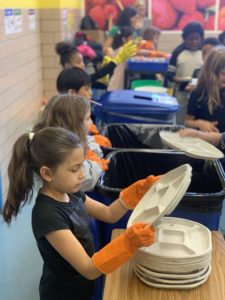 In addition to the school Green Team and Garden Club managing the compost bin, other students at LaSalle make sure everything gets where it belongs in the lunchroom sorting station. These student "zero waste ambassadors" are assigned shifts throughout the week, putting them in charge of monitoring the sorting station at the end of their lunch period. The students are proud to wear the reusable gloves they've been given to help them carry out their tasks. Parent volunteers help Lasalle's youngest students with sorting. The students enjoy making a difference. One fourth grader remarked, "If we do this zero waste program, then our earth won't be made out of garbage."
Like at many schools, LaSalle students eat breakfast in the classrooms, which poses extra challenges when trying to collect sorted materials efficiently.
Roy, LaSalle's long-time custodian and a champion of the zero waste program, thought outside of the box and came up with an innovative solution: By slightly retrofitting the wheeled cart he was already using for waste collection, he set up different compartments for each waste stream (recycling, landfill, liquids, and recovered foods). His "limousine" as he calls it, allows him to efficiently collect the materials that the students sort and set outside their classrooms.
Significant waste reduction
In just their first week of the program, LaSalle:
– Reduced lunchroom trash volume by 40% (from 45 bins per week to 18 bins per week)
– Rescued 12 trays of perfectly good whole fresh fruit and unopened milk from breakfast and lunch
– Composted 35 gallons of fruit/vegetable scraps from breakfast and lunch
– Recycled 630 milk and juice cartons at breakfast; recycled 7 bins of materials at lunch.
LaSalle has made amazing progress and and demonstrated what's possible in CPS.
SGA's zero waste work in CPS is made possible through generous funding by Peoples Gas.