"I was shocked at how much food was getting thrown away and how much trash was being generated during the lunch period," Braeside School parent Philippa Dejmal remarked. "Since the start of Zero Waste at Braeside, the students are learning how to make better choices and are learning that a small action can bring about big change."
Braeside is one of three Lake County schools to recently implement zero waste lunchroom systems that incorporate commercial composting, recycling, and food recovery as part of the Zero Waste Schools-Lake County Program. Red Oak School and Rondout School also participate in the program. Braeside and Red Oak are in North Shore District 112 in Highland Park. Rondout is in Rondout School District 72 in Lake Forest.
Zero Waste Schools-Lake County Program
Seven Generations Ahead (SGA) implements the Zero Waste Schools-Lake County Program in partnership with the Solid Waste Agency of Lake County (SWALCO). The program is currently being implemented in 3-5 kindergarten through 12th grade Lake County schools.
New to Lake County this year, the program is modeled after SGA's work with the Chicago Public Schools Commercial Composting & Recycling Program, in which 14 schools divert roughly 85% by weight of lunchroom waste from landfills through commercial composting, recycling, and share tables.  
As with the CPS program, the Lake County schools will launch commercial composting, recycling, and other waste reduction efforts in their lunchrooms and kitchens. SGA and SWALCO conduct waste audits, provide onsite logistical guidance, and teach all students and staff the how and why of going for zero waste. Schools are expected to divert at least 85% of lunchroom landfill waste while normalizing composting, recycling, and resource conservation for a new generation of student environmental leaders. North Shore Gas and SWALCO fund the project.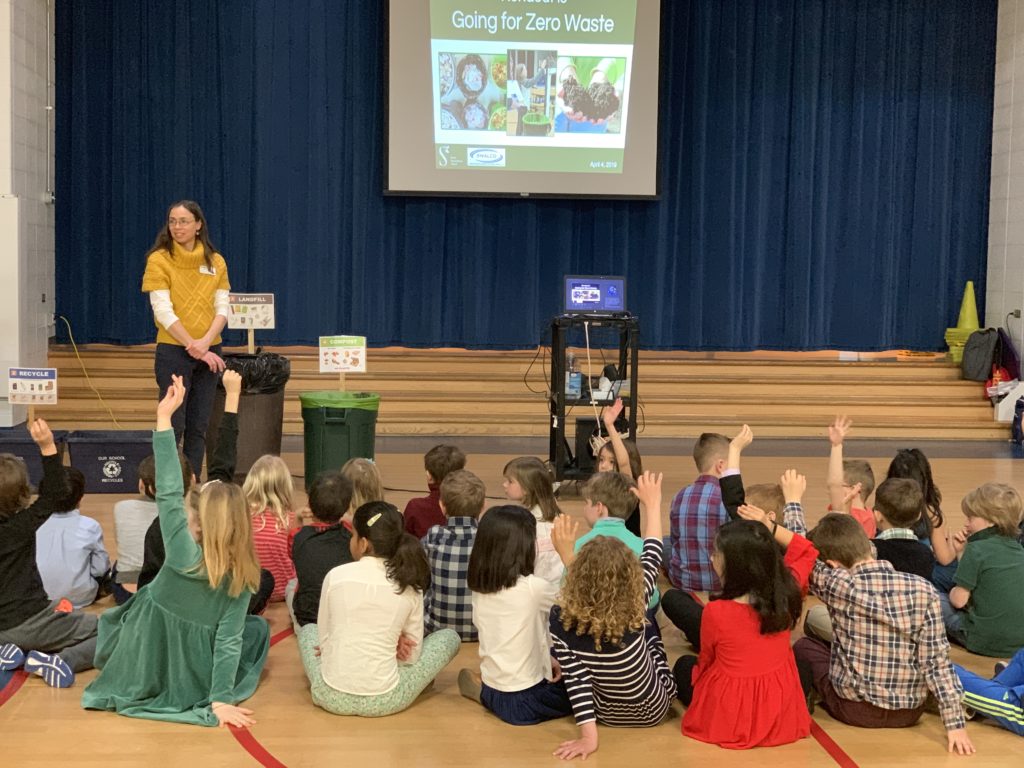 Susan Casey, Zero Waste Schools Program Manager, teaching Rondout students the How and Why of going zero waste.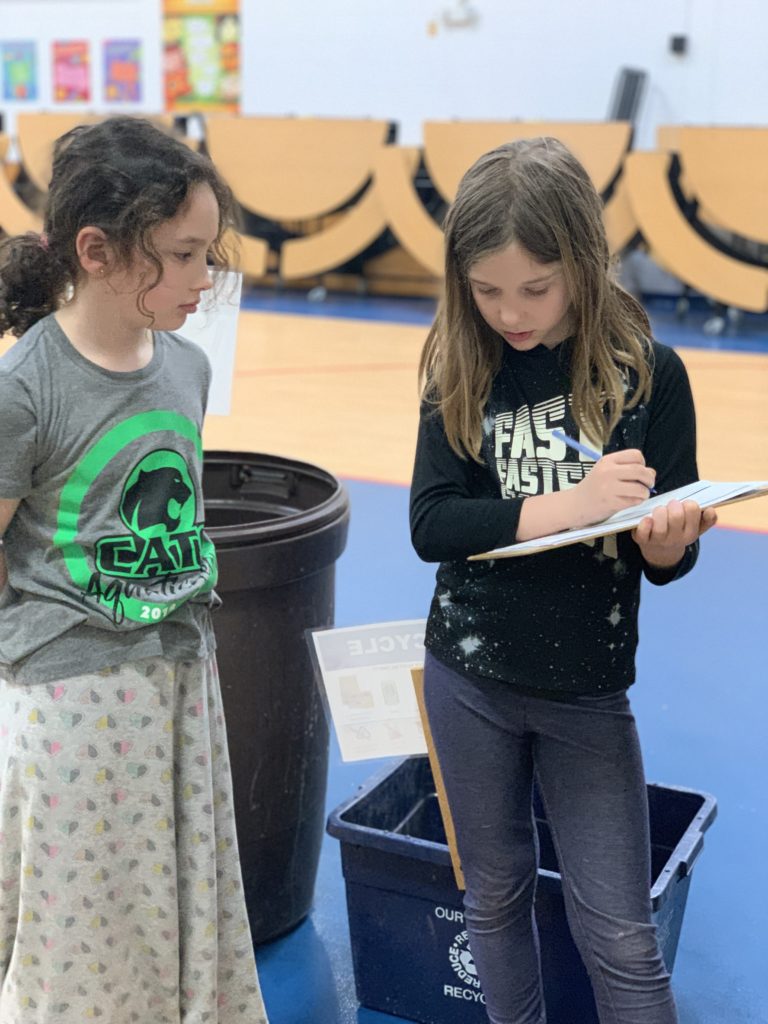 Two Rondout students conducting a waste audit on launch day.
Schools are ideal settings for implementing zero waste initiatives. Schools not only generate significant amounts of waste, they are institutions where children learn social responsibility and lifelong values. While many environmental issues can be overwhelming and complex, waste reduction is an effort that can engage students directly and concretely on a daily basis.
An important part of the zero waste program is education. 
Susan Casey and Becky Brodsky from SGA's Zero Waste Schools Program provide school-wide assemblies to teach all students and teachers how the new program works (how to use their lunchroom's new sorting system), but also why it's so important. Students come to understand that, no matter what age they are, what they do makes a difference. They learn how to apply the 3 Rs (Reduce, Reuse, Recycle) in their lunchooms, how to prevent food waste, and how composting happens. Students learn what happens to each materials stream (trash, recycling, compost) after it leaves their lunchroom and the environmental and societal impacts of the small decisions they make on a daily basis.
Collectively, the three schools diverted 153 pounds of materials from the landfill in a typical day (89 percent of materials by weight, exceeding the goal of 85 percent diversion). Over the course of a school year, that will translate to roughly 27,500 pounds (13.8 tons) of materials diverted. Food scraps and other organic materials, such as compostable lunch trays and napkins, account for an average of 53 percent of the total materials generated by weight; recycling accounted for 13 percent.
The trash from all three schools goes to the Countryside Landfill in Grayslake, Illinois. According to SWALCO, the landfill is projected to be full within 6-7 years, so efforts like the Zero Waste Schools Program matter.
The food scraps and food-soiled paper, also referred to as "organics," collected at the schools are placed in 65-gallon carts located next to the schools' trash and recycling dumpsters. Prairieland Disposal provides the compost hauling service at Rondout; Lakeshore Recycling Systems provides compost service to Red Oak and Braeside. Both companies collect the organics weekly and haul them to Midwest Organics Recycling in McHenry, IL, where they'll be mixed with landscape trimmings and processed into finished compost.  
According to 2015 data from the U.S. Environmental Protection Agency, 15 percent of municipal solid waste generated was food scraps, while only 5 percent of food scraps were composted. When food scraps are composted, a valuable soil amendment is created. When food scraps decompose in the low-oxygen environment of a landfill, methane gas, a greenhouse gas more potent than carbon dioxide, is produced.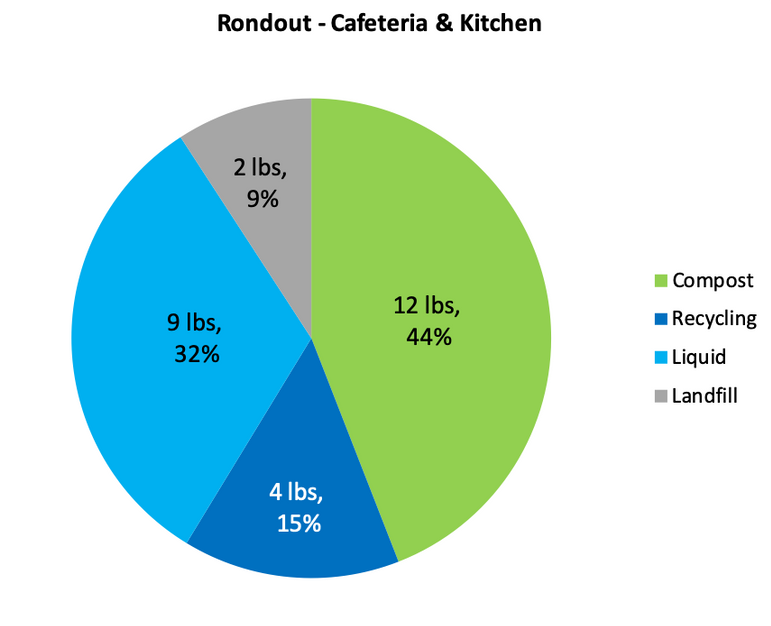 Moving the needle
In addition to bringing up a new generation of environmental leaders, the Zero Waste Schools program also hopes to encourage greater participation in residential curbside composting programs and backyard composting. According to SWALCO, participation in Highland Park's voluntary curbside composting program, which began in 2016, is pretty low–  just 2% of eligible households. "Residents have access to composting, but just need the education and the push," said SWALCO Executive Director Walter Willis. Students in the Zero Waste Schools-Lake County program can be this push. Through teaching the students, we will also be reaching the families which should help boost food scrap composting throughout the community and region.
And we're seeing this happen already.
Rondout Superintendent Dr. Jenny Wojcik reported that, at a recent PTSA meeting, several parents came up to her to say that their kids are starting composting at home. Merleanne Rampale, SWALCO Education Director and close partner of SGA on the Zero Waste Schools program, shared that a super-excited Rondout student spotted her at SWALCO's backyard compost bin sale last month; he brought his family there to buy a bin.
Jenny Futterman, Red Oak parent and active member of  Go Green Highland Park, said, "One of my favorite moments was when a 5th grader told me, 'Thank you so much Mrs. Futterman for starting the composting, it's so cool!'" Futterman also noted: "Many people have asked about how they can improve at home and have signed up for our residential composting as a direct result of [Red Oak's zero waste] program. I cannot say enough great things about Zero Waste Schools and I am excited to help our school keep working towards our goal. I look forward to continuing our work with Susan and Seven Generations Ahead in the fall as other schools in the district have asked if we can bring it to them."
SGA looks forward to doing just that.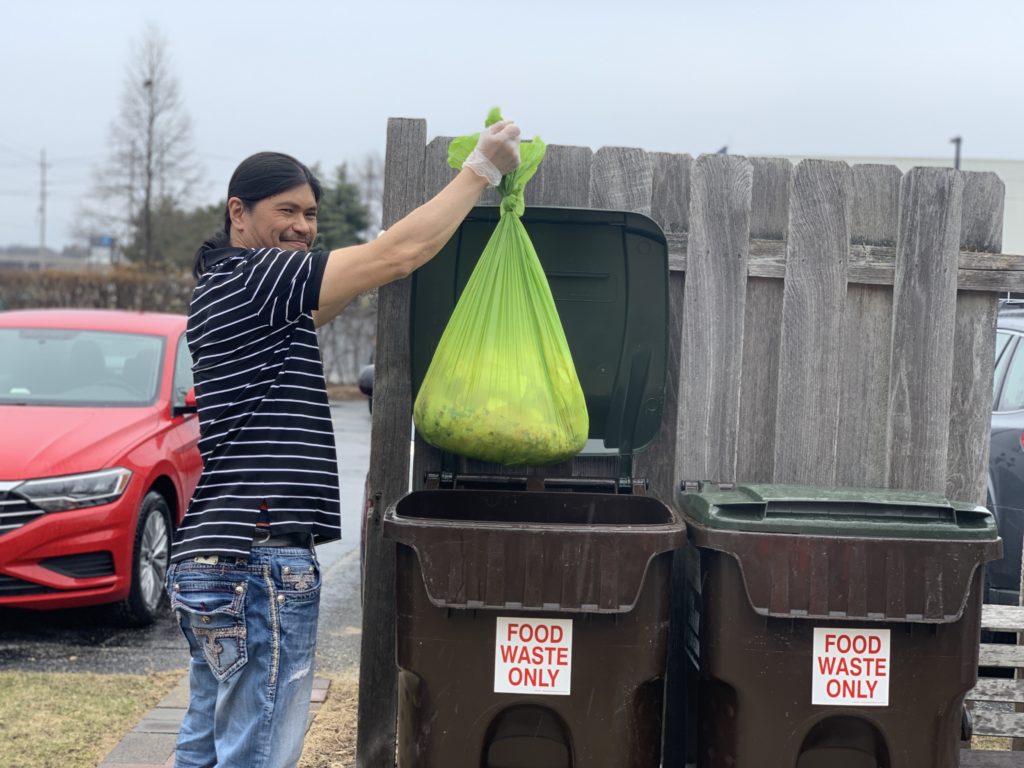 Danny, Rondout's custodian, placing the lunchroom compost from the day in the toter outside.