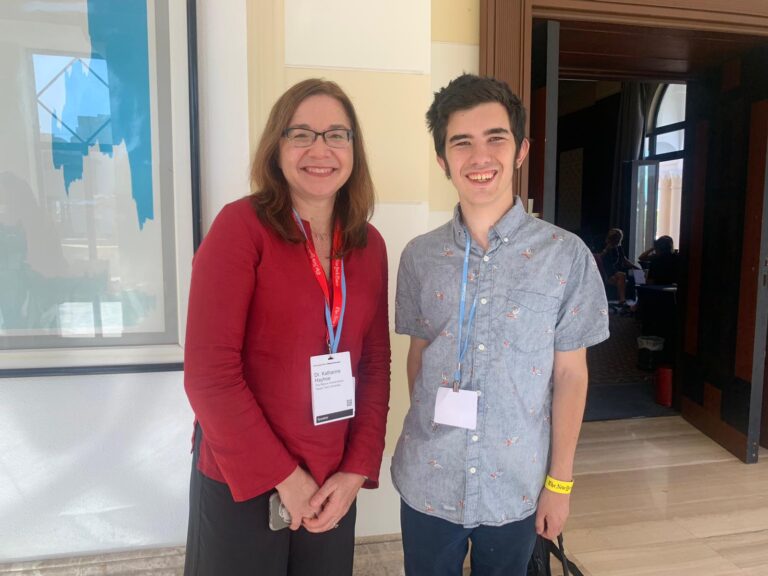 By Manolo Avalos, IOF Youth Delegate
There seems to be this excitement in the room everywhere I go at COP 27 – even on the shuttle buses. I love hearing the many different languages, seeing everyone connecting and feeling the passion about climate change. This excitement is excellent but we also need to focus and really talk about the issues and how we can help and share resources. The power of this whole experience really sunk in when we went on Monday, the first official day of the conference. I went through security but didn't have to wait in the long line because I already had my badge – I felt so official!
For the people, not power. This is a common phrase being used by the delegates and attendees: the idea of funding people not power. At the finance panel in the Green Zone yesterday the representative from Save our Children also raised the idea of 'nothing about us, without us." Both concepts talk about the need to involve the people most affected. My topic of interest is climate education in under-served communities.  It is important to go into the communities, knock on their doors, walk block by block and ask them if they know what the people in power are doing when it comes to climate change and work with the people to figure out what kind of support they need to become more climate literate. 
On Wednesday, I went to a climate-forward event hosted by the New York Times. It normally cost  $350 dollars but they allowed youth to go for free. At COP 27 youth is defined by the ages of 18 to 35 – which seems a little old to me but I'm not in charge.  We met Dr. Katharine Hayhoe, a climate scientist from Canada. She makes the IPCC reports and predicts what our world will look like in the future.  I was in a section with her about buildings and imagining what our cities will look like by 2050. It was a standing activity with movement which I think is very interesting. For example, do you think we will be more reliant or less reliant on fossil fuels? And people would move into the groups that matched their answers. People's responses were all over the place. Some would strongly agree, some  disagree, and some in the middle. It was powerful to visually see how we agreed and disagreed. There were also questions on  energy, food, and human behavior and what things need  to change. I spend a lot of time trying to communicate with people in different ways about climate change so this was helpful for me to think about how I coud do things differently as an activist. 
Next, I went to a session on what a just transition may look like. A lot of things good were said like making it more fair and for people to have the same access to resources no matter where they work or where they live. Countries seem to be struggling with what a just transition is and looks like. The reality is there will be good things that come out during the transition and bad things.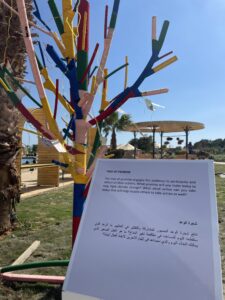 Then I went to another climate-forward event and attended a debate that was interactive. The debate was about if we need fossil fuels in any energy transition or not. Claps, boos and yays were shouted from the crowd which was allowed and actually encouraged. The energy was a lot. In my opinion, the time for transition is now. The fact is we can't keep expanding without figuring out how to move forward with cleaner energy. 
I ended my day by meeting former vice president and climate activist Al Gore. He spoke about the importance of coming together to figure out a single path forward and the realities of climate change. He was a great speaker and I was a bit starstruck. But, I have kept in mind during my time here that it is cool to meet these leaders but that we must continue to talk with the people most impacted and those who sometimes are left out of the conversation. 
The Tree of Promise is an art installation in the Green Zone that asked people what promise they will make today to help fight climate change and what small action can they take today that will help inspire others to take action as well. This experience has been amazing but also overwhelming. My one word take away is hope. And my promise is that I will keep talking about climate change and try and bring new people into the conversation.