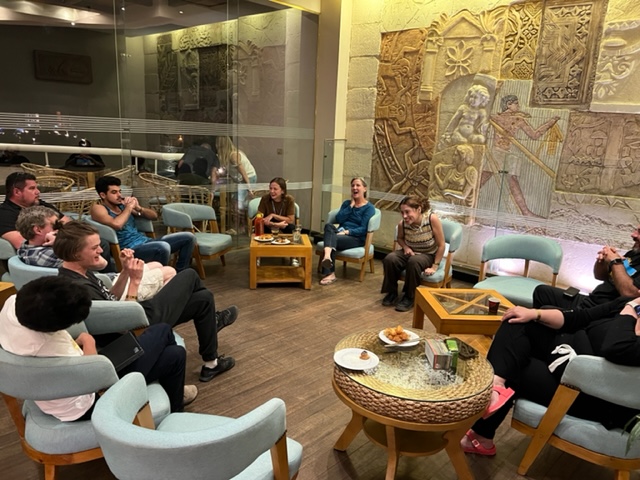 By Gary Cuneen
President Biden
The It's Our Future team was able to listen to President Joe Biden deliver his "good to be back" talk at COP27, emphasizing that the U.S. is recommitted to COP after former President Trump's withdrawal and ready to take a leadership role. Among key talking points, Biden emphasized the U.S.' work with Africa (more on that from John Kerry) including a $2 billion investment in Angola for a major solar project. President Biden reiterated the importance of last year's Global Methane Pledge (and the U.S. commitment) and the Pledge's goal of attaining a 30% reduction of methane by 2030, and also referenced last year's deforestation commitment stating that "forests are more valuable when they are preserved." President Biden touched on the U.S. Green Shipping Challenge, the need for developed nations to support developing nations, and the U.S.'s commitment of $500 million to support Egypt's transition to clean energy. Without alluding to the severity of the current climate crisis and how far the world is behind, President Biden ended by stating that "progress is being driven by young people who know the stakes", and that "our capacity (to deal with the climate crisis) is greater than the challenge."
Secretary John Kerry
Following Biden's talk Friday night, Secretary John Kerry as part of COP27 being the "implementation" COP, made announcements that the U.S> is doubling climate adaptation financing in the midst of lives being lost across the globe from major weather events. Kerry referenced the $12 billion PREPARE initiative of the U.S. to develop and implement emergency plans for adaptation and resilience, and made the following announcements regarding commitments to Africa:
-$28 million for early warning systems
-$24 million for farmers access insurance
-$10 million for Egypt's new Cairo Center for Adaptation and Resilience
-$25 million for the Africa Adaptation Initiative with a new agriculture and food security accelerator
Kerry re-emphasized points he made early this week, stating that the world needs trillions not billions of dollars and the private sector has to step up. 17 of the 20 countries hardest hit by the climate crisis have been African nations according to Kerry.
It's Our Future's Week Comes to a Close
In this Seven Generations Ahead's 3rd year bringing youth to participate in the UN Climate Summits, it was simply an amazingly gratifying experience to watch our young leaders learn, contribute and engage with other youth, world leaders and practitioners form across the world. Watching their confidence emerge as they interviewed U.S. Senators, country presidents, Al Gore, John Kerry and other cabinet members, and people from indigenous communities, Pacific Island nations, and from countries all over was truly a special experience. We're excited to have them return from this experience as leaders with a new level of confidence and urgency. We urge you to support them in keeping 1.5 alive!