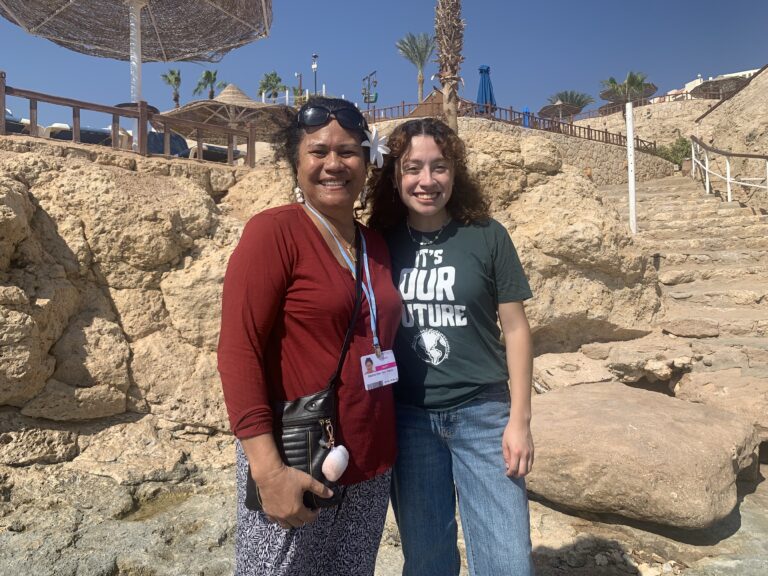 By Fatima Perez, IOF Youth Delegate
After what felt like an eternal journey to arrive at Sharm El Sheikh, we eagerly checked into our hotel to get a well-earned night of sleep. Despite the fact that we don't officially begin our duties as delegates until Monday, November 7th, we have already been welcomed by amiable people ready to tell their stories – for me, this has been an opportunity for insightful learning. 
To commence our day, we ventured to the sea shore with the goal of mere exploration of the Red Sea – with a sight of crystal clear water, coupled with fish that iridesce, and gleaming sunshine, I had already accomplished an amazing experience. However, the cherry on top was meeting Malama, a citizen of the small island of Tuvalu. Malama stated that it has been exciting being able to navigate the many gems that Egypt has to offer, but the ultimate motivate for her travel to Sharm El Sheikh has been to accompany her husband, Minister of Finance and Climate Change of Tuvalu, to COP 27 in order to voice their concerns over the suffering their nation has been enduring due to global warming. For Tuvalu, the effects of rising sea levels and natural disasters, such as hurricanes, have been detrimental considering that the island is in the process of sinking, and the land available only becomes smaller and smaller. 
Becoming displaced due to the after-math of an environmental catastrophe would call for one solution – fleeting. For Malama and her people, this signals the loss of culture, heritage, and their native-tongue. The reality is that this issue goes beyond the bounds of environmental crisis. 
Having this conversation with Malama made me feel more empowered to voice my own concerns, and prompted me to think about all of the other issues around the globe that are intertwined with what feels like the biggest adversity our generation faces today. 
After this very productive conversation, I was prepared to visit the conference venue where I spoke to delegates from Mexico, Brunei, and other youth climate organizations. 
This, I believe, was the right way to begin my journey in Sharm. 
November 7th, 2022.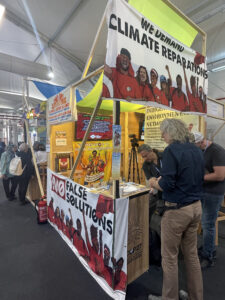 The first official day of COP 27 arrived, and with this came further opportunities to immerse myself in learning. My first stop was at the Solar Cookers International booth, where I was informed about the many environmental benefits of solar cookers, and their accessibility.
The rest of my day consisted of conducting interviews with delegates from Tonga, The Republic of Moldova, and the Climate Justice Alliance – a group focused on Indigenous people's initiative in the fight against climate change. On a personal level, this interview was the most interesting to me given that my focus for COP 27 is to hear more about the issues that Indigenous communities face and the solutions, outside of the solutions proposed by the private sector, that they believe are proper to enact. 
Being able to sit and listen in the Sweden and Africa Pavilion was another enriching experience. 
From the Sweden Pavilion, we heard about the urgency to be all inclusive in the fight for climate change – perspectives from different age demographics, countries, gender, and economic status are necessary for the creation of well-crafted and equitable solutions.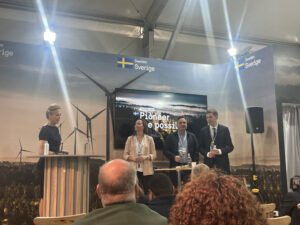 "Funding for the people, not the projects," was the remark that one of the Swedish delegates made sure the audience remembered. This statement emerged as a reminder that under-developed countries must be funded properly in order to combat climate change.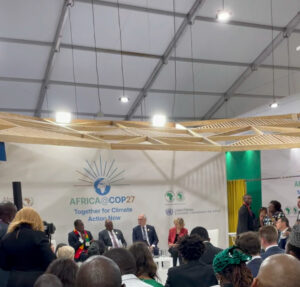 For a more nuanced perspective, the pavilion for Africa allowed us to hear statements from the President of Zimbabwe and Mnangagwa, who advocated for proper international cooperation. 
Altogether, another successful day full of learning and adventure.