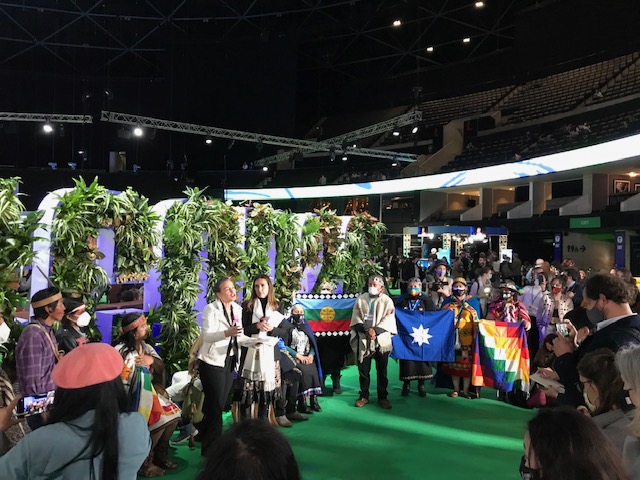 While the world's expectations were that COP26 would be a culmination of raised commitments and a  turning point in the climate crisis, it's apparent that this year's event is a work in progress with some bright spots and other large gaps in commitments, detailed roadmaps toward net zero emissions, and rigor. The BBC reports that factors influencing the success of COP26 include a lack of trust among some nations (due to other issue squabbles and the past impact of Trump on U.S. credibility); the issue of credibility in general in relation to spoken promises and weak plans and action; the lack of effectiveness of 2020 Covid-related virtual sessions; and the COP process itself which needs greater rigor and compliance and more actual negotiation time at the annual event. And all of this with the backdrop of dramatic climate crisis alarm signals, including that there have been so many Atlantic storms this year that forecasters have run out of names.
Highlights of the day:
Ocean-Climate Nexus
I had the opportunity to chat briefly with the President of Palau, Surangel Whipps Jr. after a session on the Ocean-Climate Nexus sponsored by the U.S. Center featuring President Whipps, U.S. Special Presidential Envoy for Climate John Kerry, and Foreign Minister of Panama Erika Mouynes. Foreign Minister Mouynes shared a recent pact developed by Panama, Ecuador, Columbia and Costa Rica to develop a marine corridor that protects the oceans within their boundaries. In addition to providing food for the world and ecosystem services including the production of 51% of the world's oxygen, oceans sequester 20% of global emissions.
Palau Leading by Example
Palau, an island nation in the tropical Pacific with a 4,000 year history, will host the annual Our Oceans Conference on February 16-17, 2022. For generations the elders of Palau monitored the fishing on their reefs, and when increased tourism and fishing fleets from other countries started to deplete their fishing stock, their former President Tommy Remengesau, Jr. closed down fishing entirely on some reefs and only low-impact fishing in other areas. More than that, he closed deep offshore fishing that the country was doing for export revenue, and returned fishing to only meet the needs of the people on the island. He turned 80% of the island (an area the size of France) into a Marine Protected Area (MPA) – essentially a no fishing zone. Now the fish are rebounding amazingly and Palau has become a model for MPA success. $17 billion has been raised from private foundations (Oak, Walton, Hewlett, and others) by the growing coalition of countries promoting MPAs, plastics reduction and clean up, sustainable fisheries and more.
Three Negative Carbon Emissions Countries
….are Suriname, Bhutan, and Panama
Leaf Coalition Financing Rainforest Protection and Re-Growth
The Leaf Coalition raised $1 billion to support 23 projects that will protect and re-grow ½ billion hectares of rain forests. They're working on product producer accountability as well, designed to limit the use of illegally harvested trees for production. This effort supports COP26's first major achievement in which 105 world leaders representing 85% of the world's rainforests agreed to end and reverse deforestation by 2030.
Finance Day
Day Four featured many sessions on financing the net zero emissions goal. According to experts from Citi, Blackrock and Bloomberg, $130 trillion of private capital has been amassed and the greatest issues will be how that money will be deployed rapidly and that that manage risk, achieve results and are responsible in relation to investors. Developing coordination in relation to lending standards, disclosures and carbon pricing are key issues that experts say will need to be worked out. Finance minister sessions today have outlined a few key points, including the unwavering commitment to reach the Green Climate Fund commitment of $100 billion to support adaptation/mitigation for developing countries. Green Climate Fund Executive Director Yannick Glemarec spoke today and estimates that even the $100 billion is a small start, and that the world will need $1-2 trillion per year for the next 30 years to reach net zero emissions. Session moderator Lord Stern of Brentford outlined 5 financing components needed for a comprehensive financing plan for net zero emissions:
Financing to support bilateral commitments
Special funds (like the Green Fund)
Expansion of multi-lateral development banks
Private sector funding
Innovative finance (IMF, carbon markets, philanthropy)
It's Our Future Happenings
-Our youth delegates are preparing for a live from Glasgow COP26 forum and have invited international speakers to accompany their own presentations about their COP26 experience and impressions.
-Evanston Township H.S.'s Lily Aaron attended a panel hosted by the Indigenous People's Forum, attended a youth activist interactive panel, and interviewed an indigenous leader from Ecuador.
-CPS/Mather H.S.'s Ali Khan met with the Joint Secretary of Climate of Pakistan and will conduct a formal interview tomorrow.
-The Oak Park River Forest H.S. youth team went into the Heads of State Plenary Zone to listen to high level talks on how to finance the achievement of net zero emissions.
-Gary Cuneen