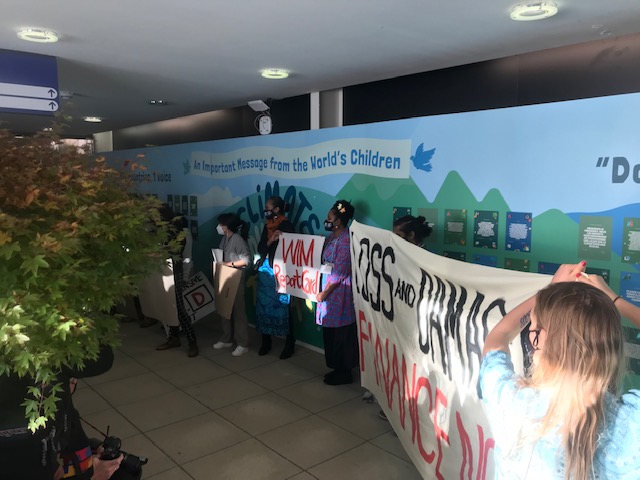 The 2021 Production Gap Report, by leading research institutes and the UN Environment Programme (UNEP), finds that despite increased climate ambitions and net-zero commitments, governments still plan to produce more than double the amount of fossil fuels in 2030 than what would be consistent with limiting global warming to 1.5°C. The report measures the gap between governments' planned production of coal, oil and gas and the global production levels consistent with meeting the Paris Agreement temperature limits. Two years later from the 2019 report, the 2021 report finds the production gap largely unchanged. Over the next two decades, governments are collectively projecting an increase in global oil and gas production, and only a modest decrease in coal production. Taken together, their plans and projections see global, total fossil fuel production increasing to at least 2040, creating an ever-widening production gap.
On the Positive Side…
COP26 President, Alok Sharma said:
"From the start of the UK's Presidency, we have been clear that COP26 must be the COP that consigns coal to history. With these ambitious commitments we are seeing today, the end of coal power is now within sight."
The Powering Past Coal Coalition (PPCC) is securing commitments from governments and the private sector to phase out existing unabated coal power; encourage a global moratorium on the construction of new unabated coal-fired power plants; shift investment from coal to clean energy, including by working to restrict financing for coal-fired projects; and achieve coal phase-out in a sustainable and economically inclusive way, including appropriate support for workers and communities. The PPCC has over 100 members (countries and sub-country jurisdictions). At least 23 countries have made new commitments today to phase out coal power, including five of the world's top 20 coal power-using countries. Major international banks are committing to effectively end all international public financing of new unabated coal power by the end of 2021.
"The Answer is Blowing in the Wind"
International Renewable Energy Agency (IRENA), U.S. Secretary of the Interior and Denmark Discuss Off-Shore Wind Goal Targets
I attended a session today in which U.S. Secretary of the Interior Deb Haaland (first indigenous person U.S. cabinet member), IRENA Director-General Francesco La Camera, and Denmark Ambassador Christensen discussed goal targets for global off-shore wind development and strategies for engaging other countries. IRENA Director-General La Camera – after quoting the famous Bob Dylan lyric – estimates that we will need to install 380 gigawatts of off-shore wind by 2030 and 2000 gigawatts by 2020 to meet Paris Accord ghg reduction goal targets. The U.S. is shooting for 30 gigawatts by 2030, creating a $1,9 billion revenue opportunity for the private sector and adding to the 1,25 million jobs already established in the global wind industry. Denmark – the leader in off-shore wind – has a broader 70% ghg reduction goal target by 2030, and already has achieved 52% through wind and solar investments. Denmark has also decided to end oil and gas exploration off-shore. Denmark's partnership with 19 countries – including a focus on developing nations – is designed to share expertise and support capital development for off-shore wind projects.
Article 6 – International Carbon Market
I sat today in two hours of negotiations on Article 6 (establishing an International Carbon Market) with country representatives across the world. Much of the negotiations centered on wording within Article 6.8 (non-market approaches) and 6.4 (central UN mechanism to trade credits) of Article 6. Article 6 of the Paris Agreement on greenhouse gases enables countries to cooperate in implementing their Nationally Determined Contributions (NDCs) towards emission reduction. Among other things, this means that emission reductions can be transferred between countries and counted towards NDCs. International carbon markets work like this: Countries that struggle to meet their emissions-reduction targets under their national climate plans, or want to pursue less expensive emissions cuts, can purchase emissions reductions from other nations that have already cut their emissions more than the amount they had pledged, such as by transitioning to renewable energy. International carbon markets work like this: Countries that struggle to meet their emissions-reduction targets under their national climate plans (known as "nationally determined contributions," or NDCs), or want to pursue less expensive emissions cuts, can purchase emissions reductions from other nations that have already cut their emissions more than the amount they had pledged, such as by transitioning to renewable energy. We will provide a more detailed explanation of Article 6 in a future post.
Sports Alliance Establishes Net Zero Goal Targets
A number of ambitious emissions reductions targets were announced by the UNFCCC's Sports for Climate Action Framework (S4CA) today. These include reaching Net Zero by 2040 and reducing greenhouse gas emissions by 50 per cent by 2030 at the latest. Signatories including the International Olympic Committee, FIFA, Athletics Kenya, BBC Sport, the Premier League, Formula E and Munster Rugby, have signed up to these new targets. In addition, signatories commit to submitting plans to outline concrete actions that will be taken to implement 2030 targets as well as report on overall progress with commitments on an annual basis.
Finance Overview
Finance Ministers are in Glasgow to discuss mobilizing funding for rapid, large-scale climate action. COP26 President Alok Sharma said: "Today, there is more public and private finance for climate action than ever before."
Key Notes:
-Discussions follow new pledges of public climate funding from developed nations at COP26 World Leaders Summit, including significant pledges for climate adaptation
-Talks centered around meeting the S100 billion commitment and financing adaptation
-Countries made new commitments to increase finance to support developing countries to deal with the impacts of climate change, including a commitment from Norway to triple its adaptation finance, commitments from Japan and Australia to double their adaptation finance, and commitments from Switzerland, the US and Canada for the Adaptation Fund. This included the largest US adaptation finance commitment to date, to reduce climate impacts on those most vulnerable to climate change worldwide. While Canada committed to allocate 40% of its climate finance to adaptation. New commitments for climate financing also came from the United Kingdom, Spain, Japan, Australia, Norway, Ireland and Luxembourg, that build on the plan set out ahead of COP26 to deliver the $100 billion per year to developing countries.
–The taskforce launched a partnership with five 'pioneer countries' – Bangladesh, Fiji, Jamaica, Rwanda and Uganda – to support them and their local communities to get the finance they need for their climate plans.
-Finance commitments for climate mitigation led by new announcement at Leaders Summit of $8.5 billion Just Energy Transition to help South Africa move to clean energy
-COP will also see the launch of discussions on a new global finance goal to replace the $100 billion goal from 2025.
–Aligning private finance for net zero – Private financial institutions also took a major step to ensure that existing and future investments are aligned to the global goal of net zero. Thirty five countries agreed to mandatory actions to ensure that investors have access to reliable information about climate risk to guide their investments into greener areas. And to ensure common standards, 36 countries welcomed the announcement of a new international body, the International Sustainability Standards Board (ISSB). Over $130 trillion of private finance is now committed to science-based net zero targets and near term milestones, through the Glasgow Financial Alliance for Net Zero.
SGA/It's Our Future Highlights:
Face to Face with the Godfather
Pete Iselin, Mather H.S. teacher, pondered…"Today, as I wandered, in awe, through the action zone a voice with which I was intimately familiar cut through the din. I couldn't place the voice or the location so I searched until I was face to face with Al Gore, the godfather of environmentalists in my life. I was enthralled with his words while others popped in for a selfie and disappeared."
IOF Keep Getting Interviewed! First it was the BBC at the Tongahead event, then London NPR, and now the daily COP26 podcast and the Royal College of Psychiatry on youth mental health in the climate movement.
-Gary Cuneen