On May 15, SGA's Illinois Farm to School Network (IFSN) Coordinators led a day of trainings and workshops in Kane County at the Northern Illinois Food Bank: "Connecting Kane County Farms to Your Cafeteria." The event was developed in collaboration with the Growing for Kane Program and featured a locally-sourced lunch, a live recipe demonstration, and a meet-and-greet with the operators of Kane County's brand new food hub.
Registered Dietician Janie Maxwell demoed a Harvest of the Month recipe for the month's featured green: spinach. As she prepared a strawberry and spinach balsamic salad, it demonstrated how easy it can be to create quick and healthy school meals with nutritious, local food items. The fresh, field spinach for the demo was sourced from Mighty Greens Farm in Elburn, IL.
IFSN's Network Coordinator Marlie Wilson and Programs Manager Diane Chapeta provided valuable information intended to equip food service providers with tools for finding and menuing local food. Wilson presented tips and guidelines for how to build strong relationships with farmers. Chapeta discussed local food integration strategies to fit local foods into school menus, celebrations, and education. The Harvest of the Month program was shared as a resource for featuring locally grown food, with recipes, activities, materials, and one-on-one assistance available for any school that registers.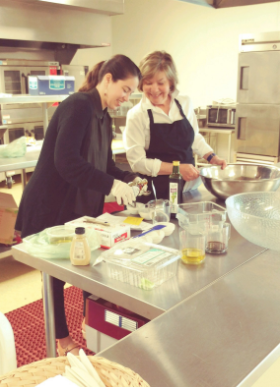 IFSN Network Coordinator, Marlie Wilson, and Registered Dietician Janie Maxwell demoing recipes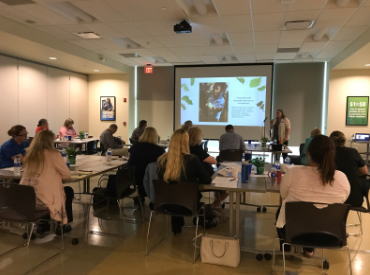 IFSN Programs Manager, Diane Chapeta, presenting on IL Harvest of the Month
Additionally, the Dream Distributors Food Hub in Elgin presented on the new Kane County food hub and shared kitchen space for farmers. You can read more about the new hub and watch a short video here.
Attendees included a variety of food service professionals, early care providers, and other institutional food service management from across Kane County, including attendees from schools that participate in IFSN programs such as Illinois Harvest of the Month and The Great Apple Crunch. It was an exciting afternoon of training and networking around using locally grown foods in meal programs, and everyone who participated left feeling inspired and equipped with new tools to help them engage with farmers and integrate local food into their menus.