Always a popular event with those interested in food and environmental issues, the 14th annual Good Food EXPO took place March 23-24 at the UIC Forum in Chicago. A hands-on farmer training was held all day on March 22. Some 150 exhibitors and field experts participated this year.
The EXPO, which celebrates sustainable food, attracts hundreds of people who discuss current topics and issues surrounding the Good Food Movement. It's put on by FamilyFarmed, a leader in the Good Food movement and developing regional, sustainable food systems. 
Photos courtesy of FamilyFarmed
SGA spent time at the EXPO on Friday, when sessions focused on trade and wholesaler networking and selling.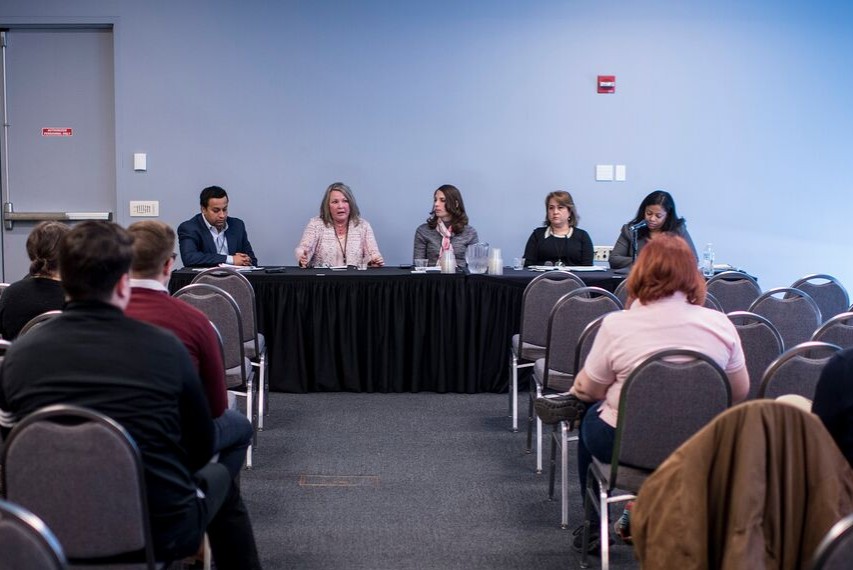 SGA'S IFSN Program Manager, Diane Chapeta, speaking on a panel at the Good Food Expo 2018
Breakout panels were offered on three tracks: trade, policy and farmer training. Diane Chapeta, Seven Generations Ahead's Illinois Farm to School programs manager, took part in the session called "Selling to the Government and Institutions," which focused on supporting and connecting Illinois and other regional farms to resources. 
All panelists strongly advised that farmers approach potential customers with thorough research, a portfolio, and an appreciation of what is required to foster a  relationship. Panelists stressed that working with the government is a process while reassuring farmers and small business owners that free assistance is available every step of the way. Free certifications exist for small businesses or woman/minority/veteran-owned businesses/farms, and once a business is in the database, many more resources are available. Farmers can contact the Illinois Farm to School Network or a Procurement Technical Assistance Center (PTAC) for help. The University of Illinois Extension also is a top resource for farmers looking to sell to schools, panelists noted.
Here is a list of links and resources that could be useful if you own a farm or other food-related business: