SGA is proud to be featured for our work with LaSalle Language Academy in U.S. PIRG's recently released report,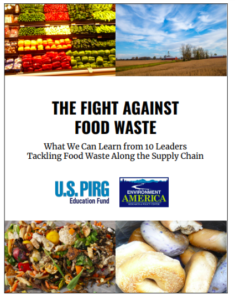 The Fight Against Food Waste: What We Can Learn from 10 Leaders Tackling Food Waste Along the Supply Chain.
The report highlights the efforts of LaSalle, a Chicago Public School (CPS), to reduce food waste, which include a share table and composting. LaSalle is one of 18 schools in the CPS Commercial Composting Program.
And in recognition of the on Sept. 29, U.S. PIRG, LaSalle, and SGA teamed up to host a Food Waste Fair at the school. The event provided an opportunity for media to observe LaSalle's lunchroom food waste reduction efforts in action and for all of the school's K-8th grade students to learn more about the issue of food waste and its impact through interactive exhibit tables.
SGA is thrilled for the opportunity to work with such wonderful partners.