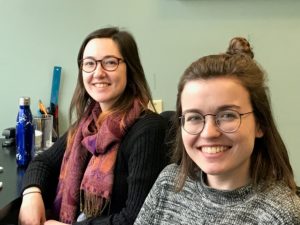 Seven Generations Ahead is pleased to welcome two new sustainability program associates, Abbey Prendiville and Alli Preble, to its staff.  Here's more about them:
In joining SGA, her first full-time job, Abbey says she looks forward to furthering the work of Farm to School and the Zero Waste Schools. She really wants to "get a taste of working in communities and understanding how people are affected by environmental sustainability." She also hopes to bring a sociological aspect to her work and use data to better understand different populations.
The zero waste concept has interested Abbey for some time. "I remember [Oak Park] Micro Brew and that's a zero waste event that peaked my interest." In her day-to-day life, Abbey, 23, says she tries hard to practice being zero waste by using reusable containers and choosing products that don't contribute to the waste stream.
She recently finished reading the book "Cradle to Cradle: Remaking the Way We Make Things," by green architect William McDonough and chemist Michael Braungart. The book looks at the "circular economy, thinking through the design of a project from beginning to end, the health effects," and how design can benefit nature.
Abbey lives in Berwyn. She graduated from the University of Illinois at Urbana-Champaign in May 2017 with a bachelor's degree in Earth, Society, and Environmental Sustainability and Sociology.
Alli once interned at SGA, working mostly with Jen Nelson, zero waste program manager, on the We Compost program. Now that she's back she "wants to do a million things."
"I've always been drawn to reducing waste," Alli says. "My goal is to eliminate the throw-away culture. Everyone I know is so tired of me yelling at them about throwing things away." But she is not deterred, noting her thriftiness in furnishing her apartment with items that have been discarded by others. "I have a table from my grandma that she bought in the 1960s, and my whole living room is from my mom's co-worker."
Before joining SGA, Alli, 23, worked in urban forestry and soil science research labs. Now she looks forward to "getting a grasp on the fundamental workings on how organizations work with communities to reach an end goal. To get to where I want to be, I need to understand all aspects of sustainability."
She has visions of more green spaces. Her dream is to turn "parking lots into parks," she says.
Alli lives in Chicago's Avondale neighborhood. She graduated from DePaul University last year with a major in environmental studies and minors in studio art and American Sign Language.