Fresh from the UN Climate Conference in Madrid, OPRF senior Roz Beile stood before a packed room and described what the experience was like for her. It was a whirlwind, exhilarating week, filled with meetings and eye-opening interactions with people from around the globe, she said.
The high point, though, was getting to participate in a panel with other climate activists, Roz told the local leaders assembled at the annual PlanItGreen Leaders Forum, held Dec. 10 at Cheney Mansion.
"I was so nervous," upon hearing the accomplishments of others on the panel, she said. "There was one woman who started the youth strikes in Switzerland. There was a boy who started the youth strikes in the UK. There was a kid who started a nonprofit that brought scientists and economists together to have an open narrative. And then there was me."
A U.S. perspective
But Roz brought something the others could not—a real perspective of life in the U.S. "I really tried to represent the United States," she said. She introduced conference participants to a narrative around environmental racis. Roz explained how rich and poor people are affected differently by climate change—even in a country considered among the world's most privileged.
Roz is a member of the youth-led climate action initiative called It's Our Future. While in Madrid, she also reported on her experiences in real time, recording videos and photos that she shared on the group's Instagram account.
Laura Stamp, a D97 teacher, and Gary Cuneen, SGA executive director, accompanied Roz to Madrid, where they participated in sessions that considered ways to strengthen the implementation of the Paris Agreement.
SGA launched It's Our Future with funding from the Oak Park River Forest Community Foundation earlier this year. The initiaitve equips young people with skills that can help them effectively advocate on climate action.
Sustainability showcase
"The forum is PlanItGreen's annual opportunity to showcase the sustainability wins of Oak Park and River Forest institutions," Cuneen said. "It provides examples and resources for each institution to advance to their next level of implementation."
This year's PlanItGreen forum had a decidedly youth-oriented focus, giving the spotlight to It's Our Future members who reported the nine areas covered in the 2018 Community Sustainability Report Card produced by SGA. 
Report card presentations
OPRF senior Grace Ledogar began by putting the climate crisis into context, with a reminder on the urgency to reduce global carbon emissions. "So, what do we do? It all starts here," she said.
Charlotte Meyer, a sophomore, followed with her synopsis on the report card.
"One standout in education," she said, "is the River Forest District 90 three-year sustainability strategy, which contains implementation of hand dryers rather than paper towels in the bathrooms, starting student environmental clubs…and adding sustainability into the science curriculum."
In the upcoming year, Charlotte said, It's Our Future hopes to find ways to "spread information to all rather than preaching to the choir…and we also hope for other districts in Oak Park and River Forest to follow District 90's example."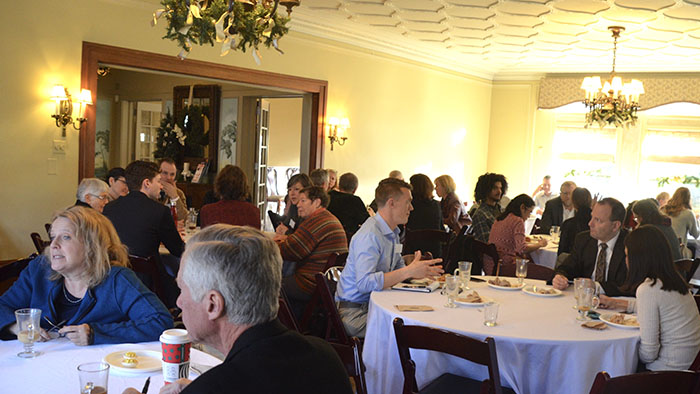 The students' presentations impressed forum guests and made Cuneen proud. "The It's Our Future youth did a tremendous job of underscoring the urgency of the global climate crisis and our collective need to act now," he said.
'A common word'
Other sustainability leaders also made presentations. Representing the River Forest Sustainability Commission, Julie Moller noted that "sustainability is becoming a common word used in the village."
Among River Forest's accomplishments were being named an age-friendly community and adopting its first bicycle plan, which recommended adding new bike lanes on major streets and installing bike racks at 28 locations throughout River Forest and hosting the village's first tree tour in partnership with Morton Arboretum.
Also announced at the forum were the institutions signing letters of commitment to achieve 100 percent renewal energy. They are Dominican University, Unity Temple, D97, River Forest Township and River Forest Community Center. D200 and the Oak Park Residence Corporation have already secured 100 percent green electricity contracts.
—Cassandra West