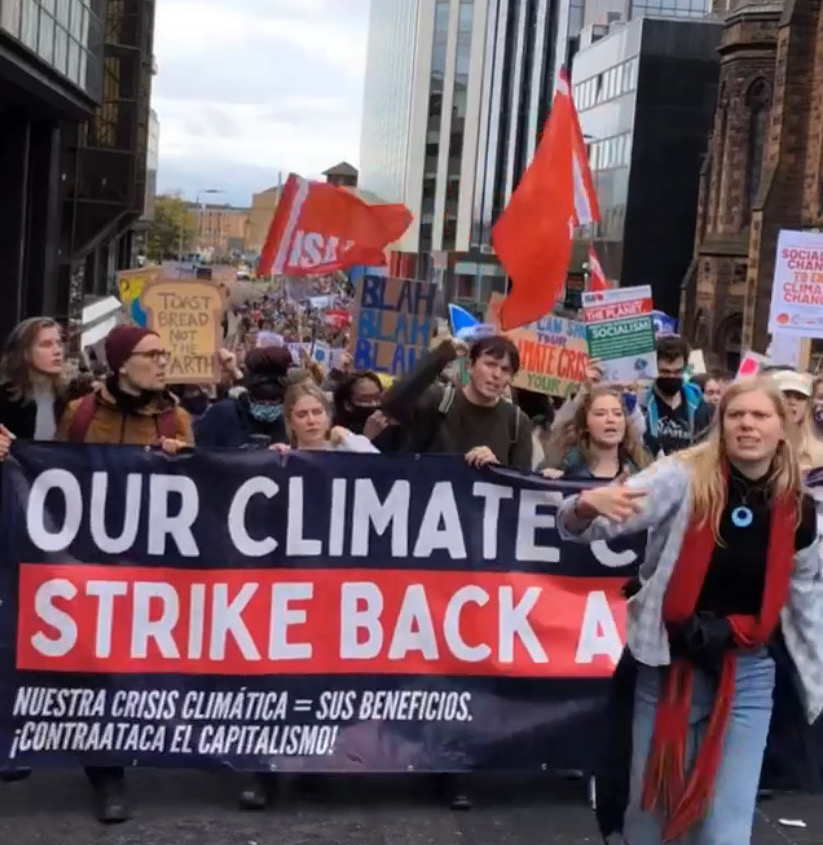 I began my day not with going to the Blue Zone for the UN climate change conference as I have done each day before, but instead by walking over to Kelvingrove Park to be a part of the highly anticipated climate strike organized by Fridays For Future.
When I arrived, the protest was already ginormous. Some smaller organizations held their own speeches at the beginning that you could listen in to as you passed by to find where you wanted to be in the march. Due to the size of the crowd, the other IOF youth who were striking weren't able to meet up so we each striked on our own. I went to the front of the crowd at first, where I befriended a girl named Risha.
After quite some time of standing and chanting, the march began and we were on our way through the streets of Glasgow. Eventually Risha and I drifted away from the front of the strike, and we decided to stand and watch the protestors go by for a bit and joined back in after around 4 minutes – but we still couldn't see the back of the march, which is an insight to the size of the crowd. Some of the more notable protesters included people in inflatable polar bear costumes, someone in an inflatable dinosaur costume (which looked similar enough to the dinosaur featured in the UN promotion for COP26 that it must have been a reference), and someone dressed as Santa with a red cape that said "Sustainability Claus." Some Glasgow citizens watched and cheered from their windows above us. I also learned some new chants that I will bring back to the strikes back in Chicago, such as, "Go up, go down, keep your carbon in the ground," and, "No more pollution, we need a revolution!"
After 2 or 3 hours of marching, we arrived at George Square, where the speeches would be taking place. The list of speakers was extensive and inclusive. Within 2 hours of time, I heard from some familiar climate activists I'd seen on social media, as well as many that were new to me. Colombian activists told us that their country was the most dangerous county to be an environmental activist, and read us names of environmentalists who had been executed. Indigenous people from the Amazon in Brazil told us that they were the original and the best protectors of their land. African activists called out the whitewashing that occurred in COP26 and media coverage of climate activism. I was a bit starstruck when Greta Thunberg gave the final speech, as she inspired me originally to become an activist. I'm also excited to know of more activists who can inspire me further, such as Vanessa Nakate, who spoke before her.
I never thought I'd get a chance to be in a protest this influential. As I wrap up my week in Scotland, I know I closed it off with an unforgettable experience.
-Charlotte Meyer