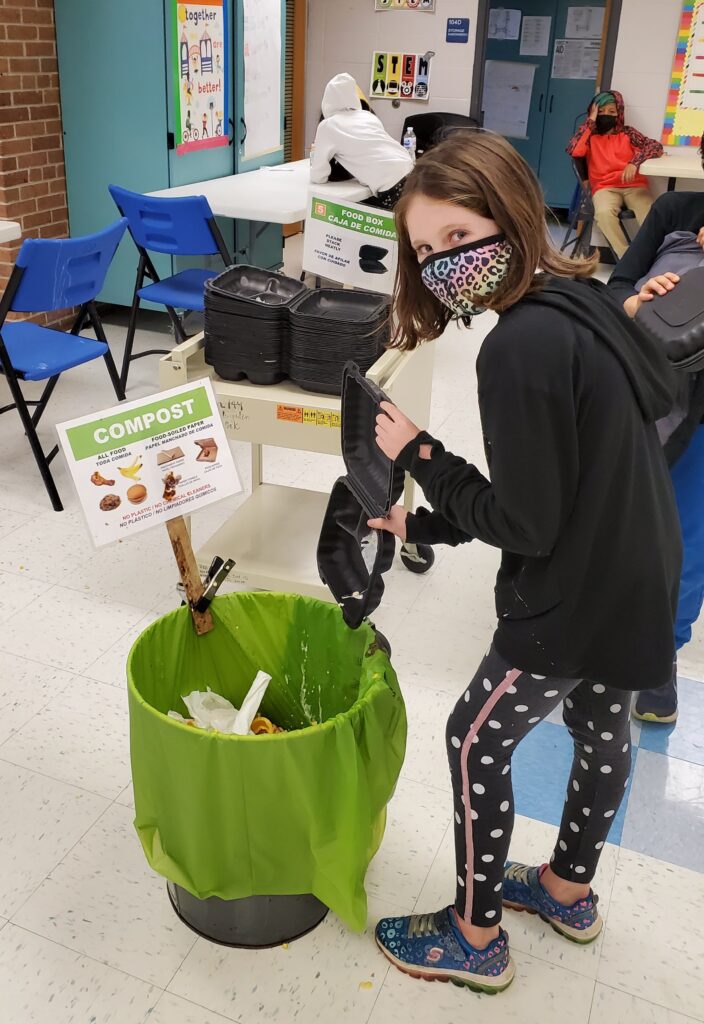 Determined to overcome pandemic challenges and interruptions, schools in SGA's Zero Waste Schools-Lake County Program have made it a priority to get their zero waste lunchrooms back up and running. The Zero Waste Schools team at SGA created a 15-minute education video to teach/re-teach students the How & Why of going for zero waste to help get them started. Read on to hear how Red Oak, Oak Terrace, and Braeside Elementary Schools in North Shore School District 112 in Highland Park have made it happen.
Students and staff at Red Oak Elementary were eager to restart their program and are back to sorting liquids, recycling, and composting food scraps. The school now has two sorting lines instead of one to help with social distancing, and new parent volunteers have been impressed by students' sorting savvy. Prior to the pandemic Red Oak used compostable trays, but, in order to accommodate the new COVID restrictions, they are temporarily serving lunches in plastic clamshells. While these clamshells aren't accepted for recycling, simply stacking them has reduced the  lunchtime garbage bags from 8 to only 2 per day.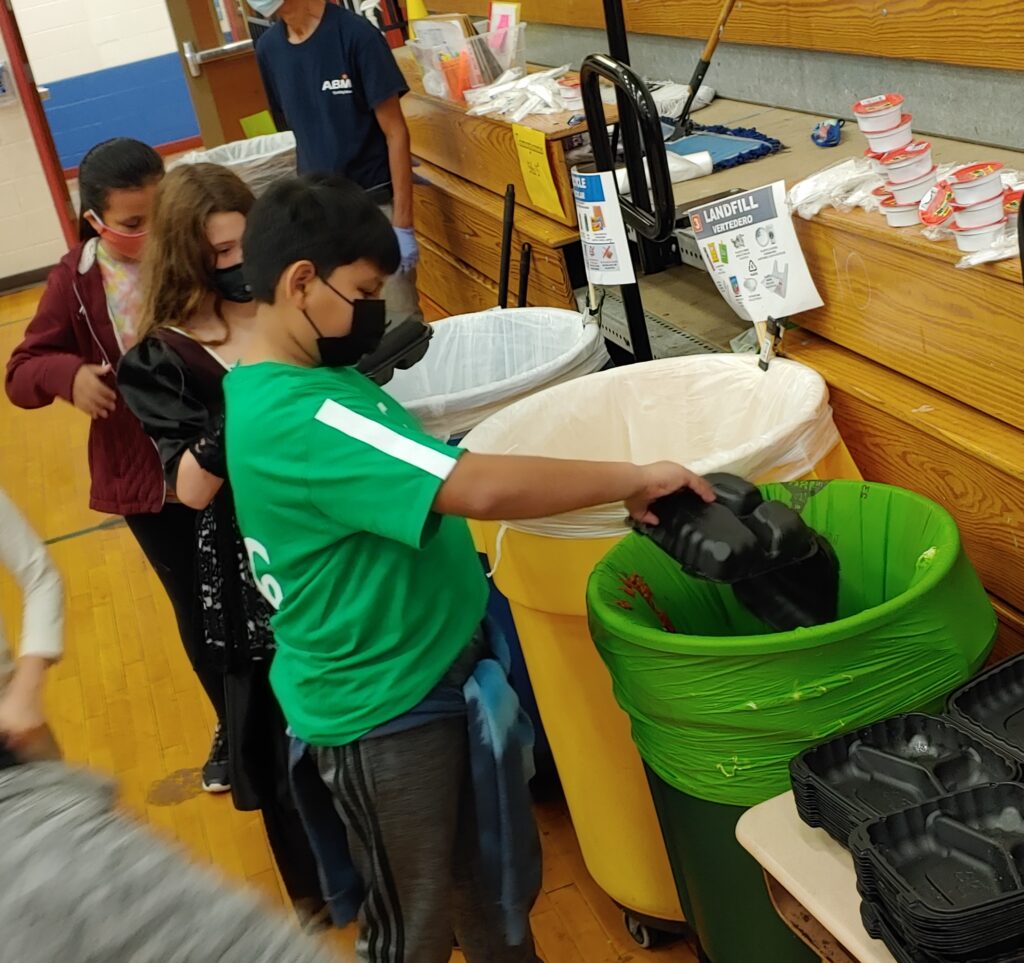 After restarting their recycling and composting routine just a few weeks ago, Oak Terrace Elementary, a school of 520 students, is now generating only about one bag of landfill trash per day. Although they're currently unable to use the utensil and napkin dispensers they were using pre-pandemic, school leaders came  up with a creative alternative: utensils and napkins are now available upon request, thus avoiding hundreds of utensils unnecessarily going to the landfill. 
Sorting at Oak Terrace is a true community effort. Student Zero Waste Agents (ZWA) help the kindergarten and first grade students, and parents volunteer their time to provide additional support. "I like helping kids and doing good for the environment," remarked one ZWA. 
At Braeside Elementary, school lunch is ordered from a different local restaurant each day (both now and pre-pandemic), which makes for lots of extra packaging. Despite this added challenge for getting to zero waste, parent and student volunteers make sure that all students know what goes where. They remind students, "if in doubt, throw it out" in order to minimize contamination (things that don't belong) of the different bins. One 4th grade helper shares, "I help zero waste because it is not good for the environment to waste this much food. We are trying to limit the amount of stuff we put in landfills, because if the landfills get too full, there will be nowhere to put our trash."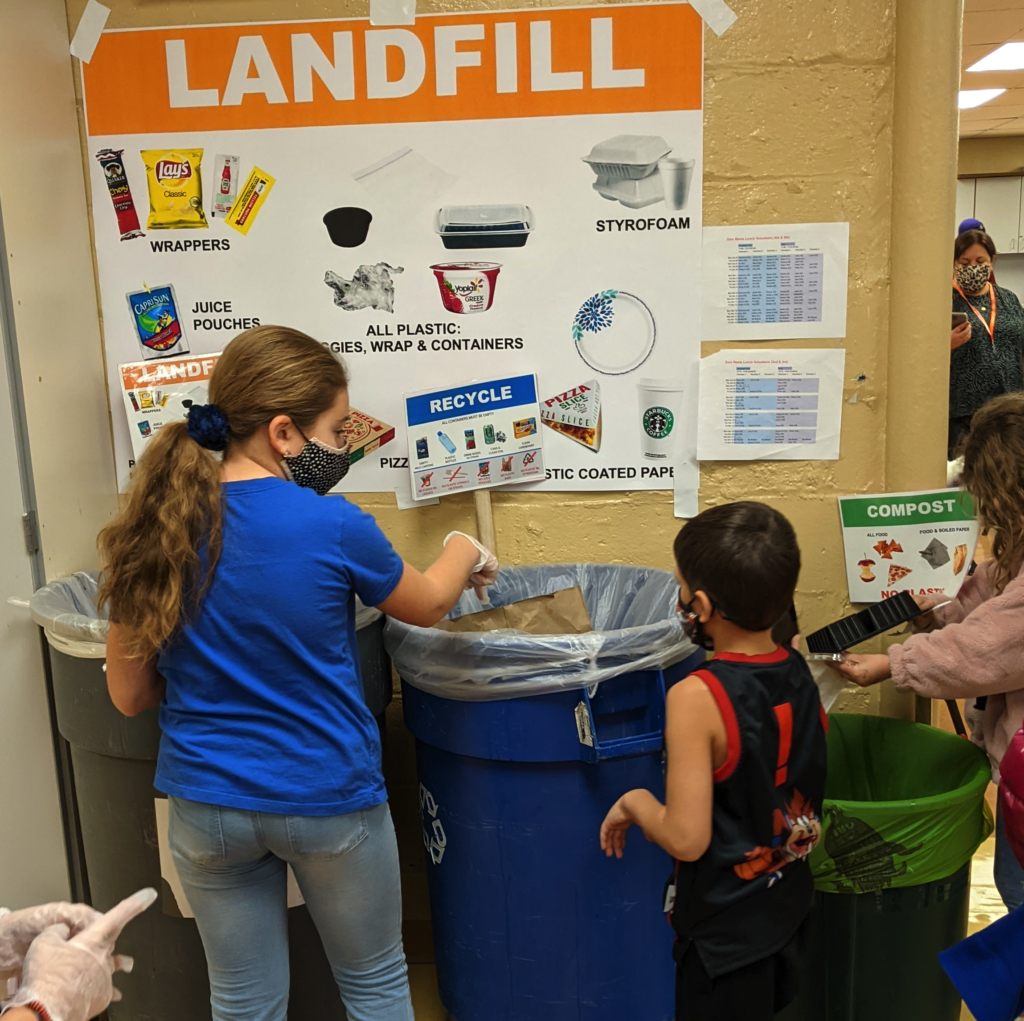 Students' zero waste efforts have also made an impression on Braeside's new principal, "The program helps students understand where their trash goes after it's thrown away, ways to reduce the garbage they create, and how to be more environmentally conscious with what they discard. Through a simple process of sorting what is left over from their lunch, students take an active role in taking care of our planet, community, and school." 
Check out SGA's Zero Waste Schools Toolkit so you can start your own school on a path to zero waste. The Zero Waste Schools-Lake County Program has received funding to expand to two additional public schools this year. Contact Susan Casey, , if your school is interested. 
November 8, 2021