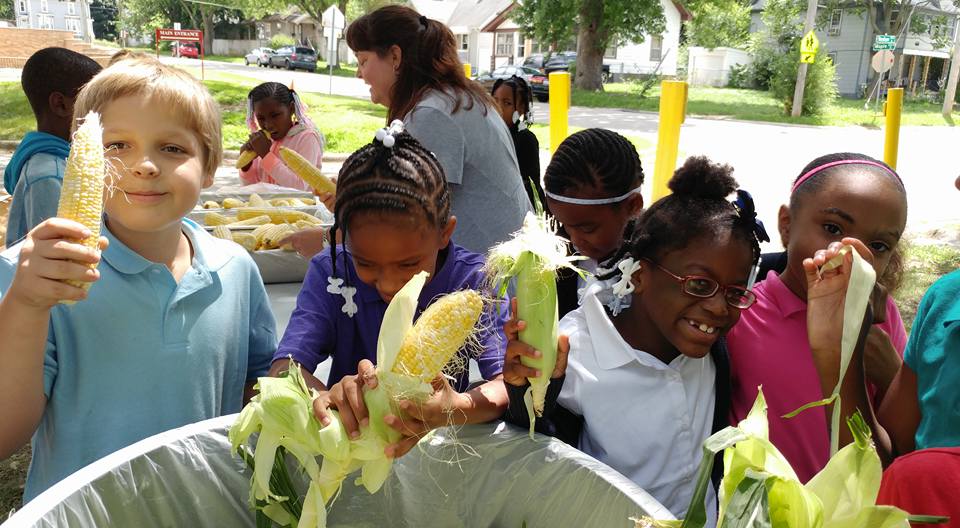 Seven Generations Ahead and the Illinois Farm to School Network are pleased to announce the formation of a new working group, the Illinois Farm to School Coalition. The coalition will engage in critical work to advance farm to school programs throughout Illinois, bringing healthier meals to school children, strengthening local economies and food systems, and reducing the environmental impact of industrially produced food.
Members of the coalition include: Seven Generations Ahead (SGA) and the Illinois Farm to School Network, the Illinois Farm Bureau, the Illinois Stewardship Alliance, Star Farm Chicago, the Illinois Farmers Market Association, and the National Center for Appropriate Technology (NCAT). The coalition will specifically address issues related to procurement – getting fresh, local produce to K-12 schools and early childhood centers. There are a host challenges for both farmers and institutional buyers, and this diverse coalition will bring a holistic and comprehensive lens to current problems, with a goal of identifying a range of solutions.
"Building a strong coalition to provide resources, develop producer and buyer cohorts and encourage action across Illinois is paramount to expanding food access during ongoing supply chain inadequacies and increasing financial risk for small farms," says Diane Chapeta, program manager for the Illinois Farm to School Network. "Creating a stronger local food system creates stronger, healthier, and more sustainable communities in Illinois."
The key work of the coalition will focus on connecting farmers and intuitional buyers through a variety of methods, including creating farmer and buyer cohorts, and providing them with regular meetings and trainings. The coalition will also market and implement a single product procurement day for schools and early childhood education sites across Illinois, further helping to establish relationships between buyers and farmers. Additionally, the coalition will link community supported agriculture (CSA) farm boxes from Star Farm Chicago to local schools and early childhood sites. Finally, education will be a critical component of the coalition's work, including developing educational farm to school activities for K-12 schools, at-home and in-community farm to school toolkits, and a white paper analysis to education state agencies on the benefits of farm to school programs.
SGA sees the Illinois Farm to School Coalition as an opportunity to build on its 17-year track record of supporting local, sustainable food systems, and to address issues identified in partnership with coalition collaborators.
"The Illinois Farm to School Coalition developed out of discussions with partner organizations about the policy barriers to farm to school and potential solutions that will drive local and sustainable food production for consumption in K-12 schools and early childhood learning centers. SGA will support facilitation of the coalition, while hopefully managing scopes of work linked to our recent USDA Farm to School grant submission," says Gary Cuneen, SGA's executive director. "The work of the coalition to drive local and sustainable food production and procurement ties directly into SGA's mission of helping build local, sustainable food shed in Illinois, which supports our broader efforts to reduce greenhouse gas emissions and manifest a 21st century renewable energy and sustainable economy."
To stay up to date on the latest in farm to school programming and developments in Illinois, please follow the Illinois Farm to School Network and Seven Generations Ahead.