Seven Generations Ahead and Fox Valley Sustainability Network core partners Kane County, the City of Aurora and a5 Branding & Digital co-hosted GreenTown Fox Valley 2017 in late April at the Two Brothers Roundhouse in Aurora.
The intensive day featured 10 breakout sessions and keynote speeches by Jack Darin, executive director of the Illinois Chapter of the Sierra Club, who addressed the national environmental climate and state and local momentum, and Elizabeth Doris, Principal Laboratory Program Manager at the Golden, Colo.-based National Renewable Energy Laboratory, who talked about national trends in solar and how local communities are advancing renewable energy.
Urban planning, transportation and energy experts from around the region also presented on topics that included water quality, mobility trends, food recovery and composting, natural areas management and local food shed opportunities. A new "Idea Factory" component of GreenTown provided 10 selected presenters with two-minutes of air time to pitch their big-idea proposals in front of a voting audience that included the Community Foundation of the Fox River Valley.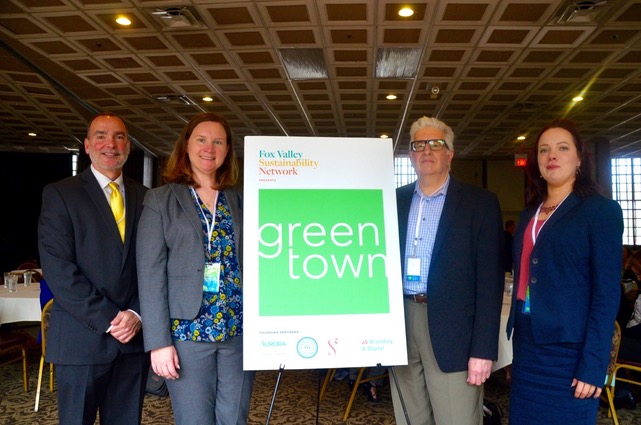 SGA Executive Director Gary Cuneen (L to R); Elizabeth Doris, National Renewable Energy Laboratory; Mark Burger, PlanItGreen solar consultant, and Cecilia Govrik, Kane County Resource Managment Coordinator.
Mark Pruitt, Program Director, Community Choice Aggregation, presenting during the Becoming a Solar-Ready Fox Valley breakout.
GreenTowns are sustainability events designed to connect attendees to key prospects and customers in government, the business sector and higher education. Previous GreenTowns have taken place in Chicago, Oak Park, Elgin, Highland Park and cities in Indiana, Ohio, Michigan.