Only a few years ago, Illinois had one municipal food scrap composting program. Today, there are nearly 25 municipal programs, ranking the state number four in the nation for communities with curbside collection (Streeter and Brenda Platt, 2017). According to the Illinois EPA,  the state is also now home to 45 permitted composting facilities, over a dozen of which process food scraps with yard waste. To get to this point, it required many hours of dedicated work from committed environmental stewards across nonprofit, legislative, institutional and other sectors, and the work is ongoing.
A team of environmental organizations are raising awareness on the viability of composting and building key connections with policy makers to drive future legislation. Seven Generations Ahead collaborates closely with the Illinois Environmental Council (IEC), Illinois Food Scrap Coalition (IFSC), and Illinois Wasted Food Solutions Group to develop strategies for generating and implementing composting policy.
SGA and IEC conducted legislator policy tours to discuss food scrap composting and demonstrate how it works in local cafeterias and kitchens, such as in Chicago Public Schools (tours conducted at Sandoval Elementary, Hernandez Middle School, Solorio Academy, McAuliffe Elementary, Mitchell Elementary, and Carl Von Linne Elementary) and the Rush Oak Park Hospital. The tours involved leaders like Chicago's Chief Sustainability Officer Chris Wheat and Recycle Program Director Chris Suave; State Senators Don Harmon, Iris Martinez, and Omar Aquino (see video); State Representatives Althoff, Wheeler, and Ervin; and Chicago Alderman Deborah Mell (33rd Ward). This engaged Illinois leaders in discussions about an industry that creates green jobs and generates environmental benefits while stressing local relevance.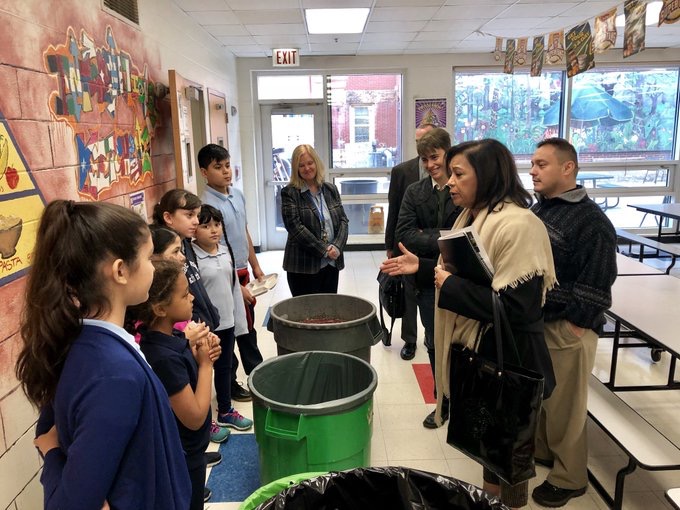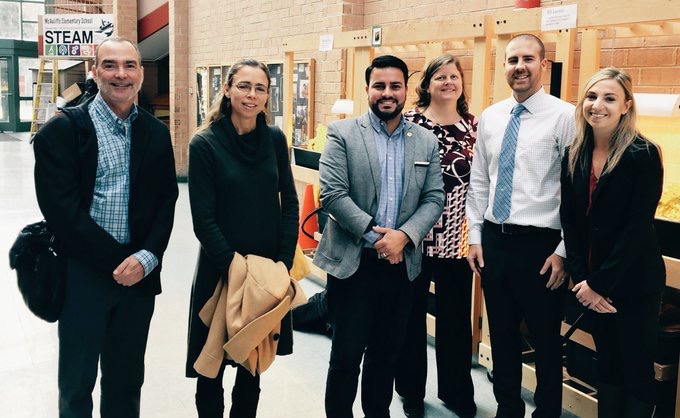 Skumatz Economic Research Associates (SERA) and SGA crafted two reports for key stakeholders and policy makers to spread education on composting feasibility. A 2017 Economic Impact and Market Study Report, disseminated to 75+ policy makers (and the general public),  explores how expanding composting and food recovery can grow local food economies, including green and sustainable jobs. A 2018 white paper, "Analysis of the Barriers and Opportunities for the Use of Compost in Agriculture," discusses how to viably scale food scrap composting industry, expand local sustainable farming, and resolve depleted and diminishing soil quality.
In early November, 175 attendees gathered at the  Metcalfe Federal Building for the Illinois Soil, Food, Water and Composting Summit. The summit brought together multiple sectors, officials, and interest groups, provided networking and learning opportunities, and developed collaborative policy and program initiatives that support interests across sectors. Project teams from the summit will continue to develop toolkits, conduct asset mapping, craft policy goals, and fundraise with stakeholders.
In addition to events and reports, several legislative bills were brought to fruition or made progress:
Illinois continues to advance food scrap composting through policy and infrastructure development and support. Food scrap composting is recognized as key to reaching high waste diversion levels, protecting the climate, and improving the soil. To attract support from municipal and county officials, SGA, IEC and other partners are developing training workshops, toolkits, and educational webinars. SGA is also preparing presentations for County Boards and Environmental Commissions (DuPage, Kane, Will, Dekalb and Lake Counties, Brookfield) on food scrap composting rationale and implementation strategies.
As more citizens, officials, and industry stakeholders become aware of and advocate for sustainable solutions to Illinois' food economy, many of the barriers to developing a large-scale composting industry will be minimized, and Illinois-made compost will become an economically viable, sustainable option for Illinois.
REFERENCES
Streeter, V. & Platt, B. (2017, December 18). Residential Food Waste Collection Access In The U.S. BioCycle 58(11). https://www.biocycle.net/2017/12/06/residential-food-waste-collection-access-u-s/
PHOTO CREDITS
St Louis Composting-food scraps to be composted; St Louis Composting-windrow turner at compost processing facility; Seven Generations Ahead- Zero Waste Ambassadors provide tour at CPS Carl Von Linne ES, legislative tour at McAuliffe; Seven Generations Ahead-Illinois Soil, Food, Water and Composting Summit, 2018.