As part of PlanItGreen's (PIG) initiative to increase education on environmental issues and solutions, it holds regular lunch and learn sessions that provide institutional and community leaders with expert information and facts on various sustainability topics. In 2018, PIG hosted six lunch and learns covering topics like water, energy efficiency, native plants, solar, and more. More than 100 people throughout the course of the year attended a lunch and learn.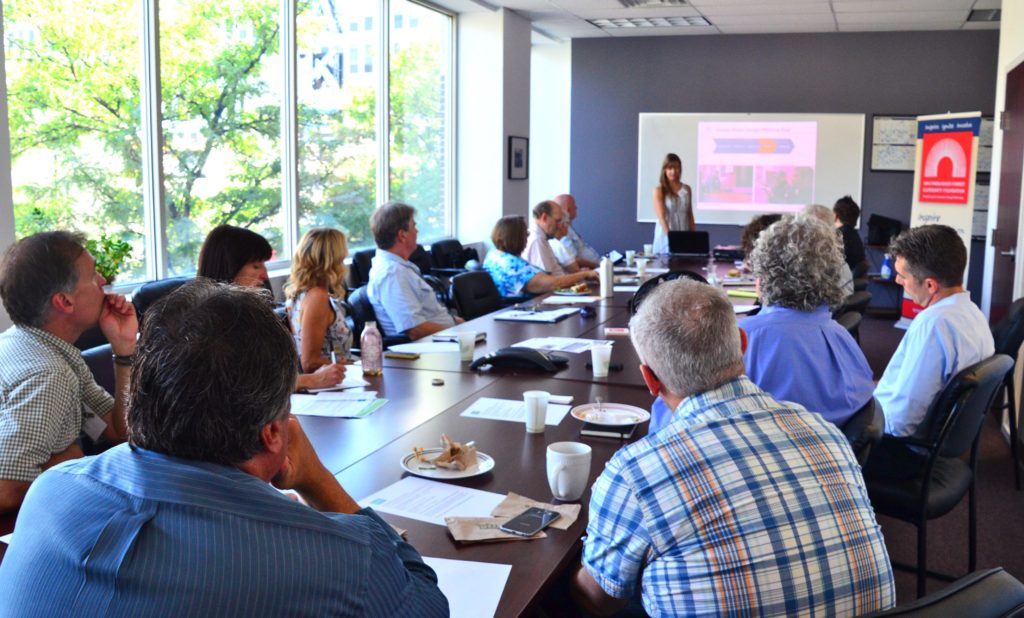 Here's a review of 2018:
March 7: Solar Energy
Gary Cuneen, Seven Generations Ahead
Mark Burger, Seven Generations Ahead
Chris Lindgren, Park District of Oak Park
Mindy Agnew, Village of Oak Park
As PlanItGreen continues to help ensure a more sustainable community, it is working to educate community members on various aspects of solar energy. The March 7 lunch gave community members an overview of PIG's solar projects and initiatives. Seven Generations Ahead executive director Gary Cuneen led the presentation, describing how PIG is catalyzing new projects and connecting institutions to larger community solar projects developing in Illinois. Joining Cuneen were other PIG core team members, who provided information and updates on solar in the OPRF community. Among the speakers were SGA's Community solar consultant Mark Burger, Chris Lindgren of the Park District of Oak Park (PDOP), and Mindy Agnew, the Village of Oak Park's Sustainability Coordinator.
April 12: Midwest Pesticide Action Center
Ruth Kerzee, Midwest Pesticide Action Center
Ruth Kerzee, executive director of the Midwest Pesticide Action Center, presented to a group of institutional leaders, village officials, and engaged residents about why natural lawn care is important. This lunch and learn was prompted by Oak Park and River Forest community members voicing concerns about the health risks and environmental impacts of pesticides. Kerzee explained how lawns are the most irrigated crop in the United States (40 million acres), and fertilizers and pesticides that are commonly used in lawn care are hazardous to our health, in particular children's health. In her presentation, Kerzee provided examples of institutions across Illinois and beyond that have tackled this issue, and gave advice about integrated pest management plans that minimize economic, health, and environmental risks. Attendees came away from the session with information to help them tackle pesticides in their institutions.
June 5: West Cook Wild Ones, Planting Native Gardens
Pamela Todd, West Cook Wild Ones
One of PIGs' goals to increase institutions that significantly reduce or eliminate the use of toxic pest controls and to increase native plants in the Oak Park and River Forest Communities. At this session, Pamela Todd, co-founder of West Cook Wild Ones,  discussed the benefits of planting natives and pollinator gardens in an urban setting like Oak Park and River Forest. Todd said that more than 250 plants were purchased during the spring native plant sale, growing the wildlife corridor even more.
Sept. 7: Community Solar
Mark Burger, Seven Generations Ahead
Chris Lindgren, Park District of Oak Park
Jon Carson, Trajectory Energy
At the Sept. 7 Lunch and Learn, solar experts and developers gave overviews of the Illinois solar market. Jon Carson, founder and managing partner at Trajectory Energy, described how the company works with local organizations to bring solar to their communities and further engage with environmental sustainability. Trajectory is currently building a 1 megawatt solar project in Grayslake that is expected to go live next year. Illinois "is the No. 1 state in the Upper Midwest leading in solar," Carson said. Trajectory is working with SGA and solar consultant Mark Burger to help Oak Park and River Forest residents understand solar options available to them. This Lunch and Learn met at the Park District of Oak Park's Ridgeland Commons, which has a 250-kilowatt rooftop solar installation.
Sept. 26: Drinking Water 1-2-3
Danielle Gallet, Water Resource Strategist and Urban Planner
This lunch and learn focused on solving today's water challenges using a guide known as Drinking 1-2-3 created for local officials and community leaders. This guide can work as a cheat sheet for these individuals to drive dialogue and a better understanding of issues and best practices. The presentation highlighted issues that face our communities like desaturation (pumping groundwater faster than the aquifer can replenish), water pollution, chlorides increasing in our water due to road salting in winter, water leaks, and climate change harming water pipes. Gallet provided options to prevent these issues and further damage of our scarce water supply. These options include sensible salting using brine made with beet juice, creating stormwater chambers to conserve water and reduce flooding, participate in pharmaceutical drop offs, and educational campaigns. This lunch and learn provided an opportunity to look at complicated water issues differently and understand how to solve them using innovation.
Oct. 2: Energy Efficiency for Public and Not-for-Profit customers
Jordan Berman-Cutler, Senior Energy Efficiency Program Manager at ComEd
Daniel Wolf, GIS and Data Analytics for Sustainable Development
Sydney Fitch, Energy Efficiency Analyst
ComEd's Jordan Berman-Cutler along with representatives from Elevate Energy and Verde Energy spoke about opportunities organizations have to increase energy efficiency and decrease utility bills. ComEd's energy efficiency program consists of a free assessment, incentives based on your energy reduction from the new measures you install, instant discounts and optimization. ComEd customers have already saved $3.1 billion on their energy bills through this program.