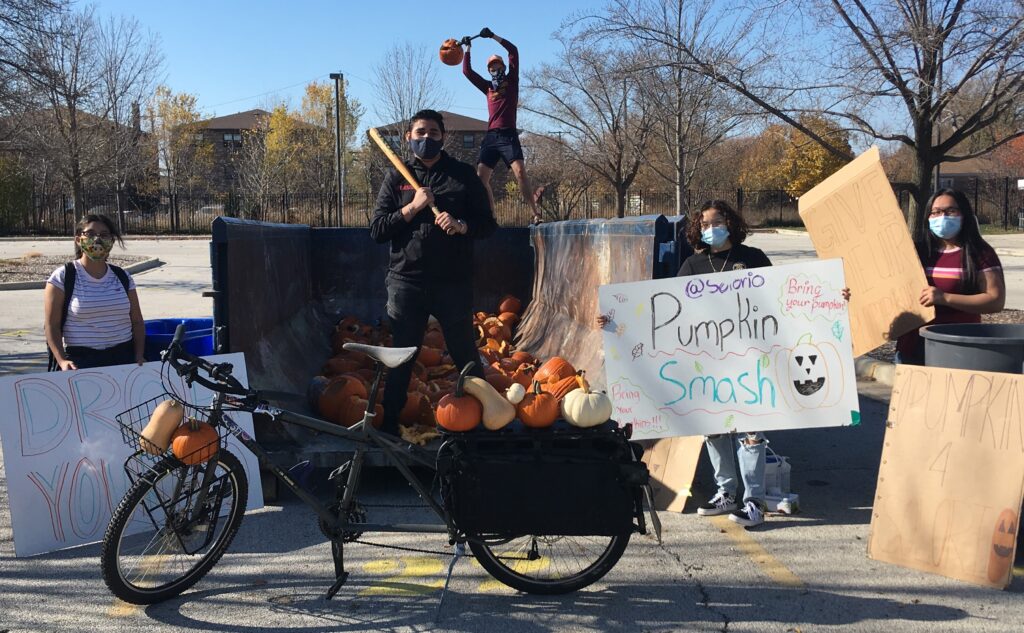 Leading the way to increased composting awareness in Chicago, the Zero Waste Team from Solorio High School coordinated a Pumpkin Smash for their Gage Park community on Nov. 7. Typically held the Saturday after Halloween, these events provide communities the opportunity to drop off their pumpkins for composting instead of landfilling them. 
Composting is not a new concept for Solorio students. Since 2016, Solorio has composted all cafeteria food scraps and lunch trays through the Chicago Public Schools Commercial Composting Program, which Seven Generations Ahead helps implement. With support from SCARCE, Pumpkin Smash locations have grown in number throughout our region over recent years. Solorio's Pumpkin Smash, one of only four events in Chicago in 2020, paves the way for more events next year across the city.
Solorio Zero Waste Team leaders Gabriela Mata (11th grade) and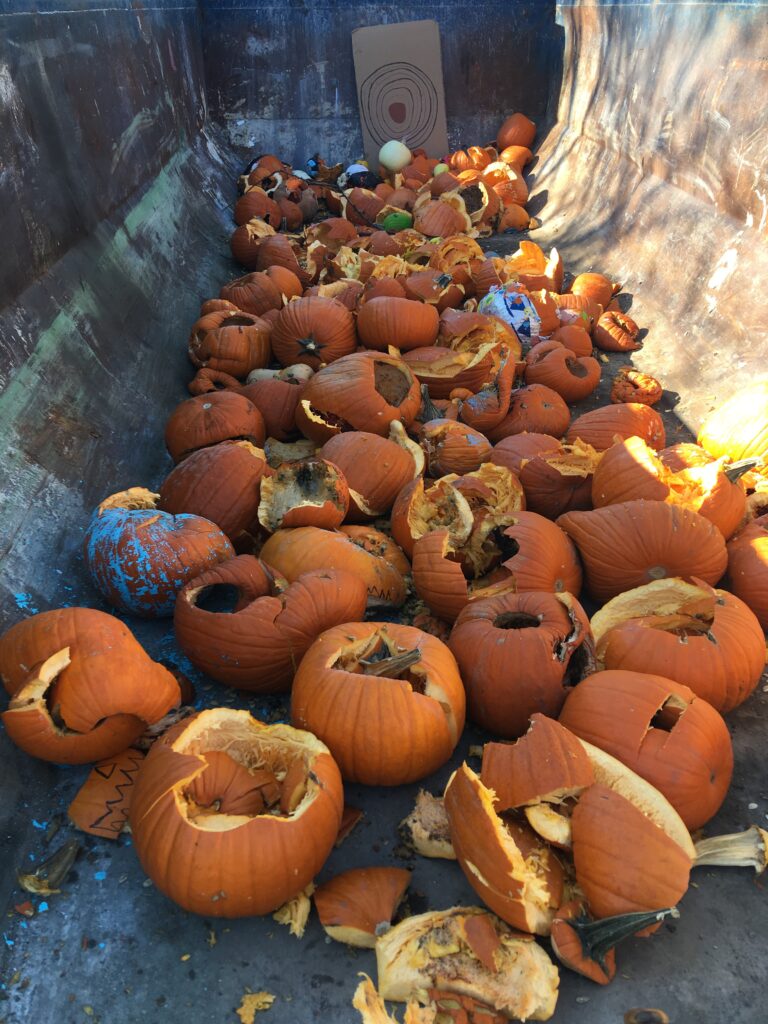 David Duran (11th grade) have contributed the following story about their event:
Solorio's Pumpkin Smash
Our Zero Waste program at Solorio High School is full of students that want to bring good to our planet and our communities. We do this by making neighborhood clean-ups and events like Pumpkin Smash that will let our community members participate in creating a change one step at a time. Making events like these sends the message that the environment is important and that we are taking key steps to better the planet. We decided to do the Pumpkin Smash event because usually during Halloween, pumpkins are carved to celebrate the holiday. Once the day is over, people usually throw them away without knowing that pumpkins let out many greenhouse gases that are contributing to global warming. By hosting this, we are creating a space in which our community members can leave the pumpkins at Solorio to make them into compost. This compost can then be used for our garden to provide nutrients for more plants to be grown!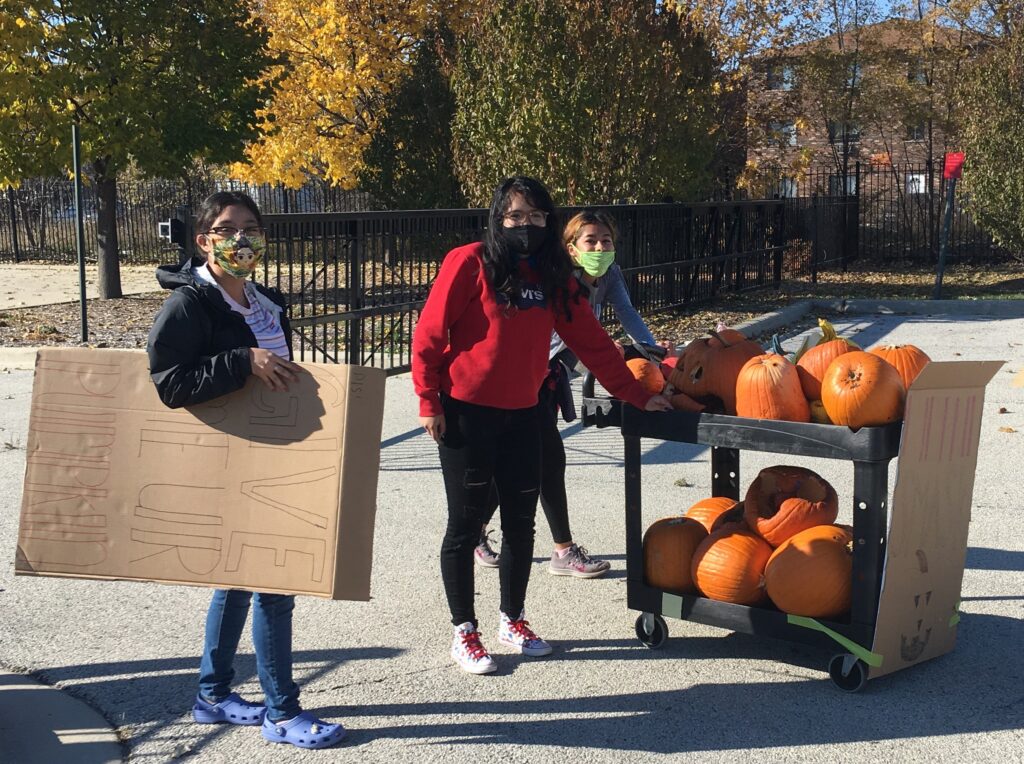 In order for this event to be successful, different members of our program took on different responsibilities. Some of them were emailing neighboring schools, emailing our principal, contacting the alderman, sharing the event information on social media, and posting flyers around parks or businesses. By doing this, many have been informed about this event and will hopefully show up to drop their pumpkins off. Additionally, we had contacted an organization to give us a container to put our pumpkins into. During the event, we will take many precautionary measures to protect everyone that is participating during this pandemic, such as wearing masks, maintaining distance and sanitizing often!  
When Saturday arrived, the Zero Waste group was ready for action! Several students arrived and we had our teachers Greta Kringle and Elliot Michel ready to prepare for the busy and fun day. The group started by creating posters to let those around the neighborhood bring in their leftover pumpkins. Students worked together to create amazing (and zero waste) posters and went around to post their posters around the school and returned with the duty to start collecting pumpkins. Students went around the neighborhood to ask people if they still wanted to keep their pumpkins. Luckily for us, many residents were happy for us to be collecting pumpkins. As time passed, students were constantly bringing in more pumpkins and the bin was filling up. Not only that but people also came in to drop their pumpkins as well! To add to the fun, the volunteers took turns throwing pumpkins into the container and even smashing them with some old baseball bats. Throughout the event, people came in and dropped off their pumpkins and helped the environment on a beautiful fall day. Overall, the entire group put in a great effort to collect pumpkins around the neighborhood and set up a good way to advocate for the environment in the Gage Park area.