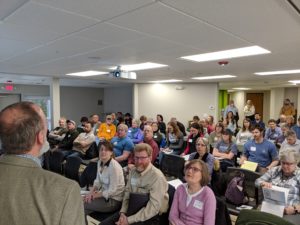 There are many social and ecological benefits of green infrastructure: studies have shown that greenery reduces stress and improves well-being (1), and stormwater management projects can reduce flooding (2). In Illinois, many municipalities and private entities are investing in such projects to improve the sustainability of their region.
On March 20, over 60 professionals, students, and concerned individuals joined at Midwest Groundcovers LLC in St. Charles for a green infrastructure forum through the Fox Valley Sustainability Network. Presentation files are available on the FVSN website.
Recap of presentations:
Dan Lobbes, Director of Land Protection and Kane County Director, The Conservation Foundation
Dan spoke about The Conservation Foundation's role in providing clean water, clean air, and healthy land to communities. They accomplish this through monitoring and enforcing conservation easement, managing all contracts with the ecological firm, supervising management activities, and providing educational programs. These open space areas protect against flooding, protect property values, and provide an open area for the community to enjoy. The Conservation Foundation has experience and expertise in managing these areas through their program of evaluating the site every five years to ensure the area is meeting all requirements and providing management recommendations for the next five years. Expanding the amount of nature in neighborhoods has a vast amount of benefits to the community and the environment, and has led to an increase in health and happiness of residents.
Ross Alexander, PhD, Oak Ecosystem Recovery Program Coordinator, Morton Arboretum
Ross highlighted the importance of Oak trees in the Midwest region, which support over 500 species. Therefore, the conservation of Oak trees is highly important for other native plants and animals to thrive. The Morton Arboretum provides an Oak ecosystem recovery program where they assessed the extent of the Oak populations and created a recovery plan to highlight the ecological history, techniques of regeneration efforts, and future aspirations of the program. The recovery plan provides maps that compare pre-settlement oak ecosystems data to present data. It was discovered that more than 70 percent of remaining Oak ecosystems are on private lands, therefore, a majority of conservation responsibility falls in the hands of private landowners. The Morton Arboretum is continually working to educate private homeowners on understanding the importance of Oaks and how they can have a positive impact. Oaks are not regenerating like they used to, which makes their conservation vitally important. Without improving conservation efforts, communities can face an entire change in forest habitat.
Tom Price, Principal Civil Engineer & Hydrologist, Conservation Design Forum
Tom Price demonstrated the importance of green infrastructure in communities through a number of case studies from housing developments and main streets to Chicago Public Schools and community colleges. These case studies showed successful ways of greening areas that not only beautify your community but provide stormwater management as well. Tom highlighted the use of permeable paving and native rain gardens that absorb and filter water. This protects areas from flooding and allows water to be re-circulated through the ground, evaporation or waterways. Lastly, Tom introduced a Plant Selection Tool to help individuals pick the highest recommended plants for their systems. This tool provides successes and failures of other projects, factors in the impact on vegetation, and provides best planting approaches.
Christopher J. Ott. P.E., CPII, Senior Project Engineer I, Engineering Enterprises, Inc.
Chris provided a case study on greening alleys and using them as an asset to stormwater management rather than a barrier. The allies Chris and Engineer Enterprises, Inc. renovated had not been repaired in 30 to 40 years, which led to a number of problems such as flooding. When Engineering Enterprise, Inc. was given their project of renovating these alleys, they looked at both traditional options and green infrastructure options. Due to the many benefits and cost reductions, they chose the green infrastructure route. They used porous hot mix asphalt, which is a sustainable option that recharges groundwater supply. Although porous hot mix asphalt has many benefits, it is very limited in supply. Since low infiltration rates were anticipated, Engineering Enterprises, Inc. also installed geotextile fabric under the drains. Using these materials required great research to discover the right mixes for the location's needs. The goal of the project was to ensure water was draining off the lots and into the alleys to prevent flooding. Some challenges Engineering Enterprises, Inc. faced during this project were residents and businesses needing access to the alley, limited materials, and a narrow work space. Maintenance for the site after construction was to protect the pavement for two days after installation, vacuum sweep two to four times per year, limit sanding during winter maintenance, and use alternative de-icing materials instead of standard road salt. Since the renovation, the alleys have held up well to traffic and contributed greatly to stormwater management.