Seven Generations Ahead's Zero Waste Schools (ZWS) Program Manager Becky Brodsky presented on the work of ZWS to reduce waste in schools at Illinois Green Alliance's October webinar, "Serving Up Sustainability: From Restaurants to the Home Kitchen." Brodsky presented alongside four other panelists whose presentations also centered around the mission to increase sustainable practices in their respective industries. Over 200 individuals registered for this recorded webinar and 82 people from a variety of fields were in attendance. Although the Illinois Green Alliance is based in the state, webinar attendees were located across the country.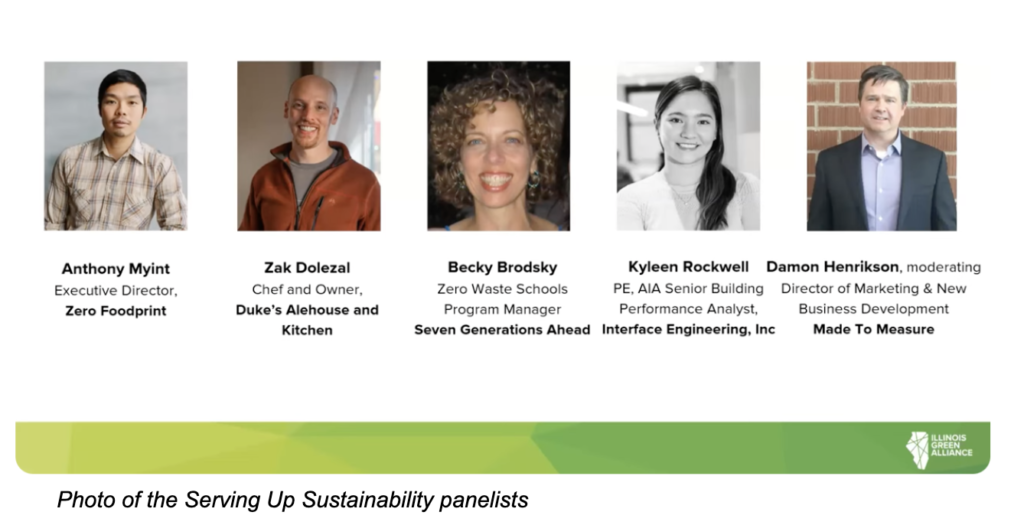 The first presenter was Anthony Myint, the executive director of Zero Foodprint, a nonprofit that partners with restaurants to crowdfund grants for farmers to adopt regenerative farming practices. A celebrated chef, restaurateur, and climate activist, Myint had made sustainability a core priority in his restaurants, but after years in the industry he realized that he wanted to have a broader impact. He co-founded Zero Foodprint to help farmers adopt regenerative practices that restore soil health, an effective way to sequester carbon and mitigate climate change. Restaurants that participate in Zero Foodprint add a minimal fee of 1% to the diner's bill, which is distributed as grants to farmers to further their regenerative practices.
Next up was Zak Dolezal, Chef and Owner of Duke's Alehouse and Kitchen in Crystal Lake, Illinois. He explained the many challenges restaurants face to become more sustainable, including expense and tight margins, training, and dealing with the amount of waste produced in commercial kitchens. However, there are as many solutions as there are challenges, and they can apply across all types of kitchens – in restaurants, schools, and even homes. These include implementing recycling and composting, donating excess food, shifting to more plant-based meals, moving away from equipment that uses natural-gas, and purchasing local and responsibly-produced food when possible.  
"Lots of grassroots changes need to happen to make restaurants start to consider being more sustainable," said Dolezal. Fortunately, many of the solutions are already out there and there are a growing number of restaurants leading the way. 
Becky Brodsky's presentation helped connect the dots from restaurant kitchens to school food service, focusing on waste in K-12 schools. SGA's Zero Waste Schools Program helps to improve sustainable practices through a variety of waste reduction strategies, primarily by decreasing food and plastic waste. Wasted food is a major contributor to climate change, as food that ends up in the landfill creates methane, a potent greenhouse gas.
One step schools can take to reduce wasted food is to implement the U.S. Department of Agriculture's Offer vs. Serve (OVS) program. Students in participating schools are required to take only 3 of the 5 meal components being offered. Since taking milk is not a requirement of OVS, schools can greatly reduce milk waste by electing to participate in the program. Another step schools can take is to allot more time for students to eat, as research shows a significant amount of food is wasted simply because students don't have time to finish meals.
The ZWS staff also works closely with schools and waste haulers to set up recycling and composting programs in school lunchrooms, including providing schools with signage and training for sorting stations. With these types of measures in place, one Chicago elementary school went from sending 629 lbs of waste to the landfill each day to sending only 63 lbs daily.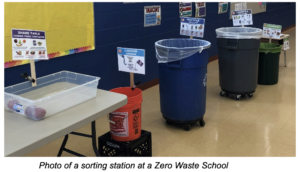 Kyleen Rockwell, a Senior Building Performance Analyst with Interface Engineering, rounded out the panel by addressing sustainability in the home kitchen, as well as the many benefits of switching from gas stoves to electric induction ovens. She explained that cooking with gas is less energy efficient, releases carbon into the atmosphere, creates a hotter work environment, and releases particulate matter that is bad for your health. Both commercial and residential kitchens can benefit from switching to electric appliances. 
Her presentation highlighted the common themes across the day's presentations – that the best way to sustainability is through food and plastic waste reduction, composting, eating more plant-based meals, and sourcing food from sustainable local sources – whether from a farm or your own backyard! 
To learn more about the Zero Waste Schools program, please visit the ZWS website.