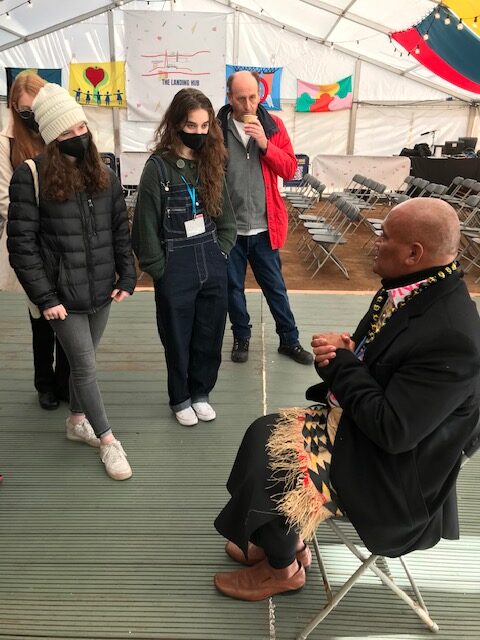 I began my second day with a laterflow COVID test, a requirement to enter the blue zone to ensure the safety and wellbeing of all the other attendees. As I left my hotel in the morning, Mr. Iselin and I had arrived at the Scotrail just before the train left, thankfully entering it as it would take another half hour for the train to appear. As we arrived at our stop, we had to meet my other fellow youth delegates and adults at the Green Zone to meet with Tonga's official delegate to take part in a special project that will be featured on BBC when time permits. We reached the destination of the original Green Zone entrance just to find out that they made a longer detour to get inside, but the lines went much quicker than yesterday so that was a benefit of walking the extra 7 minutes. When we got inside, we found out that the venue had changed so Gary booked an Uber to the venue where the delegate was at.
Although it took us a quick minute to locate the entrance, we walked inside the tent area to his session where he was describing project Tongabove: A film that showcases the blueprints and plan to save island nations from rising sea levels as a result of climate change. Shortly after this amazing presentation, our group of 5 got the opportunity to interview him. After I asked him what could youth that reside in lead carbon emitter countries do to influence our leaders to reduce our carbon footprint, his response was simple yet powerful: Humanity; to greet each other with warmth and be open to talking with your fellow peers. There are a plethora of youth that reside in the US which if we band together, would create a powerful alliance that could impact our country in a positive direction. Our meeting concluded on this note in which we attempted to book an Uber back to the Blue Zone just to find out that there were no Ubers taking us (blockades and police made it so very few had access or authority to be in those areas).
The security lines today at the Blue Zone were quite small, much smaller than the Green Zone. I quickly made my way inside, my other fellow delegates found out that Leonardo Di Caprio was inside so we were trying to find him. We shortly gave up since we were very hungry, splitting up to get food from stands of our choice. As we reconvened to eat together, some of us went to the US Pavilion where a panel was hosted where Gina McCarthy was present. An African individual was interviewing McCarthy and the other 2 US delegates about what ti's like to work on climate solutions in America. McCarthy stated that most individuals acknowledge the existence of the climate crisis and described how scary the impacts are as disasters become prevalent in the states like the droughts and the wildfires. An obstacle that the US is facing is that one sector of the administration is geared towards dealing with all climate-related issues whereas the issue is very interdisciplinary and it would be much more efficient if multiple sectors were to collaborate. We also found out that she dislikes the question about how the US is going to reach this goal by 2050 since she would much rather focus on what they could currently solve.
After the session ended, we quickly met up with our fellow delegates interviewing a Fulbright Scholar which quickly ended upon my arrival. I found out that my 2 fellow peers had seen Al Gore giving an interview in the Activity Zone and networked with various activists with huge platforms including a 19 year old White House National Climate Advisor. As our time in the Blue Zone concluded for today, we convened at a restaurant to debrief and chat with one another for a couple of hours. To conclude, our second day was fantastic in various ways and I am excited for tomorrow to spend a majority of it in the Activity Zone to network with individuals as much as 
I can to gain a myriad of perspectives on certain issues. My contact with Suleyman Warriach, the joint secretary, ministry of climate change of Pakistan has reached out to schedule a meeting time in the blue zone tomorrow. I am looking forward to what awaits my peers and I in our time at the Blue Zone!
-Ali