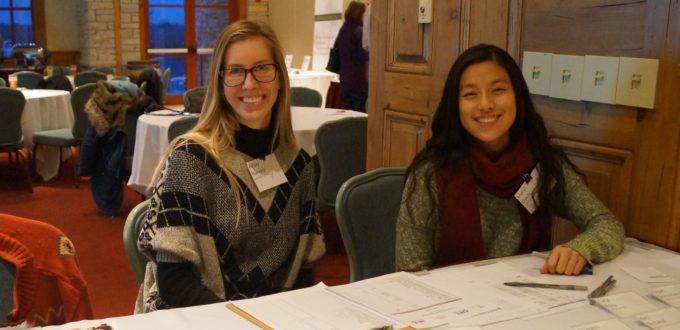 Ashley Marinko fashions a career in environmental sustainability
An interest in fashion led Ashley Marinko, who had long been passionate about the environment, to become involved in sustainability work. While a student at Texan Christian University, Ashley did a couple of internships with big-name fashion houses in New York City and Los Angeles.
One of her internships was in the sustainability department the GUESS clothing company's corporate office in LA. But after spending time "in corporate, I wanted to have a nonprofit experience," Ashley says.
Though she loved fashion, she left her stints with the companies feeling she wasn't connecting. "I needed something more meaningful in a career," she says. That feeling became clear to her during her junior year.
She got a look at the fashion world up close and learned about "all of the environmental issues of the fashion industry and [I] really couldn't condone working in it."
Ashley did finish her degree in fashion merchandising, "even though fashion is no longer a career path I see for myself," she says.
After she graduated from TCU in 2017, Ashley did some Google searches for environmental nonprofits in the Chicago area and found Seven Generations Ahead. "I found the SGA website and really liked the work it is doing. It seemed like something I really wanted to be a part of. I especially want to be a part of the PlanItGreen [Sustainability] Report Card."
Ashley started her internship at SGA in September and began helping out with PlanItGreen sustainability report. She also worked on a December webinar that looked at how three Chicago-area institutions—a jail, museum, and a university— have reduced wasted food and developed viable composting and food recovery programs.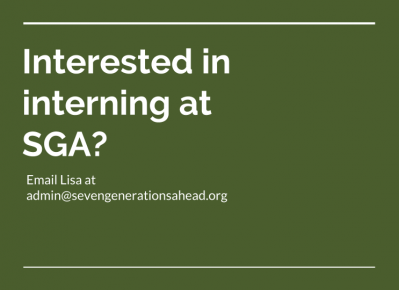 Meryl Davis envisions a world with less food waste
Meryl Davis became interested in food insecurity and food justice during her senior year at Evanston Township High School. She had a big vision for her research project: to set up a network for grocery stores and restaurants to donate food to local food pantries, soup kitchens, and homeless shelters. 
After researching similar operations around the country, she quickly realized, one, that her plans "were too large for a one semester project," and two,  "I didn't know enough to start a huge project like that, so I turned it into a research project, which was just as good because I learned a lot," she says.
In October, Meryl, now a senior at Knox College in Galesburg, Ill., began an internship at Seven Generations Ahead. She's been tasked with helping put together a zero waste school toolkit guide for all K-12 Illinois schools that want to reduce their food waste. She is writing a section on food recovery and doing research on food share tables.
At schools across the country, food share tables are where students can place unopened food and drinks that they choose not to eat or drink, as way to reduce food waste, Meryl explains. Other students can then take additional helpings of food from the Sharing Table.
Meryl, who is majoring in anthropology and sociology with a minor in environmental studies, says her college coursework has given her "a broad foundation for understanding the way in which we deal with climate change, food insecurity and other injustices."
And she is someone who puts into practice what she believes. Meryl co-founded the Knox College Food Recovery Network chapter, which distributes surplus cafeteria food to local charities. She is the chapter's former president and currently serves at its treasurer and public relations co-chair. The chapter has had a real impact on campus. "We have saved over 36,000 pounds of food since starting in winter of 2016."
At SGA, she's getting a broader picture of the sustainability and food connection.
"I have learned more about sustainability outside of the food justice scope while still expanding my knowledge on food waste reduction methods for institutions. I understand more about schools, haulers, and other entities that go into starting and maintaining a successful recycling and/or composting program."
And, she's still thinking big.  "A friend and I are hoping to work with a small number of local restaurants to figure out ways to make recycling more easy, and effective," she says.