In collaboration with the Illinois Green Economy Network (IGEN), SGA has created a two-part webinar series on campus sustainability geared towards Illinois colleges and universities. The first of which on April 26 was titled "Conducting a Waste Audit on Campus." It focused on state-funded colleges and universities as it discussed Illinois mandates for recycling and diversion in higher education institutions. The second webinar on May 22 explored "Reducing Wasted Food through Campus Composting and Food Recovery". We want to thank our speakers from the College of Lake County and Triton College for sharing their expierences and best practices! These colleges have made real commitments to sustainability and are a good source of information for other schools looking to make environmentally friendly changes. 
Learn more about the series and view the webinars below: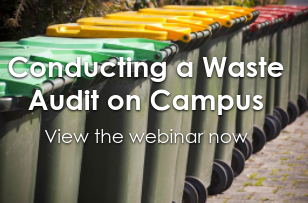 Webinar #1: Conducting a Waste Audit on Campus
April 26, 2018
Understanding a campus' waste stream can have positive economic and environmental benefits, as well as provide opportunities to improve current programs. In 2017, an Illinois Act mandating state-funded colleges to conduct a campus waste audit every five years shifted responsibilities to the Illinois EPA. Although requirements are not currently set in stone, the next update would be due by the end of calendar year 2020. Even if your school is not required to conduct a campus waste audit, it can still be a useful tool and positive experience. Watch this webinar to learn about other IGEN college's experiences and tips on completing a waste audit and how to use it as a tool to improve campus-wide.
Jen Nelson and Alli Preble from Seven Generations Ahead provided an overview of the variety of ways in which you can conduct an audit and then use the information to reduce waste on campus. They also reviewed the state mandate and requirements for Illinois community colleges and public universities.
Adrian Fisher shared Triton College's experience conducting waste audits, implementing recycling and composting on campus, and holding zero waste events. She discussed how waste assessments, in their most basic form, are a continual process on campus that require ongoing education.
David Husemoller from the College of Lake County shared how they expanded routine waste audits into a social and sustainability research project that engaged students both in audits and determining best practices for diverting waste.
You can view the recording here. If you would like to view just a PDF, click here. There is also a link to the recording is on the first slide page of the PDF. You can also access the presentation by clicking the image above.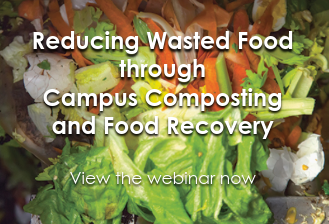 Webinar #2: Reducing Wasted Food through Campus Composting and Food Recovery
May 22, 2018
This was the second webinar in the Seven Generations Ahead and Illinois Green Economy Network series. Whether your school has been composting for years or is just beginning to contemplate a composting program, the information presented will help you integrate best practices and understand opportunities for environmental and economic impact. This webinar included presentations addressing composting, reducing wasted food, and food recovery for donation. Both webinars were moderated by Katie Davis, Interim Executive Director of IGEN. 
Jen Nelson from SGA and the Illinois Food Scrap Coalition (IFSC) provided an overview of the current opportunities in Illinois for "Reducing Wasted Food through Campus Composting 
 and Food Recovery." She shared best practices, tools and resources to guide colleges in planning and maintaining successful and sustainable programs on campus.
Christopher Clem – Adjunct Faculty, Hospitality Industry Admin and Chef at Triton College –  addressed the collaboration between college and food service vendors to implement and maintain a food scrap composting program in the kitchen. He shared how students in their culinary program learned to grow food, plan purposefully for food stock and service, and greatly minimize waste by using "every crumb".
David Husemoller from the College of Lake County shared how they implemented post-consumer composting on campus last year.  He ellaborated on different compost streams, sharing how some of the College's compost feeds their campus farm while the rest goes to a commercial compost facility. He also talked about the challenges of educating students, faculty, and staff about sorting food scraps from recycling and trash and what the signage and bins looked like.
You can view the presentation here. You can also access the presentation by clicking the image above. Due to technical issues, the audio recording is unavailable. Instead, the webinar is in a Google Slides document with notes where you can access what the speakers said alongside their slides.