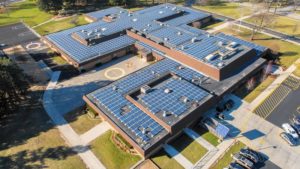 It is easier and more cost-effective to go solar than ever before! Here you will find trustworthy resources to explore solar options and payment plans that are best suited for you.
Seven Generations Ahead provides building assessments for on-site solar installations for interested parties. We also assist organizations by developing RFPs and gathering reputable project partners for many kinds of solar projects. We create support strategies to attain 100% renewable energy for institutions and organizations. Lastly, we implement solar energy education and subscription enrollment assistance for institutions and residents ready to go solar.  
Not sure where to start? Learn how to get started right here. Contact Mark Burger, our solar consultant, about hosting one of our educational forums or to get answers to your specific questions.
Getting Started with Solar
On-Site Plans
Off-Site Plans
On-Site Plans
SGA helps non-profits, public sector, and businesses interested in building on-site solar PV systems. Contact Mark Burger for support with an initial assessment and procurement at no cost to you. 
---
For larger power needs (i.e. hospitals, school districts, and municipalities):
Large scale solar PV systems can be purchased outright. Find a trustworthy professional through the IL Solar Energy Association.

If you do not have the budget to purchase:

 Arrange a Power Purchase Agreement (PPA) with an outside vendor.  The vendor will develop, design, permit, finance and install the system.  The vendor also takes care of maintenance.  The energy is sold to you at a set rate as you use it.

Leasing from an outside vendor is similar to a PPS, but with leasing you pay a set monthly fee for the energy.   
NOTE: The PPA or leasing options do allow you to get federal or state tax credits. The company who installs the system receives those and is not required to pass on any of those savings. Also watch out for "cost escalators". Companies sometimes include an automatic rate increase under the guise that it will match the normal utility increases.
---
For individuals with a residential site, there are a few different on-site options.
For any questions regarding the differences between types of homeowner plans, please refer to this guidebook from the Clean Energy States Alliance.
Off-Site Plans