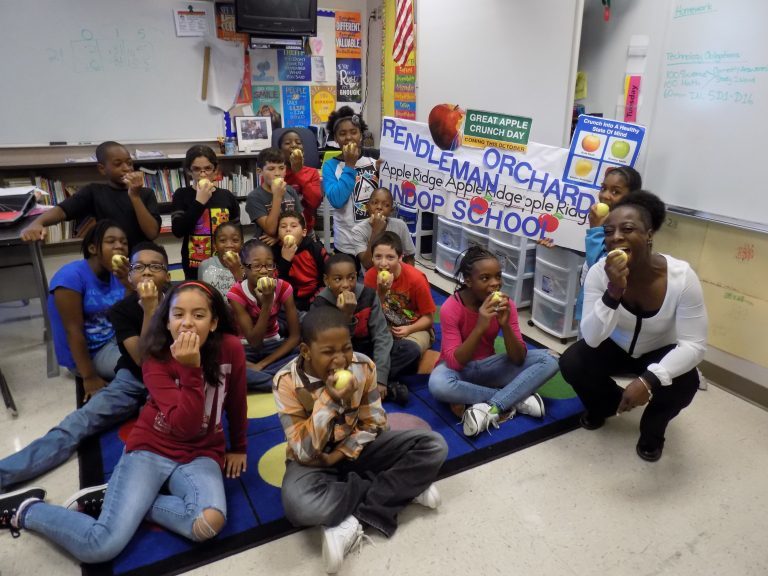 It was the crunch heard all around Illinois–the sound of several hundred thousand school children biting into local apples.
The second annual Illinois Great Apple Crunch  in October was an overwhelming success, and the Illinois Farm to School Network has the numbers and the photos to prove it. A total of 339,100 students from school districts all over the state participated this year, up from 90,000 last year.
Chicago Public Schools and Rockford Public School District had the most participants. The total number of participating schools and sites throughout Illinois was 1,080.
"The Illinois Great Apple Crunch is a fun event that lets schools see how easy it is to participate in farm to school, Lydia Mills, Farm to School Program Coordinator at SGA. "By purchasing local apples, schools support Illinois farmers and teach their students about healthy, fresh, local food."
The Illinois Great Apple Crunch is a daylong celebration of Midwest produce.  Schools across the state participate by serving local apples on the lunch tray and 'crunch'-ing into them together as a school.
SGA is the lead agency for the Illinois Farm to School Network, which provided the educational supplements used in the cafeteria and the classroom to teach students about Illinois apples.
Students across the Great Lakes region participate in the Great Lakes Great Apple Crunch that celebrates local food. The regional Crunch is a project of the Great Lakes region of the National Farm to School Network and coordinated in Illinois by a variety of local partners.