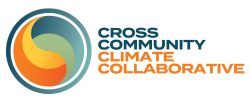 What is the Cross Community Climate Collaborative (C4)?
C4 is a project of co-lead organizations Seven Generations Ahead and the Urban Efficiency Group and the mayors of Broadview, River Forest and Oak Park designed to bring together BIPOC and non-minority communities across income lines to share ideas, secure resources, and drive large-scale projects within and across communities that achieve greenhouse gas (ghg) emissions reductions, equity and sustainability goals. The project currently supports 14 disinvested and resourced communities in Illinois through a unique mayoral MOU collaboration that prioritizes replicable projects, outcomes and metrics on a timeline in relation to the climate crisis, equity and sustainability. C4 combines:
· A cross-community collaboration process
· All stakeholder community sustainability team development
· Large-scale projects
· Resource acquisition
· Metrics
· Knowledge and resource sharing that avoids reinventing wheels and maximizes result
C4 Wins the U.S. Conference of Mayors "Small Cities" Top Award
C4 was recognized at the U.S. Conference of Mayors' 91st meeting in Washington D.C. in January 2023 as the top "small city" award winner of its Childhood Obesity and Environmental Health and Sustainability Grant. Mayors Vicki Scaman (Oak Park), Katrina Thompson (Broadview) and Cathy Adduci (River Forest) were honored on stage in front of mayors across the nation for the C4 initiative. Click here to see the 3-minute C4 video.
C4 Wins USDA Composting and Waste Reduction Grant
C4 was awarded $300,000 by the USDA in February 2023 to support Broadview, Bellwood and Maywood in efforts to establish curbside residential food scrap collection programs, community education on recycling and composting and the implementation of SGA's Zero Waste Schools program in 12 schools.
· Achieve 45% greenhouse gas (ghg) emissions reductions by 2030 from 2010 levels and 100% reductions by 2050 in accordance with science-based recommendations, and achieve equity and sustainability goals.
· Bring resources to traditionally underserved and small communities with an interest in achieving equitable sustainability outcomes.
· Drive large-scale projects in the areas of renewable energy, energy efficiency, electric vehicles, jobs, workforce development and other community-determined initiatives.